Kendra Sunderland: provocative, uninhibited and effortlessly sexy
A few hours after the Valentine's Day discount promotion of ILF, the manufacturer announced the latest addition to the Fleshlight Girls family: the seductive beauty Kendra Sunderland. This new Fleshlight is equipped with an original and signed pussy orifice, although with a new and exclusive sleeve texture.
Kendra Sunderland not only seduces with her stand out performances on the screen, but now offers new ways to excite thanks to her innovative texture with a first-class channel that'll bowl you over and leave you itching for more.
Who is Kendra Sunderland?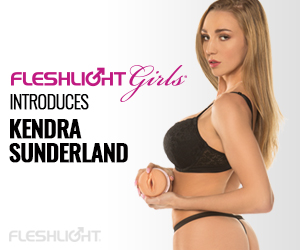 Kendra Sunderland was born on June, 16 1995 in Salem, a city in the US state Oregon. She is an outstanding talent, with plenty of natural beauty, charm and charisma. She's also the recipient of the VIXEN Angel of the Year 2017 award.
Despite her elegant figure, Kendra boasts considerable assets with a height of 5′ 9″ ( 69 inches / 175 cm) and weight of 125 lbs (57 kg). Her impressive bust (32G / 70G) is bound to impress, especially when you factor in her eye-catching nipple piercings. This sexy blonde is also noticeable with her hazelnut eyes and will be recognisable to anyone who's familiar with cam girls, having worked the industry after graduating from college.
When working as a library assistant, Kendra Sunderland hit headlines with a slew of solo masturbation films. In 2015, her films made news when they were uploaded anonymously to Pornhub and became a sure-fire hit. The police soon arrested her, charging her with public indecency, although this notoriety only added to her allure and made her all the more popular.
During all of this, Kendra made a name for herself in the world of pornography, becoming a VIXEN Angel. In addition to pocketing this lucrative award, she nabbed an exclusive contract.
Kendra Sunderland is now one of the most popular VIXEN Angels of all time, with her signature on a VIXEN diamond necklace worth more than $20,000. She is also the newest Fleshlight Girl, with a dynamic new sleeve insert that'll bowl over fans of Fleshlighhts.
The new Fleshlight Girls sleeve and Angel texture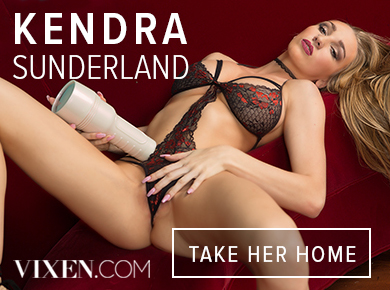 The Fleshlight of the Kendra Sunderland is as usual, offered in a discreet pearl-white case. Her signature is imprinted on the pussy orifice, itself an exact replica of her provocative labia. The channel with the Angel texture is incredibly enticing, equipped with pronounced grooves, arranged both horizontally and vertically in a combination of knobs and bottlenecks.
At first glance, the channel of this texture does not appear very narrow. Due to its varied structure, this sleeve offers a stimulating feeling when masturbating. With this inner channel, men with a longer member will definitely get their money's worth. Since the canal is not exaggerated, it's ideal for longer masturbation sessions, ending in a particularly satisfying orgasm.
I am already curious about this model and have added it to my list of must-try Fleshlight products. Once I've given this latest a thorough test, I'll be sure to post my experiences in the form of a detailed review.
More details about Kendra Sunderland
Curious about Kendra Sunderland? Learn a little more about this stunning porn starlet and follow the newest Fleshlight Girl on social networks including Facebook, Twitter and Instagram:
https://www.facebook.com/kendra.sunderland.1
https://twitter.com/kslibrarygirl
https://www.instagram.com/therealkendrasunderland/
Kendra is an active presence on social media so there's a good chance to ignite a conversation and have her follow you. The cheeky blonde is also one of the most forward names in porn, with plenty of titles on her filmography for you to get stuck into and inspire you when indulging in a test of the latest Fleshlight Girls sleeve.