New Fleshlight holder with suction cup: Shower Mount
Many men want to have various mounts for the Fleshlight masturbation. ILF has fulfilled this request and created a convenient Shower Mount with suction cup.
The Shower Mount does allow a hands-free penetration from different angles. It has a strong suction cup and a hinged bracket with screw thread. The effortless application promises no longer to masturbate with the hands.
The good concept and the innovative technology of the Fleshlight Shower mount has changed the masturbation fundamental. Of course, this accessory is not only suitable in the shower, but also in other areas of the apartment.
Usage of the Shower Mount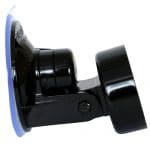 The Fleshlight Shower Mount will suit any of your normally Fleshlight cases. For the Fleshlight Flight and Fleshlight GO you will need a Flight adapter.
Simply unscrew the cap at the end of your Fleshlight. Then screw on the case on the Shower Mount. You'll want to twist until you reach a point of resistance to ensure that your toy is securely attached to the fixture.
Apply the suction cup on a smooth surface. Turn the valve lever to the rear side of the bracket from OFF to ON. This is the air between the suction cup surface and vacuumed. If you want to release the vacuum, place the lever back to OFF.
Last but not least, dost thou the swivel joint of the bracket into the desired position. And you can start the fun of masturbation. 🙂
The Fleshlight Shower mount adheres to any smooth surface
The suction cup can be attached to almost any flat surface. This includes for example smooth polished stainless steel, painted wood surfaces, glass and even on smooth parquet, laminate and tiles.
Use the bracket in your shower door or on the walls. Or try the Fleshlight Shower Mount on your computer table, on a wooden chair or other possible areas.
Get creative and live with this new technology of Fleshlight, all your favorite sex positions.
My opinion
The Fleshlight manufacturer ILF shows once again, that they not only can build innovative masturbators, but also practical accessories.
I think, the shower mount could be an useful extension for each personal Fleshlight collection. A hot hands-free orgasm is definitely possible.
I will order in the next weeks a bracket for my test. Then I´ll write a test review for you and share my opinion.
Note:
If you go for the flesh light and flight to your shower mount no adapter ring should have received, you can test the Shower Mount – Flight adapter on order.