Experience sensual highs with the Romi Rain Storm texture!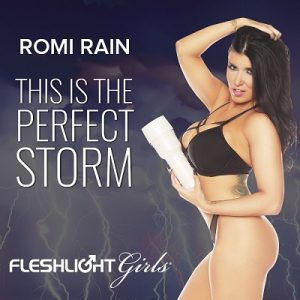 It's official! I.L.F. LLC has created a new Fleshlight that features
Romi Rain
as your fantasy texture.
Fleshlight decided to call this sleeve the "Storm". Romi get this texture name likely because her stormy temperament. You'll be ready to storm in her entryway with this perfectly designed, male masturbator.
In this review I would like to meet you the Romi Rain Storm Fleshlight. In addition to exciting information about the Fleshlight Girl I explain, what options there are and what are the specifics of the masturbator. I always appreciate comments for this short review.
Discovering Romi Rain
You may be familiar with Miss Rain because she's been a favorite on Digital Playground for many years. Popular porn movies dot the Internet as she plays with fun and delight in each scene.
Romi actually started her career in Los Angeles where she began as a dancer. She was allowed to open up her mind to the Internet crowd as webcams became popular after 2012.
Romi Rain was quickly picked up by porn producers through her webcam adventures, and the rest of her career is historic. You can now explore some time with this beauty as her Signature Storm texture becomes a reality. If you've watched her reach orgasm in her movies, you can now experience the same sensation at home.
A Natural Busty Beauty
With one look at Romi Rain, you'll be ready to try out her Fleshlight sleeve. It's impossible to be turned off by this beauty. She has an female figure with huge breasts and a luscious rear to please any man. Sensual eyes and pouting lips create that come-hither look that so many men desire. As you sweep her long hair from her neck, you'll notice her back is covered in a detailed tattoo that only accentuates her features.
Romi prefers high heels shoes so that you can get a good look at her legs. With her size 24 waist, you can grab onto her tightly and ride your way to ecstasy. Although she's just a fantasy, the Storm texture will make you feel differently.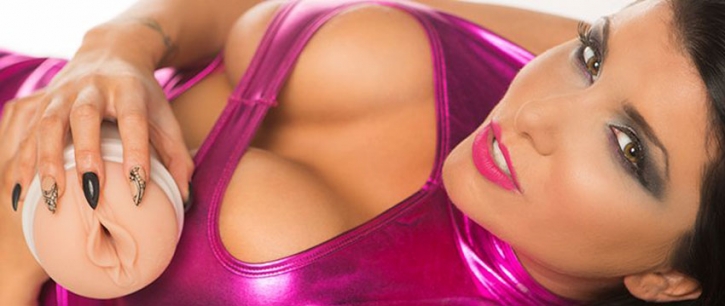 Breaking Down Romi Rain´s Performances
Romi has been loyal to the Digital Playground brand. Watch out for her in these films, including: Open Relationship, Hot Chicks Big Fang, Jack Attack 5, Bikini Bang Bang, Experiencing the Sleeve. Please also check AEBN.
You can contacting Romi here: Romi Rain Homepage, Twitter.com, Facebook, Instagram
On the internet pages you can almost experience who become the brunette beauty to predator. You can see, how she taken seduced or used by several men or women. Or if she have sex-game very especially riotous and wild with her full body (and all body openings). She can slipping into different roles – from hot biker girl to sexy secretary. Romi has everything on it.
The Fleshlight Storm Sleeve
Get ready for a wild time with Romi. Her texture has five distinct chambers, which alternate in diameter and features. Nodes, rings, ridges and crisscross sections dot the inner chambers. There are even a few lotus shapes that create a penetrating sensation as you thrust within Romi's orifice.
You'll also notice that the center section offers an amazing grip that seems to suck like the real thing. Romi's texture comes with a white case. The sleeve color highlights her perfectly pale flesh. You'll spend many moments with this lady's orifice by your bedside.
You'll want to order this Storm pussy texture as soon as you finish reading this news! She's eagerly awaiting you. 😉
In the next few weeks I will testing this Flesh Light and offer you a detailed review about the Romi Rain Fleshlight.