Alexis Texas, the Fleshlight Girl with a Stormy Temperament
On September 19, 2014 came two new Alexis Texas inserts onto the market: The Outlaw pussy texture and the Texas Tornado ass texture. I'd like to introduce you to the latest Fleshlight girl and her textures.
Who is Alexis Texas?
Alexis Texas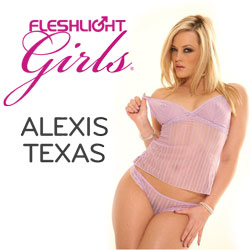 was born in Castroville, Texas on May 25, 1985. She was working as a bartender when she appeared in her first scene in 2006 (Shane's World's College Amateur Tour in Texas). After this debut performance, her career took off in 2007.
At the AVN Awards, the seductive blonde was named "Best New Scarlet" for 2008. She has since won many awards, including the AVN Award for Hottest Ass in 2014. Alexis Texas remains a hot American director and porn actress much in demand.
Who better to be a Fleshlight girl with her own ass and pussy textures? She has starred in more than 550 videos and given countless men unforgettable orgasms. Now her fans can fuck her in the pussy or up the ass thanks to Fleshlight.
What kind of textures are "Texas Tornado" and "Outlaw?"
Outlaw:
The Outlaw texture is a pussy Fleshlight with an opening based on a cast of Alexis Texas' pussy. You'll see her signature at the right of the opening. Immediately after the opening is a smooth zone running for about an inch, ending in a constriction, which forms the transition to the first chamber.
Broken rings, elongated dimples, ribs running lengthwise, and a tightening of the interior diameter to 3/4 inch set the first chamber apart. The second and third chambers of the Outlaw have a similar design, but they become tighter the deeper you penetrate.
In other words, the Outlaw starts out relatively wide and then becomes increasingly tighter and more intense. As with other Fleshlight inserts, the Outlaw texture is 10 inches long.
Tornado:
The Texas Tornado texture it is an anal Fleshlight. The opening was cast directly from the porn queen and she has signed it. The butthole is relatively narrow and leads into the spiral twists and turns in her ass, shaped as single chamber.
Spiral strips run the length add to the stimulation because they help to provide clearly noticeable constrictions in the ass. The inner chamber has an interior diameter ranging from 1/2 to 3/4 inch. It writhes around like a worm, alternating between wider and more narrow zones.
Although all of the structural elements repeat every 2-3 inches, this is no boring texture. The new Texas Tornado butt Fleshlight does well by Alexis Texas.
Both of these two new textures are sure to make loyal Alexis Texas fans happy. Men who have been fascinated with this star for years now finally have the opportunity to explore the Texas lady's openings themselves in the privacy of their own homes. Fleshlight collectors are also certain to enjoy the varied textures of these sleeves.