The best sleeve from Texas: Alexis Texas Tornado Texture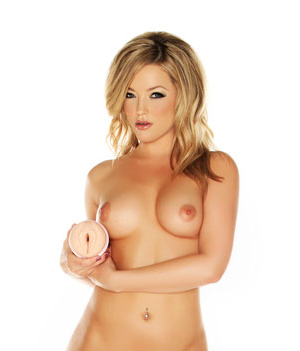 Those who are a fan of a realistic anal stimulation will love the Texas Tornado exclusive anal insert for the
Alexis Texas
' Fleshlight Girls series. The Texas Tornado canal is an exclusive inner texture of the Fleshlight Girls product series that is only available with a butt orifice rather than the typical pussy orifice.
Unlike other anal textures, this one does not rely on tightness, but rather it uses a mixture of texturized stimulation and pliable sliding. This makes the Texas Tornado, along with its signature butt orifice, a realistic and stimulating anal sensation.
Texas Tornado Texture description
The entire Texas Tornado sleeve consists of a single long stretched consistent texture that builds upon three spirally twisted and grooved long strips. On each strip are small hollows in the equidistant intervals which are located in a way so that they face each other to form small cavities or chambers. Before and after, you can experience the chambers small constrictions tighten the channel through the twisted strips.
Due to these artificially made chambers use a constant changing between the diameters that narrows down to only 0.47 inch (12mm) within the constrictions and widens up again to around 0.8 inch (20mm). The constant intervals between the soft penetrations and the wide gently stroking chambers allows for a realistic, but anal stimulation.
The coils and textures of the Texas Tornado is perfectly aligned for men with an average penis length of 5.9 inch (15cm). However, even those with a shorter penis length won't be missing out on any of the important textural elements because after 3 inches (7cm), the twisted textures continue to repeat.
My personal Fleshlight Texas Tornado Review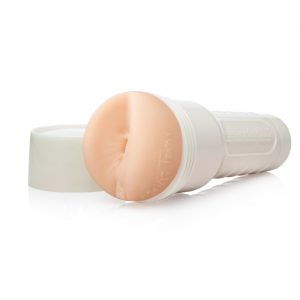 As you may expect, the Texas Tornado sleeve has an extremely natural feel to it. The smooth stimulation impacts gently, but firmly on your penis while the three spiral shaped textures wrap around the penis shaft for a pleasurable experience. Thanks to its thickness, the heavy material creates a counter pressure to the penis surface while the spiral textures wind around the shaft for a smooth stimulation.
Crazy Swirl Sleeve Design
Due to the spiral shaped Tornado texture that is cut deeply into the Fleshlight insert, they are very flexible and respond to the movements of your penis inside that canal with their own counter movements. This really brings an unexpected, but stimulating impulses at various points of the experience and allows the texture to have a 'life of its own". While there is a lack of texture in the Texas Tornado compared to other Fleshlight Girls products, it in no way lowers the orgasmic experience it provides. The feel of the spiral textures is supported by an additional pulsating between the tightness and wideness of the canal itself.
Great Suction Feeling
With the combination of wrapping and pulsating stimulation, this results a very realistic and organic "flesh" stimulation that I could barely distinguish from the sensation of being inside a natural anal canal. Once it has been warmed and filled with a warm lube, the Texas Tornado Fleshlight is an unbelievable revelation for any fans of real life stimulations.
One of the Texas Tornado's best features is its suction effect. Thanks to the large amount of space for vacuum accumulation and the back and forth motion, this wonderful suction sensation had greatly enhance and intensify the overall stimulation of my masturbating experience.
Without any larger obstacles in your way, like larger constrictions or artificial resistances, the Texas Tornado canal allowed me to gently slide inside with every inch. Not only does this sleeve offer a smooth slide, the soft strips wonderfully seesaw along my penis with every thrust creating a very rich and 'real' sensation. Though lube can certainly enhance the stimulation of the Texas Tornado, there is little need for it thanks to its wonderful sliding qualities.

Cleaning and dry time
Due to the multiple grooves, there is a lot of space for unwanted residues after each use. This can make clean up feel rather tedious because you will need to thoroughly rinse out and manually clean the sleeve. I have found that the best way to clean your Texas Tornado is to carefully and briefly turn the sleeve inside out. This also helps speed up the drying process which can typically takes around 4 to 6 hours.
My Fleshlight Texas Tornado Conclusion
In conclusion, though it has a lack of texture elements and a simple structure, the Texas Tornado provides a very rich and realistic orgasm experience for its users. The consistent and spirally twisted canal with tight constrictions offers a great penetration experience. Overall, I would recommend the Texas Tornado to any masturbator that wishes to enjoy a realistic and organic feeling anal sensation.
Review overview
Stimulation, intensity & structure
8
Price / Performance ratio
9
Summary
8 Flesh Score: Great
Pros:
Most realistic textures of the Fleshlight Girls series
A wonderful suction sensation
Tightening and widening for intense stimulation
Little necessity for lube (though it may still be used if desired)
Easy to slide into
Great for penetration
Cons:
Will need a thorough cleaning
Takes 4 to 6 hours for the canal to dry (shorter if inside out)
Is only available for butt orifice (though other combinations would
harm its realistic quality)