Fleshlight Girl Alexis Texas´ Outlaw Texture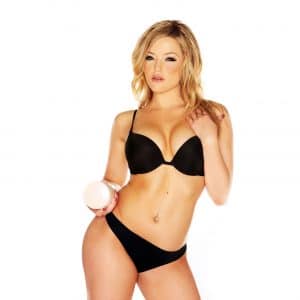 Owners of the
Alexis Texas
Fleshlight looking for more intense stimulation will be glad to discover this new sleeve update. The 'Outlaw' is an essential update on the original Fleshlight Girls signature texture. Inspired by the porn star with a perfect round ass, this sleeve is a must for those after a variety of sensations and heightened levels of constriction that'll result in a much more intense climax.
Fleshlight Outlaw Texture Description
The level of detail here is fantastic, with neutral skin tones and an incredibly authentic looking orifice that gives way to a unique interior. Unlike other textures that keep the interior pretty consistent, this vagina texture opt for something else entirely. The bell-shaped opening measures 2 x 0.6 inches, offering gentle stimulation from smooth ridges along the sides.
The chamber then narrows down before entering into a second chamber that runs to a total length of approximately 3.5 inches. This second chamber offers an amazing array of individual textures, beginning with broken concentric ridges, before giving way to raised strips, each topped with small bumps for two-fold stimulation. This chamber is then broken up two narrow flaps, before entering into a final chamber that continues throughout the rest of the length of this sleeve. Much tighter than the last, there's a variety of raised bumps along the canal wall, along with more raised strips topped with bumps. More ridges can be found until the last stretch of the interior canal, but most men won't need to worry too much about this. Instead, this final stretch helps enhance a quality suction effect.
The Outlaw texture is suitable for use only with the Fleshlight Girl Alexis Texas, so make sure you own that orifice if you're interested in this one. In terms of design and sensation, this constricting sleeve is relatively similar to the Ultra-Tight sleeve, so fans of that texture will love this.
My Alexis Texas Fleshlight Review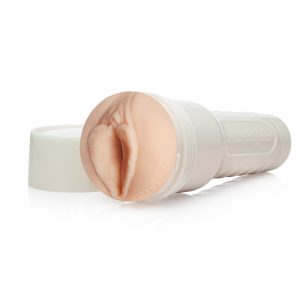 This sleeve is one for those who enjoy maximum stimulation and a tighter fit. But, there's much more than simple constriction to enjoy here. An incredible variety of textures and unique arrangement of the interior mean you'll be enjoying a whole host of individual sensations. Need a little more info to see if this is the right choice for you? See my breakdown of those all-important specs in more detail below.
Fleshlight Outlaw Texture Design
At first glance, this insert looks pretty impressive. The cross-section instantly lets you know this is one for fans of tightness and constriction, while the assorted textures and ribs promise plenty of varied stimulation. It has less obvious chambers than other inserts, but that shouldn't put you off. Each chamber has painstakingly designed to deliver max-level stimulation throughout every inch, with more than enough variety to provide plenty of surprises with each use.
It's a great choice of sleeve for men of shapes and sizes. The tighter canal design means even men with a smaller penis width can be benefit from the incredible constriction on offer, while the textures will make for a magnificent massage against the penis glans, regardless of how tight a fit this feels for you.
Powerful Stimulation With The Outlaw Sleeve
If you're after a sleeve that offers intense stimulation and tightness, this Alexis Texas pussy texture is a definite must. There's a lot of variety on offer here, with a canal that boasts new surprises throughout the entire length. From first penetration through the pussy orifice, you'll discover plenty of unique textures and ribs for a first-rate cock massage. The texture runs to a total length of 9 inches, with innovative ridges and bumps throughout. Even for those who won't need to make use of the total length, the leftover helps enhance a superior suction effect, heightening pressure and providing a better orgasm.
Unlike other sleeves with similarly arranged champers, this Outlaw texture does its own thing, with a unique arrangement that'll deliver surprising sensations with each and every use. The bell-shaped opening allows for an easy slide-in, narrowing down before giving way to a longer chamber filled with raised ridges and bumps that'll stimulate more of the penis at once. Once you've penetrated deep enough, you'll start to enjoy the constriction that makes this Alexis Texas pussy so special. The longer individual chambers mean that multiple sensations can be enjoyed at once. Not only will you feel a pleasant tightness, there's plenty of individual bumps and raised textures to provide allover stimulation.
Expertly molded from Alexis Texas´ pussy, this sleeve texture offers a more natural replication of a real vaginal canal. However, the varied internal chambers help create vacuum pockets to enhance the suction effect, making it a great choice for those after a sleeve that'll allow a powerful climax to be achieved quickly. It's also worth considering if you're after something that'll help you with stamina training.

Hygiene and Durability
Although this sleeve texture offers incredible stimulation and a first-rate massage of the penis glans, the complex inner structure and contours of this texture make it relatively difficult to clean. When compared against other sleeves on the market, this one will take considerably longer to clean, with the many grooves and inner chambers trapping moisture and lubricant very easily. Thankfully, the polymer material allows for this sleeve to be turned inside out, making cleaning relatively straightforward. The fine grooves and textures of this sleeve still mean drying time is particularly time-consuming, so this is another big consideration.
To make cleaning even easier, I'd recommend using a specialist Fleshlight Wash pump spray for best results, while a cold set hair dryer will help speed up the drying process without causing any damage to the polymer. If left to dry naturally, expect to be waiting in the region of five hours before being able to use again. To help maintain this sleeve at its best for longer, I'd also recommend making use of Fleshlight renewing powder. This will help ensure the material retains its integrity, saving you the cost of having to replace down the line. Using a water based Fleshlube will not only enhance your pleasure, but help keep reduce the chance of wear and tear of this vagina texture in
Regardless of whether you opt to clean manually and leave to dry naturally, do make sure you make a thorough go of it. You'll need to ensure it's bone dry before storing away for future use to prevent mold from building up and degradation to the polymer occurring. Just a small tear to the material can quickly lead to full-scale damage of the sleeve, rendering it useless and unsafe to use.
My Conclusion & Test Result
Even if you've built up a big collection of sleeve inserts for your pussy orifice models, the Alexis Texas Texture is still worth considering. Guaranteed to become a real favourite, it's a great go-to when you're after intense pressure and a powerful orgasm. Upon first use, it mightn't take you long to climax, but the longer individual chambers mean that, with practice, you'll definitely be able to pace yourself and stretch out your enjoyment for longer.
Review overview
Stimulation, intensity & structure
9
Price / Performance ratio
9
Summary
8.2 Flesh Score: Great If you've grown bored of your current collection of Fleshlight sleeves, this Outlaw texture needs to be at the top of your next shopping list. Even if you're used to tighter sleeves and higher levels of constriction, this design boasts a unique interior that'll certainly impress. Perfect if you're chasing more intense sensations and bigger finishes.
Pros:
Users can expect a strong suction effect, with the inner chamber creating several vacuum pockets that'll help achieve an amazing climax.
A varied range of textures and ribs mean there's an assortment of sensations to enjoy at any one time.
Longer chambers mean that, even with higher levels of constriction, you'll be able to train yourself to delay climax, resulting in a more intense finish.
Cons:
Because of the complex contours and fine texture of this sleeve, cleaning and drying time is particularly time-consuming.
This sleeve will take a bit more care and maintenance in general, so get clued up if it's your first sleeve texture purchase.