Welcome into the Fleshlight family Nicole Aniston!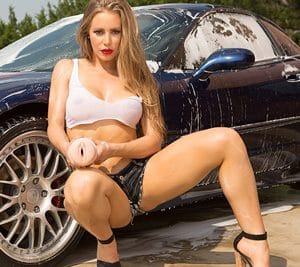 The Fleshlight manufacturer I.L.F. LLC has recently added a new Fleshlight toy to their product line. The Fleshlight Fit accompanies a pussy modeled after the beautiful and tempting Nicole Aniston. Nicole got her start in porn in early 2010. She started with the company Penthouse and has since joined Naughty America via an exclusive contract. Girl-on-girl, public sex, and porn parodies highlight the extensive career this star has put together in a few short years in the industry.
Nicole is a tight bodied brunette that stirs up all sorts of sexy on the big screen. It is only "fitting" that this busty babe gets a toy named after her sexy physique. The Fleshlight Fit is a stamina training toy that allows users to release their sexual tensions with a masturbation experience that will make any man work up a sweat. Nicole's tight pussy is featured within the Fit texture and its ribbed-nodules provide a stimulating experience throughout any duration of sexual bliss.
What is the Fleshlight FIT?
The Fleshlight FIT features an inner texture which is perfect for stamina interval training. A stimulating experience while getting the user on the cusp of ejaculation is awaiting you. This training toy is designed with nodules that gently massage the penis to a timely orgasm.  The Sleeve provides easy access to the user without gripping the penis too tightly, so you can train your stamina. The inner canal features these nodules throughout and keeps a simple design to create even pleasure points throughout. Play with Nicole until you hit that spot that makes your head spin.
Put your penis to the ultimate fitness test with Nicole. Light lubricants will heighten your orgasms and will provide you with a masturbation experience that gets you as close to real sex as you can imagine. Nicole is waiting for you and wants you to work up a sweat with her. Turn up the heat in the bedroom today with the Fleshlight Fit featuring the SuperSkin texture that brings you as close to Nicole Aniston as you can get.
Here is a preview of the FIT Sleeve: