Siren – The Fleshlight Butt Texture from Anikka Albrite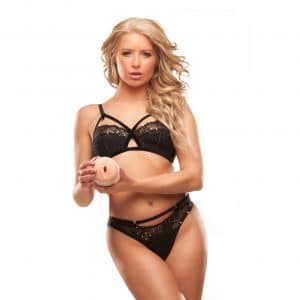 With materials that Real Feel SuperSkin™, the Anikka Albrite Fleshlight sleeve is what I've been looking for in a molded butt. My real-life partners may not appreciate alternative lovemaking choices, but this award winning anal pornstar is different than all of the others. Read over my review about this
Anikka Albrite
´s ass, and you'll be ready to try it out tomorrow.
Siren Fleshlight Butt Texture Description
Before you try this Anikka Albrite butt, be aware that it only comes as an insert. You'll need to buy the plastic cover that protects it during your wild ride. Slide this dreamful butt into place, lube it up and enjoy a pleasurable time. At about 9-inches or 23-centimeters long, this butt texture has so much detail that you might get lost in the sensation. There are four distinct chambers that have numerous stimulation points just waiting to be discovered.
Several cross ribs engage your senses as you enter the canal. I was amazed at the suction that occurred at this point and beyond. You'll be greeted by cones that dot the inside of the second chamber, which makes this sleeve a lot like Asa Akira's pocket pussy. The intensity doesn't stop there as conical rings and more cones grasp your member and bring you to an epic moment in time.
This sleeve comes as a light-pink skin color with a relatively straight canal, but there's nothing ordinary about its experience. With only one orifice to choose from, this Fleshlight product wins out with me every time. I choose it over others as I look through my collection.
My Fleshlight Review About The Siren Sleeve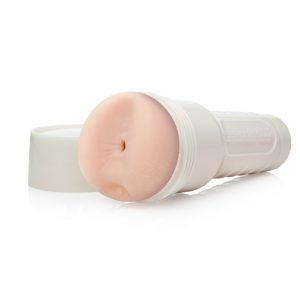 When you take a good look at this Siren item, it might look overwhelming to you. The orifice is very tight and forbidding. I decided to take the plunge and enjoy myself, but I'm normally accustomed to using more traditional vagina products. Give this Siren item a try because you'll be pleasantly surprised by the sensation that you'll experience.
Anikka Albrite Fleshlight Butt Design
The orifice doesn't give you a hint of what's to come in the canal. It's simply too dark to see inside. With this design, I was actually thrilled to have a surprise for my experience. I let my member do all the experiencing as I entered it. It does take a moment to really penetrate the tight opening, however. Take your time because there's so much more to explore.
The ridges and slits create small air gaps within the canal. These gaps are critical because air needs to be able to escape and enter in order to create that coveted suction experience. I was a bit disappointed that the first chamber only teased me at that point instead of fulfilling my deepest longings. I must admit, however, that I may have been slightly desensitized at the head by just making my way through the initial orifice. Keep an open mind about your experience, however, because it will be largely subjective based on your sensitivity levels.
The cones in the second and fourth chambers really work on all of my pressure points along my member. I didn't believe that I could achieve that much sensation from just those tiny details. If you can turn the product inside out, you'll see all of the rubbing points that make this item as true to life as possible.
Gorgeous Feeling with the Siren Fleshlight
I was concerned about being teased at the beginning of the canal, but I found that the real reward was in the rear chamber. Cones that surround my member with the suction near the base will drive you crazy. If I close my eyes, I might be able to believe that a real person is in the room. The sensation is worth the effort of easing into this orifice.
I must warn you that sliding into the product isn't as simple as lubing yourself up. Add a generous amount of lubrication to every surface because this product will grab you tightly. In fact, the tightness might be too much for some people that they can't achieve the right climax in the end.
I've noticed that my friends with smaller members don't reach the final chamber for that tantalizing finish. The entire canal is worth the experience, but that last chamber holds the perfect design of bumps for your head. Keep this in mind as you look for another enjoyable product.

Fleshlight Hygiene & Durability
I'm happy to report that this product can prevent mold from developing on its surfaces. The specialized materials simply don't allow the microorganism to spread as it would on other surfaces. From my perspective, this is a major benefit of the product. It's important to clean it out after each use, however.
You can buy Fleshlight Wash 100ml spray along with the product in order to rid the material of any bacteria. This wash also helps the material loosen the lube from the surfaces. Ideally, every substance should be washed away from the product. Leaving it dirty will only allow some germs to grow.
I've noticed that this texture is very durable, but it does wear down with use. Take good care of it by drying it for several hours after washing it. Water and soap can easily deteriorate the material. You should be able to have a unique experience every time when the Fleshlight product is properly cared for by its owner.
My Final Thoughts and Siren Test Result
The tightness during this Fleshlight Siren test was intense, and it looks like it doesn't lose too much of it even after a lot of use. I suggest using the Fleshlight Renewing Powder with this product. This specialized powder actually tenderizes the material so that it can retain an almost human-like feeling.
Because you don't want to hurt yourself with chafing and other issues, powdering and lubing it up with each use is the best way to keep the party going strong.

Review overview
Stimulation, intensity & structure
7
Price / Performance ratio
9
Summary
7.2 Flesh Score: Good I.l.F. LLC (Fleshlight) has a winner with their Anikka Albrite product. In fact, I made this Fleshlight Siren review because of my overwhelmingly good time with the insert. At the end of a long day, I know I can depend on this female to make me happy. ;-)
Pros:
No phthalates or harmful plastic components within the Fleshlight Girls Signature Texture
Incredibly intense stimulation
slight suction effect
Multiple bumps and grooves to make the sensation varied throughout your experience
seductive look
Cons:
The tight entrance might be difficult for some newbies
The texture could be something too intense – it comes too quickly to an orgasm
complex cleaning
long drying time