Fleshlight Stamina Training Unit – Your personal Potence Trainer
What is the Stamina Training Unit?
This Fleshlight Stamina Training Unit is designed to help you enhance your sexual performance. This innovative design will help you pace yourself, holding off orgasm and ensuring you go for longer. Similar in principle to the edging masturbation technique, it's indispensable for those looking to prevent premature ejaculation.
This unit includes a gold Fleshlight case, the iconic Pink Lady orifice and the Speed Bump sleeve. The Real Feel Super Skin™ masturbation sleeve offers a true-to-life feel, while dense bumps provide plenty of stimulation. Measuring 9 inches from end to end, this sleeve boasts a single extended chamber, providing intense, but consistent sensations. Perfect for orgasm training, the Fleshlight STU puts your firmly in control.
The interior diameter of this unit varies from around 0.45 to 0.6 inches. Small bumps line the entire length in every direction, grabbing and massaging the entirety of the penis. Expect a tight fit and plenty of stimulation in every direction, maintaining consistent sensation that's perfect for orgasm training. The 9 inch depth also provides plenty of space for a strong suction effect to build.
If you're after more varied feeling, go with a sleeve that offers multiple chambers and textures. If orgasm control is your ultimate goal, this unit is definitely worth your time.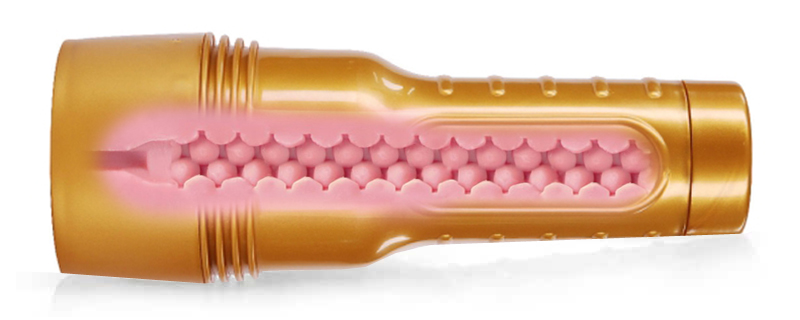 My Fleshlight Stamina Training Unit (STU) Review
Edging is an extended wanking technique developed to help you hold off climaxing, letting you perform for longer. Ruin orgasm techniques follow a similar principle, but can be more frustrating. Some men prefer to practice these techniques manually, but this unit lets you maintain better control over orgasm and ejaculation. Looking to improve your performance and stamina? Read our breakdown to see if the Fleshlight STU can help you.
My first STU Impressions
On first inspection, this orgasm training unit looks pretty simple. While the bumpy texture is impressive, the linear chamber doesn't seem like it'd offer much sensation. However, the peaks and troughs of the curves provide plenty of constriction, ensuring even stamina wanking is a pleasurable experience.
The same bumpy texture lines all 9 inches of this unit, rewarding users of all sizes with the same intense feeling. This consistency is ideal if you're trying to prevent premature ejaculation. It also takes away the uneven stimulation that can often derail manual stamina training and masturbation techniques. The cute Pink Lady pussy orifice and gold-tone case ensures this one scores highly on the finish.
Stamina Training Unit – Feeling and Sensation
This stamina training unit has been designed to help you perfect ruin orgasm techniques. The familiar sensations of the Speed Bump texture ensures there's no peaks in stimulation, ensuring you won't quickly build to climax. It's ideal for edging, helping you draw back at the point of orgasm, keeping you going for longer.
Even though it's a training unit, there's a surprising amount of constriction here. The chamber is narrow, providing a tight fit that feels great against the penis. The uniform texture will grip and massage the penis in every direction, replicating a grasping sensation. The internal chamber itself isn't the most lifelike, but the feeling exerted on the penis is immensely pleasurable.
At 9 inches, there's also plenty of space to ensure a strong suction effect is achieved. This will heighten your pleasure, working alongside edging techniques to produce a much stronger orgasm. If you struggle with this unit upon first use, use a little lube to ease your way and get familiar with things.
Her you can find a PDF manual with tips, instructions and informations about the Stamina Training Unit: Fleshlight STU (Stamina Training Unit) Guide Therein you can learn how to use Fleshlight STU.
Hygiene and Durability
This unit is one you'll reach for time and again, so great effort has gone into making this a durable choice. Made the same great quality polymer as other Fleshlight sleeves, it holds up well after repeated use. This unit relies on its densely packed texture, so it's reassuring to know it's built to last.
Compared to other sleeves, the Speed Bump texture is a little more tricky to clean. The finer texture can collect and hold more mess than other designs, so be prepared for a longer clean-up time. Use a pump spray to help make the job easier, and expect a longer dry time. Leaving this sleeve to dry for at least 5 hours is advised.
Pay special attention to dry time if you intend to store this unit after use. It'll prevent mold from forming and degradation to the polymer. You may also want to use a restoring powder occasionally to replenish the sleeve.
Stamina Training Unit Conclusion and Final Thoughts
If you're prone to reaching climax a little early, this Fleshlight STU is an essential. It'll help you go for longer, master orgasm control and reward you with a more intense climax.
The innovative Speed Bump texture takes away the uncertainty of manual masturbation, putting you in total control. If you've had bad luck with the start / stop technique before, this unit is definitely worth a look.
Review overview
Stimulation, intensity & structure
9
Price / Performance ratio
7
Summary
7.5 Flesh Score: Good This Fleshlight Stamina Training Unit takes away the unevenness of manual masturbation. If you've been struggling to pace yourself and want to prevent premature ejaculation, this should be your first stop. Expect intense sensations and plenty of constriction, but with a singular chamber that'll let you achieve control with ease. It's a must for stamina training, and a great introduction to Fleshlights for the uninitiated.
Pros:
The single chamber and repeated texture ensures there's no surprises, putting you in the driving seat when it comes to orgasm control.
It's easy to perfect a start / stop technique that'll let you hold off orgasm for longer.
The gold-tone Fleshlight ensures this one will be a prized addition to your collection.
A quality suction effect ensures a more intense climax and eventual orgasm.
Powerful massaging sensations reward you with pleasure, even when training.
Ideal for perfecting the start / stop technique.
Premium finish and orifice detail.
Cons:
The densely packed bumps at the interior can collect a lot of waste and residue. Clean-up and dry time isn't as quick as other sleeves.
This masturbator is designed for stamina training, so don't expect a true-to-life fit and feel.
There's plenty of constriction, which might excite you a little early upon first use.
You might need to use extra lube when first starting out with this wanking aid. It might take a while until you get the hang of using it outright.