Lotus is the most popular Fleshlight Girl Texture
Fleshlight Lotus structure : Inspired by the Lotus flower
Designed to be extremely realistic in feeling, the Fleshlight Lotus starts with a very tight 0.45-inch (12 mm) opening that spreads out to a 0.8 by 0.8-inch (20 by 20 millimeter) chamber. But what makes this insert so sensational is the famous Lotus chamber. Fans of this model will go on and on about how the chamber is shaped like the eponymous flower, but what matters most is just how tight and thrilling it feels.
Another benefit of the design of this model is that it can steadily accommodate the lube of your choice. When you start using it, the lube feels deliciously warm and slippery but continues to heat up as you use it, leading to a super hot sensation that's hard to resist.
Beyond the Lotus are another four chambers. Although only a few particularly well-endowed guys could reach the far ends of the insert, the main benefit of the four rear chambers is the vacuum that builds up, causing a strong suction that intensifies the experience.
The Fleshlight Lotus can be used with any of the Fleshlight girls models and comes with a satisfying texture that's now considered the "gold standard" of any Fleshlight sleeve.

My Fleshlight Lotus review
Nice 7  Chambers Design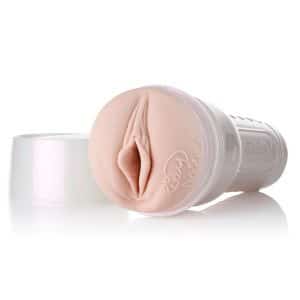 I admit that I was one of the first people to buy a Fleshlight Girls series when the company announced that it was using exact pussy castings from some of the top porn stars in the business. Everyone knows that Fleshlight has taken the adult toy market by storm, and so I was very thrilled to learn that the company was now offering different inner sleeve textures.
I got a chance to get my hands – well not quite hands – on the Fleshlight Lotus canal insert, and I admit I was very impressed by this ultra-realistic new texture and design. It took a few sessions to "break it in", but once I did, I was ecstatic with the results. This is definitely an insert that's best for slowly savoring your thrusts instead of going hard at it with some heavy-duty jackhammering.
This Fleshlight Girls are available with the Lotus texture: Ariel, Katsuni, Carla Cox, Tori Black, Eufrat Mai, Asa Akira, Suzie Carina, Stoya, Marry Queen, Misty Stone, Tanya Tate, Riley Steele, Bibi Jones, Jesse Jane, Nina Hartley, Jessica Drake, Kayden Kross und Lisa Ann.
Intense Penis Glans Feeling
The tight opening is great as it starts off the experience with exactly the right sensation. Depending on your length, you'll have to work to find the "sweet spot" to hit the main chamber, but once you do, oh boy, you're in for a treat. If you can be patient enough to enjoy a slow but steady build-up with your thrusts, you'll be rewarded with a golden hot sensation and powerful suction that will leave you blissfully drained.

Hygiene and Durability
When cleaning the Flesh Light Lotus, you must be very careful so no mold is formed or the insert is unhygienic. It rinse out thoroughly, clean it best with FleshWash up and dry it carefully. The dry season is between 2 and 5 hours. You can shorten it, if you're using a sleeve warmer, towel or a cotton cloth (cupboard).
Clean-up takes a little work as the chambers are good at accumulating lube and semen but it's definitely worth it because of the intensity and pleasure of orgasms with this model. Drying time runs about average, 2-3 hours in most indoor environments.
To keep nice your soft Superskin™, you should powder it up occasionally with Fleshlight renewing powder.
Fleshlight Lotus Conclusion and Final Thoughts
It's easy to see why this model is considered the "gold standard" as it offers everything you want in a good insert: a good slide, a tight opening, chambers that intensify the sensation, and a design that feels incredibly realistic. You'll have to experiment a bit to find the sweet spot in terms of depth and thrusting speed/style, but once you do, you'll definitely understand why this is one of the most popular models on the market.
The Fleshlight Lotus texture will inspire also you and grants very, very intense orgasms.
Review overview
Stimulation, intensity & structure
8
Price / Performance ratio
8
Summary
7 Flesh Score: Good The Fleshlight Girls Texture "Lotus" was copied by the nature. The very 7 Chambers enclose the penis very hard and spends a very intense orgasm feeling. Also the suction effect of the Flesh Light Lotus is impressive very and the arousing stimulation is lifelike. A special highlight is the Lotus node.
Pros:
Vacuum chambers in the rear add a powerful suction
The signature chamber feels incredibly realistic
Special design allows for the build-up of heat and lube, intensifying orgasms
Tight opening and first chamber start every thrust off right
The slide is simply perfect for extended sensations
Cons:
Shorter guys (4.5 inches or less) who can't hit the signature chamber would do better with the mini version
Requires more clean-up than some other sleeves