Speed Bump – The Potence Training and Penis Edging Sleeve
Finding the correct technique, thrusting force, and other such sexual related performance can often prove to be a bearing weight on a man. We want to perform to our full potential and please our partner to no end and with no time limit.
Premature ejaculation is often a problem that often goes unanswered when it comes to a man's sexual performance. The good news is that there is a ready-to-use solution that can help you improve upon this often lacking technique.
Fleshlight has introduced the toy line that helps improve upon sexual stamina and performance in the bedroom. The Fleshlight Stamina Training unit comes in multiple sleeves featuring the Speed Bump Pink Mouth, Pink Cheeks and the device we'll review today, the lady Stamina Training Unit.
This unit comes with a full Fleshlight and sleeve, so the device comes ready to go for the avid masturbator. Let's take a deeper look into what makes this toy a winner with the intrigue it provides to the user. I hope, you enjoy this review. Please leave a comment under this test report.
Speed Bump Sleeve description
The orifice that this Fleshlight comes in features the Lady/Pussy texture. It is more commonly known as the Speed Bump Sleeve as the orifice features a molded pussy entryway. Your toy comes in a Gold Fleshlight case and is pink in color to mimic the look of a real pussy. This device contains one large chamber that features plenty of internal intrigues. Measuring 9 inches in length (25.5 cm), the toy also boasts a small width that ranges anywhere from 0.45 to 0.6 inches.
This creates an intense amount of tightness which is essential to the training regime. The inner canal features an enormous amount of raised spherical balls that surround your penis at all angles. These spheres are all placed very close to one another so that they are touching, leaving no empty space or flat surfaces. The inner walls also feature a continuous, connected valley design to massage the sides of your shaft with each thrust.
The Fleshlight Speed Bump Sleeve has many soft massaging beads in a very tight canal. It provides a superb and sensational feel for any man that uses this product.
The orifices that this item comes in currently are the pure and lady. The Fleshlight in this default sleeve is included in the Stamina Training Unit. The in of this sleeve are: a ½ inch wide interior (that expands to two inches) and it is over ten inches long. The color of the insert is pink. The form of the canal consists of the inner texture that has many short bumps that are spaced consistently and begin about one inch from the entrance and continue throughout the whole length of the tube.
This product has one chamber that is smooth and without texture. The canal is a 1/ ½ centimeters wide and is twenty-five centimeters in length. The Speed Bump Sleeve is thought to be the tightest of Fleshlight's textured inserts. This texture of this item is all its own because it is more intense than the Wonder Wave, but less than the Super Ribbed.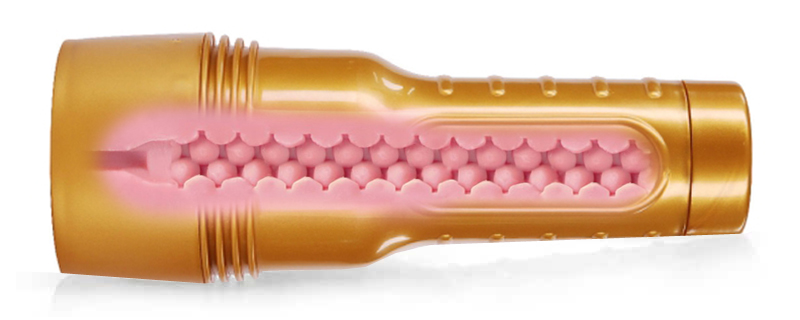 My personal experiences of the Speed Bump Sleeve
Using the Fleshlight STU sleeve to practice edging and orgasm control is the best decision you'll make today. Every woman dreams of a man who can outlast the urge of ejaculation in the bedroom in order to please them to multiple orgasms. The problem lies within the man's capability to resist the urge to cum.
This toy is the perfect solution to prevent premature ejaculation. I recommend using this toy to get a feel for using the edging technique. The tightness of the toy provides for a simulated sex experience, which is key to the successes that are to come from it. You want to experiment with different thrusting techniques. Start off slow and work your speed up and stop before you start feeling that intense sensation that is brought on before ejaculation.
This can mimic the changing of positions in the bedroom with your partner. Work your penis to a rock hard form and then insert into the toy and start your thrusting. Using the edging technique and stopping before the "point of no return" will help you increase your stamina and prevent for cumming too soon.
I usually pull my penis completely out of the toy and wait 30 seconds in between re-insertion. Over time I noticed that this technique helped improve the time I was able to thrust consecutively and still be entranced in the sensations that the toy gave off. Applying a start/stop technique will prove to work wonders for any user. Practice this technique daily or every other day and you'll notice increased stamina in no time at all!
Speed Bump Sleeve Design
The Speed Bump Texture has many soft massaging beads inside a super tight canal to provide a lot of pleasure. It is made from a Real Feel Superskin material which I believe will provide super pleasure. It feels softer than real skin and holds in heat just by soaking it in warm water. It is designed to feel like making love to a woman and takes the sexual experience to a level that a person has never explored in the past. I truly believe that the Speed Bump Sleeve will provide a one-of-a-kind experience that no other sex toy could ever provide.
The toy features a simple design and comes with the full device, casing and sleeve included. This adds a little intrigue to the basic sleeve and allows you to get right to honing in on your skills. It comes in a box with a plastic casing surrounding your toy. This prevents from any damage occurring in transit. Furthermore, your toy comes with a casing and sleeve, allowing for simple assembly to start practicing with a sense of immediacy. This simple design also helps with the practicing and familiarity factor. A more complex toy could create for confusing sensations that often prevent you from applying a stop/start method. Orgasm training provides to be a breeze with this new design from Fleshlight.
Nice Speed Bump feeling – Not too hard and not too soft
As mentioned previously, the feeling of this toy provides a tight suction on the user's penis. This is necessary to mimic the actual pussy in order to get you as close to the real thing as possible. Intense sensations and orgasm heightening feelings are created by the spherical nodes and valley-like inner walls of the canal. The pulling-out technique when reaching the edge of cumming won't ruin orgasms. Instead, it will provide your penis with a little notification about when to let loose and when to hold off. These intense feelings are magnetized within to make sure you are ready for the real thing after you train with this toy.
This product is very intense. The texture is designed for an intense amount of satisfaction with a lot of raised bumps that tease and titillate the people that use it. It´s very slide friendly with the many bumps inside of it stimulate and massage a man. The extraordinary Superskin material clings to them for a tightness that is very enjoyable. The product is designed to be as tight as anal sex would be or as pleasurable as traditional sex. Many people have described the orgasm that is obtained from using this product is mind blowing and I believe that to be true.
The best amount of suction is obtained when the end cap is kept on as tight as it will go. It can be cleaned with a sex toy cleaner (there is one that is made just for Fleshlight). They need to be dried all the way prior to being stored. Using the renewing powder made by this company will keep this item feeling like it is brand new by keeping it as soft as when it first arrived.
Hygiene & Durability
The toy features a simple inner canal, but the raised spheres and valleys have little crevices in which lubricant can build-up/get stuck in. FleshWash is the recommended product of choice when cleaning your toy. Take a small, soft towel to make sure the inner canal is dried in-between uses.
It is rather durable as well if cared for correctly. Since you will be using your toy in intervals, you want to make sure to add a small amount of lubricant, but not too much. You can also add a little as you pull out each time to mimic the wetter a pussy becomes during intercourse. I have found this to be rather useful and it helps re-create the experience that is to come.
When it comes to cleaning this item, a bit of additional care is necessary but is well worth it. Never clean it with soap, warm water will typically get it clean. If that does not work, a little alcohol diluted in water should get it clean. Along with ensuring that it is totally dry before you store it, make sure you keep it away from dirt and dust. It is recommended to store it in a clean drawer or another safe place. If it happens to get sticky and tacky, put cornstarch, talcum powder, or Fleshlight's Renewing Powder on it.
When you are done using this item, you need to rinse it with clean, warm water. Be sure to clean it and dry it all the way after each use. Moisture, sperm, and lube residue can cause it to become moldy or cause bacteria to grow on the inside of the inner canal and make the item not to be able to be used anymore. Isopropenyl alcohol or Fleshwash can prevent the growth and spread of germs, bacteria, and mildew in your product. The Fleshwash disinfectant needs to be washed off after five minutes to avoid skin irritation.
My Speed Bump Review Conclusion
This Real Feel Super Skin masturbation sleeve leaves a lot to brag about. The tight inner makings help mimic the sexual experience to the user and is a necessity to a successful training regime. The inner makings also feature plenty to rave about when it comes to nodules that stimulate your senses. This is training made fun and easy. The timing part is on your shoulders now; so get to training that penis for sexual ecstasy for the sessions that follow.
This male sex toy will provide many hours of superb pleasure to any man that uses it. If it is cared for with the right products, it will last for many years of continuous sexual enjoyment. Many people think it is a special and unique sex toy, and if you use it, I think that you will agree. This sleeve is perfectly for penis edging over many hours.
Review overview
Stimulation, intensity & structure
6
Price / Performance ratio
7
Summary
6.3 Flesh Score: Good This item is just right for individual sexual encounters or help you prepare for the real thing. It is a sex toy that will raise the amount of pleasure that you feel every time that you use it and will keep you happy for a very long amount of time. For the little time and energy it takes to care for this item, it will provide you with a lot of contentment.
Pros:
Internal speed bumps that fully surround you
Your experience can be customized by decreasing or increasing the amount of suction.
The Superskin material is soft and elasticity, which makes it feel life like and soft.
It has a natural grip and is made for easier positioning.
It is easy to clean and keep clean.
It is made of high-quality materials and the design makes it look very real.
The packaging is very discreet, so no one will know what you are getting.
Cons:
When using this item, it does require the use of a lot of lube. It is a good idea to purchase a lot of lube prior to using it. Never use oil based or silicone based lubes because they break the material down over time!
Large size. It is not easy to hide this item especially when you live with people that like to look through your belongings. If you live with these kind of people, hide it in a discreet place like between your mattress and bed frame.