St. Patrick's Day: A Holiday for Ireland's Patron Saint
Immediately following on from the Mardi Gras Fleshlight discount offer, the Fleshlight manufacturer ILF surprises us yet again. From 9-17 March 2017, you'll be able to pocket yet more savings with a special promotion to honour the arrival of St. Patrick's Day!
Depending on the order value, you can expect savings of 5%, 10% or even a meaty 15%. In addition, you'll get between one and three Fleshlight gifts on top of your savings to look forward to!
I personally couldn't resist a generous offer like this and purchased three fake pussies.  Each yielding a nifty saving with 13 $. A few days later, I ordered a brand-new jerk machine Fleshlight launch and saved an impressive 40 $ straight. As soon as both deliveries arrive at me, I can let you know which free gifts came packaged with my purchases. 😉
Below, I'll explain exactly what St. Patrick's Day is and what shamrocks, green hats, Guinness beer, merriment, green colored fountains, wild parties and the Church have to do with each other. And of course, I"ll lay out a little more information about this fantastic Fleshlight discount deal.
What is St. Patrick's Day?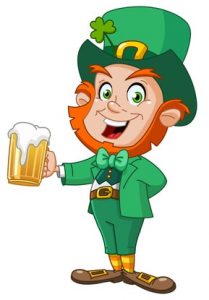 Patrick of Ireland
was, according to locals, a Christian missionary who was dispatched to the Emerald Isle in the fifth century AD. To this day, this legendary figure is beloved across Ireland and remains the patron saint of the country. According to legend, he brought the Catholic faith to Ireland, converting countless Gaelic native tribes. During his brave endeavors with the locals, he also declared the indigenous clover leaf a religious symbol, freed the island of a plague of snakes and founded countless churches, monasteries and schools.
Nowadays, the Irish national holiday is an occasion celebrated across the world. The day is recognized as a public holiday in Ireland and is even a legal holiday in parts of Canada.
In the United States, there are about three times as many Irish nationals as in Ireland itself. In fact, the Republic of Ireland is home to a mere 4 million inhabitants. In many American metropolises where a lot of Irish ex-patriots have settled, huge parades on St. Paddy's Day take place. Boston, Dublin and Chicago all play host to immense parades and public displays with emerald green being the predominant color.
How is St. Patrick's Day Celebrated?
There's countless different traditions and observances that fall on St. Patrick's Day, but those serious about adhering to tried and tested tradition should kick off the day with a visit to morning mass. In most major cities that celebrate the event, large parades pass through city centers and Irish enclaves. Once the parades are finished, a great deal of food and drink is then consumed.
Some choose to celebrate the day with family, others with friends. A visit to the local pub is often an essential to-do on any itinerary for the day, with green-dyed beer, a chilled pint of Guinness and traditional Irish foods such as corned beef with cabbage and soda bread all commonly consumed.
Many of those participating in the celebrations wear green garments. Clothing is often adorned with the shamrock, an unofficial emblem of Ireland that is particularly popular come St. Patrick's Day. The shamrock is in honor of the clover, but carries less religious significance. The three-leaf clover is particularly symbolic of religion though, with its trinity of leaves representing the Holy Trinity, that of the Father, the Son and the Holy Spirit.
It's no accident that this event falls in the middle of fasting season before Easter. On this high holiday, the church makes exceptions for those celebrating, allowing them to consume such luxuries as alcohol and meat that would otherwise be a no-go if following the proper observances of Lent. This might explain why those celebrating the event are so keen to consume so much!
Traditionally, many rivers, lakes and fountains in cities celebrating the day are dyed green, particularly in the USA. In addition to this, many major buildings and landmarks are illuminated green as another nod to the iconic Irish holiday.
St. Patrick's day is not only occasion for partying and parades. Many major retailers have taken advantage of this holiday to capitalize on the spending power of consumers. The National Retail Foundation has calculated a sum of 5.3  billion Euros in the USA on March 17!
In the USA, the new home of many an Irishman, many shops lure consumers to their doors with amazing discounts. As part of the Get Lucky St. Patrick's Day Sale, ILF also offers enticing discounts and deals, giving horny guys the chance to buy a new Fleshlight whilst making a sensational saving.
The three Fleshlight discount rates this St. Patrick's Day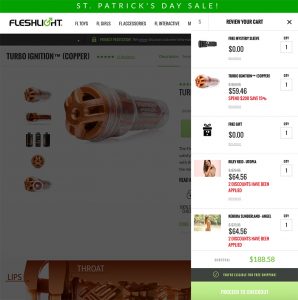 St. Patrick's Day has been celebrated by the producer of Fleshlight with a special rebate, valid between 9 and 17 March 2017. With already attractive prices, shoppers can net even bigger discounts while the manufacturer enjoys the chance to free up warehouse capacity and invest in new lines and collections.
In theory, orders are already worth 80 Euros. This includes the existing discount of 5% for those buying a Fleshlight for the first time from the manufacturer's website. If you're looking to spend more on a single order, you can look forward to further discounts and savings.
People who want to buy two Fleshlights can benefit from a 10% discount. In addition to this saving, the manufacturer includes a complementary insert named "Mystery" with the package.
For an order of 160 Euros or more, a 15% discount is applied. What's more, a new "Mystery" insert and an exclusive  limited green Quickshot ™ Masturbator is also included to surprise shoppers. This deal however has a limited stock, so it's worth getting in quick.
The price reduction for St. Paddy's Day are only valid when you make an order with a minimum value. There are no restrictions on the selection of products in your basket. For example, you can purchase newly released models like the Fleshlight Turbo. The Angel Fleshlight based on porn actress Kendra Sunderland, or new devices from the KIIROO collection can also be ordered with fat discounts applied.
Just for the record, I ordered the new Kendra Sunderland Fleshlight and enjoyed a surprise of two new inserts.

A Surprise Fleshlight Launch on St. Paddy's Day
ILF always surprises and goes out of its way to inspire new and old customers alike to splash out and make a purchase. On 12 March 2017, the brand new Fleshlight Launch was introduced. Developed in cooperation with Dutch technology experts KIIRROO, this is definitely worth a look.
This modern jerking machine, which can be linked to your devices via Bluetooth. I've purchased a model already and await my first test. What's more, I managed to pocket a meaty saving on this masturbation machine with the snazzy St. Paddy's Day discount, saving me around 40 Euros on the total cost. What's more, I've got a surprise sleeve and Shamrock Quickshot to look forward to!
So now, I've two new Fleshlight devices and two Shamrock Quickshots to look forward to! Forget the luck of the Irish, it seems everyone's lucky thanks to ILF.
Hopefully you've built up a clear picture of St. Patrick's Day and why this St. Paddy's Day is so special thanks to ILF's amazing discounts and deals. Whether you're Irish or not, you'll want to get in on this action and enjoy the craic.
Happy jerking,
Mike
Impressions of St. Patricks Day´s in the irish capital Dublin