Kendra is a dreamily natural Angel of love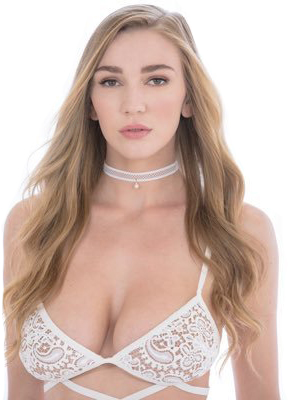 Fans of porn star Kendra Sunderland have been extra happy since February 2017 when this thrilling, one-of-a-kind natural beauty became the latest Fleshlight Girl. I.L.F. have called the texture "Angel".
The Pussy Fleshlight allows fans and Fleshlight junkies to have intense sex with the superstar. No man can escape the temptation of her labia molded directly from Kendra herself.
As a loyal Fleshlight fan, I was, of course, very curious to find out more about Kendra Sunderland. I did some research and found a lot of exciting information about this truly hot Fleshlight Girl. I was especially interested in finding out which erotic films she has already made and what kind of response she's garnered.
If you'd like to share your thoughts or add some additional interesting information, please do so in the comments section.
Who is Kendra Sunderland?
On 16 June 1995, Kendra Sunderland was born in Salem, Oregon. She is an American, but she owes her unique beauty to her roots in the Caucasus. The attractive erotic model has hazel eyes, blonde hair, and weighs 57 kg (125 lbs/9 stone) at a height of 175 cm (5'9"). Kendra, who also became known as "library girl", especially fascinates her fans with their ample and shapely natural breasts (70 G). Not only are her nipples pierced, but also her nose and belly button.
So far, Kendra has only made 20 porns, but has built up an enormous fan base. In 2017, she won Best Sex Scene Boy/Girl at the AVN Awards and was named Vixen Angel of the Year 2017.
The girl is full of charisma and charm, reinforced by her dainty figure with the big bosom. Already after university, she began working as a cam girl which earned her fame as "Library Girl". Before that, she had worked as a waitress in Corvallis so that she could pay for her business degree.
Kendra, the "Library Girl" 😀
In 2015, Sunderland filmed herself masturbating in Oregon State University's library. This film was uploaded to Pornhub anonymously and did not remain secret for long. She was charged with causing a public nuisance and was arrested. News of her arrest spread quickly and Kendra Sunderland could barely save herself from her fans. She came off relatively lightly. She was fined $1,000 and was banned from campus. It's no wonder she'll be known as "Library Girl" forever. After this entrance into the public eye, she was contacted by Penthouse and Playboy who wanted to do photo shoots with her.
She then signed an exclusive contract with the popular porn label VIXEN. Her signature was engraved on a VIXEN diamond necklace (worth about $20,000) and now her original signature is on her own Angel Fleshlight from I.L.F.
If you have yet to discover the naturally exciting Kendra, you can follow her on Instagram, Twitter and Facebook. You should also check out her movies.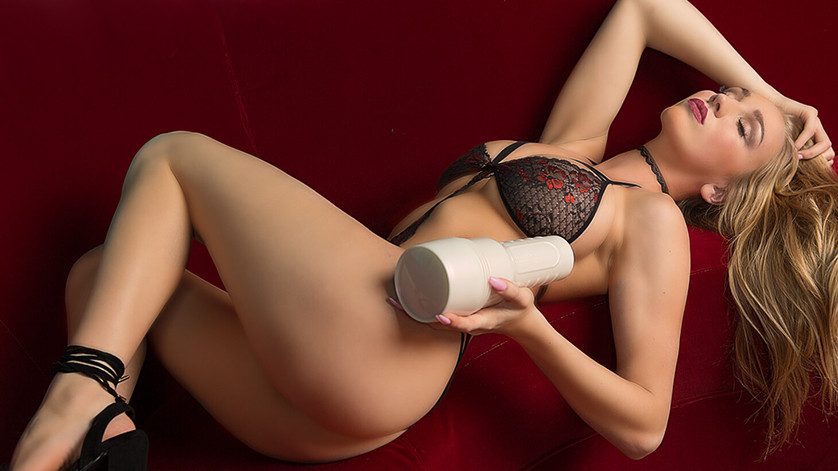 Kendra Sunderland Fleshlight
On 17 February 2017, the proverbially "heavenly" Fleshlight Angel came on the market. For the fourth time in a row, I.L.F. has given a new Fleshlight Girl with only a vaginal sleeve. As with Dillion Harper, Romi Rain, and Nicole Aniston, there is neither an anal nor oral sleeve for Kendra. We can hope that I.L.F. will not be continuing this trend.
Sunderland's delicate labia form a special temptation at the sleeve entrance. The Angel channel is not very narrow, but very varied. Five different structures follow each other after the entrance. The structural transitions are not always so clearly separated from each other that they could be described as different chambers. The new Fleshlight structure stimulates with obliquely arranged ribs and various fields of nubs.
The Angel sleeve provides a different and always new experience with each use. It is exactly these variations that make jacking off with the Angel so exciting.
Orifice:
Texture:

Pussy – Angel Texture
The Angel texture varies between nubs and wavy textures. Fine, slightly turned transverse grooves await you in the main chamber whose internal diameter varies between 20 and 25 mm (3/4 to 1 inch). The fluctuations in the internal diameter are due to the internal structure which continually turns to provide noticeable changes again and again. The turned, finer ribs (approx. 5 mm or 3/16 in wide) are about 4.5 cm (2 inches) long. Before hitting another zone with large nubs, you must first pass an untextured zone of approx. 2 cm (1 in).
This is followed by 5 rows of nubs arranged opposite each other about 2 cm (1 in) apart. They look like a chess board-like grid of rectangular knobs. The last structure of the Angel sleeve follows a brief 5 mm (3/16 in) free zone. These are 3 cm (1.5 in) long blocks with a flattened surface with round nubs.
Evaluation in the direct comparison:★★★★★
My review of Kendra's Fleshlight sleeve
I really liked the Angel Fleshlight! The entrance to the insert is quite tight: you literally drill you through Kendra's labia into a world of pleasure. Then follows the first chamber with the turned, transverse rib structure, which starts out wide, then narrows, and then opens out again.
Before the transition channel into the next chamber, stimulating nubs await you in the narrow transition zone. Large nubs facing the channel entrance are followed by fine knobs/ The contrasts offered by the Angel texture couldn't be greater. The small, round bumps in the second chamber provide a particularly gentle stimulation.
The Kendra Sunderland Fleshlight offers a great masturbation experience for all users. Once you've chosen to get yourself a sleeve with the Angel texture, you will enjoy the varied sensations between swirls, nubs, and other unique structures. The variation means it never gets boring.
It's particularly nice that this artificial pussy is also relatively easy to clean. As with other Fleshlights, you do need to do an intensive cleaning after each use, but the time needed to clean, care, and dry the sleeve is quite moderate.
It's definitely worthwhile adding the "heavenly" Angel Fleshlight to your Fleshlight collection. The stimulation is intense, but not so intense that you cum in seconds. The variation between intense and gentle stimulation makes this masturbator truly special.