The fiery Fleshlight Girl with the XXL bust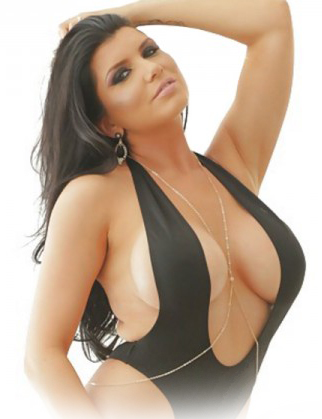 Since 18 October 2016 Romi Rain has officially had her own Pussy Fleshlight with the Storm texture. Admittedly, I didn't know until this time who Romi was – probably because with her gigantic breasts she isn't what I normally look for in a pornstar. 😉 In fact, the busty Romi has starred in many erotic and hardcore movies. Hundreds of thousands of men around the world are completely crazy about Romi's videos.
In the meantime, I've checked her out and learned a lot of fascinating information. Of course, I've also bought her masturbator and subjected it to an enjoyable Storm Fleshlight Test. On this page, I'm going to introduce the new Fleshlight Girl to you. The pornstar has a proud filmography and has justifiably been chosen as a Fleshlight Girl.
If you have additional information about Romi or simply just want to express your opinion, please leave a comment below the text.
Who is Romi Rain?
On 12 January 1988 Romi Rain was born in Massachusetts (Boston). Although she is a US citizen, she has Sicilian roots. She has brown eyes and black hair. Romi is 172 cm tall and weighs approx. 55 kg. Her large bust just fits into a 75 F bra. Most men worship her for her fascinating eyes and lush, very natural looking breasts.
Even as a teenager, she knew what she wanted. She first worked as a waitress before moving to Los Angeles at the age of 18. In Los Angeles, she began her career as a softcore erotic model on websites and did modeling for underwear, bikinis, and automobiles until at the age of 19 she started to work as a dancer. She danced in many different clubs, including burlesque and exotic dances. Three years later she turned to the adult film industry.
At the age of 24 (in 2012), she was already highly sought after on the adult market. She participated in productions by Digital Playground, Naughty America, Girlfriends Films, Bang Bros, Brazzers, New Sensations, Evil Angel, Jules Jordan Video and other studios. So far she has taken part in more than 270 adult film productions. In the year 2016, she starred in the Ghostbusters XXX parody, together with Ana Foxxx, Monique Alexander, and Nikki Benz. In the same year, she received the XBIZ Award (best sex scene, couple).
Romi Rain has not lost the proud and fiery temperament which she inherited from her Sicilian family. She is wild, has no taboos and knows how to showcase her very feminine body. With her fire, she arouses not just men but also women. Thanks to her charisma she is also the perfect Fleshlight Girl for ILF and received her own Fleshlight in 2016.
Want to learn more about this brunette beauty? Then check out Romi´s website and follow her on Instagram, Facebook, and Twitter.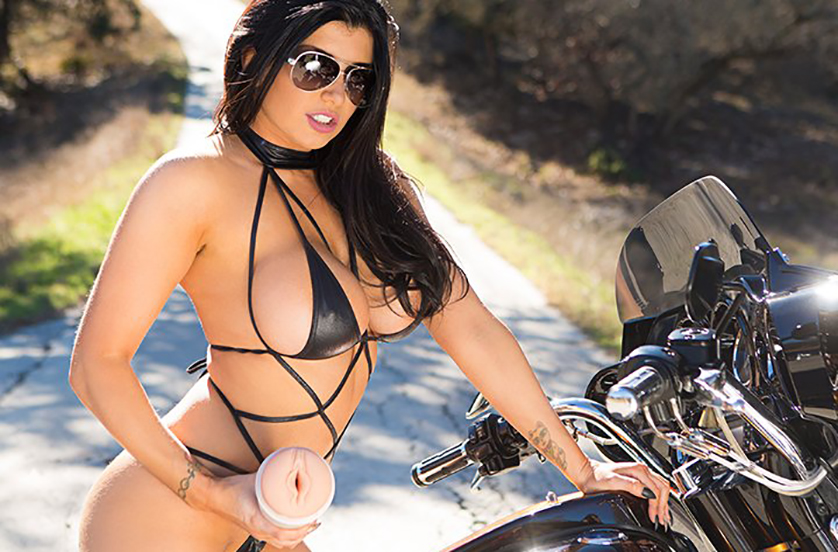 Romi Rain Fleshlight
In 2016 ILF set itself the task of developing a Pussy Fleshlight for Romi which would be just as sensual and stormy as the erotic model herself. Men who have lusted after the porn star for years want nothing better than to fuck the model themselves. Thanks to ILF this wish can now come true. The Fleshlight Storm was designed exclusively for the fiery model. It has been available for purchase since October 2016.
Men who want to enjoy the new Pussy Fleshlight can be inspired during masturbation by her movies online or on DVD. It's almost like a three-dimensional experience if you can experience Romi Rain not only as a sex model in the video, but feel and fuck her at the same time. In the porn films, you can admire her long hair, delicate back, and tattoo.
Unfortunately, her huge breasts can't be immortalized at the same time in the Romi Rain Fleshlight. At present, there's no ass or mouth orifice either. 🙁
Orifice:
Texture:

Pussy – Storm Channel
The Storm channel contains three chambers of various sizes. The entrance is very tight, followed by an intense ring of bumps. The first chamber consists of a succession of large bumps. In the center of the rubber vagina there is a 5 cm thick ring – at 1.5 cm it's particularly narrow. The second chamber contains six transverse ribs. Although the third chamber can only be reached by a few men, the four rows of large, rectangular bumps seem to be a highlight.
With its crevices, bulges, rings and bumps the Storm texture provides intense stimulation. Since the narrow section of the middle sleeve area is within easy reach for "normal" men, you can really look forward to this highlight. The suction effect is so strong that the area behind the thick ring in part sucks directly on the penis. Rating in direct comparison:★★★★★
My opinion of Romi's masturbator
The Romi Rain Fleshlight can offer you endless stimulation. It's narrow and varied in design. Large nubs, small ribs, a thick ring, deep grooves and stimulating narrow sections alternate. You can look forward to a sensational feeling of penetration when you get intimate with the Storm Fleshlight. As is normally the case with the Fleshlight Girls, the artificial pussy is supplied in pearl-white case which looks both exclusive and seductive at the same time.
The sleeve with the 5 chambers is very varied. You can pleasure yourself intensively and experience the masturbation aid again and again – depending on how fast you jerk with the sex toy and how tightly you turn the valve cover. With a little practice you can consciously control the vacuum and the suction effect. And one thing is certain: the stormy Romi also has a stormy Fleshlight, which the manufacturer ILF has developed to suit her personal features.
Before masturbation with the Storm Fleshlight, you should look at the original moulding of Romi's labia. You will recognize it immediately if you have seen some of the model's videos. Watching her porn movies while you jerk off is a must anyway! The artificial pussy made me come brutally several times! The big ring in the middle has what it takes and can mercilessly milk your penis within two minutes. Don't miss my full review.
It's a pity that there is no Romi mouth or ass Fleshlight. 🙁