Joanna Angel – Bad Fleshlight Girl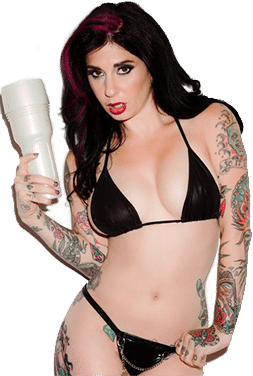 With her entrance in the Porno business, sweet Joanna Angel made no small thing herself, but together with a friend was able to immediately create her own web page. This was in 2002 and for her films she wrote the screenplays, directed and even stood or performed in front of the camera. The success of her web page did not go unnoticed in the industry, and she was able to turn that success in 2007 into a non-exclusive contract with club Jenna and Spice studios.
On account of the wild appearance, the concept Punk Porn was introduced for Joanna. This concept not only serves her styling, but many tattoos as well in order to entertain by using men, women, three and four, or even more in the most different positions. One major point to note for the Fleshlight Girl, is that for Joanna it is a central issue that she has her fun.
With this fun it has helped her to become a very successful producer in the porn branch without necessarily have a long showing career. Beside her career as a porn star, she also she plays over and over again in mainstream filming. Thus, among many others, she is known for her roles in the films Scrapper and Breath of Hate.
With significant energy, Fleshlight Girl Joanna persuades girls to join her. These faithful impressions were made by Joanna, and are available as inserts for Fleshlight Masturbators. With these items, she has created something that she hopes her fans and everybody who will still be able to use it will enjoy them.

Joanna Angel Fleshlights:
A walk on the wild side with Fleshlight Girl, "Tattoo Porn star" and producer, Joanna Angel gets you hot and ready in moments. She writes, directs and stars in titles like, The Walking Dead: A Hardcore Parody. Known for her edgy look and humor, you can enjoy an extended climax using a masturbation toy designed by her for your pleasure.
These masturbation tools not only offer a tight, yet yielding grip, they also feel amazingly lifelike and successfully copy the texture of real flesh. The "Real Feel Super Skin," material is elastic and flexible, letting you thrust at your own pace. The plastic case gives you something discrete that looks a lot like a flashlight on cursory inspection. Using a fleshlight masturbation toy lets you relax and enjoy without worrying about any embarrassing explanations. Lean back and have fun as you pump your way to an unforgettable climax.
Orifices:
Textures:

Pussy – Misfit
If you like vaginal, go for the Misfit, it looks and feels like a live pussy. Wider at the entrance with a graduated chamber that hugs your shaft, the Misfit mimics the feel of a vagina, only better. Ribbing and round bumps massage your penis during every thrust, making your masturbation experience one to remember. At the rear, you can enjoy wave after wave of tightness. The entire sleeve measures approximately nine inches, so you won't have to worry about bottoming out.
Rating in direct- comparison:

Butt – Punk
If backdoor action is your not-so-guilty pleasure, slip into the Punk sleeve. With a tight anal ring to penetrate, it does an excellent job of imitating an anal experience. With the Punk version, it's all about the ribbing. The entrance is tight with a wider chamber just past the ring. Then, as you advance, the rings of ribs tighten up to give you firm stimulation all the way down to the base of your shaft. The end of the toy is fairly tight, hugging your penis head for added pleasure.
Rating in direct- comparison:
Joanna's profile: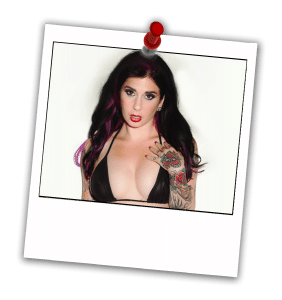 Date of Birth: December 25, 1980
Place of Birth: Brooklyn, NY
Country of Birth: USA
Current residence: Manhattan, New York
Body height: 5″
Weight: 105 lbs
Body in inch: 34-24-34
Bra size: 32D
Hair: black, long
Ethnicity: Caucasian
Eye color: blue
Physique: athletic
Tattoos: Both Arms, shoulders, back
Piercings: No
Sexual orientation: bisexual
Filmography (best known porno films): New Wave Hookers
Porn Studios: Club Jenna, Burning Angel, Spice Studios
https://www.facebook.com/joannaangelrules/
https://twitter.com/JoannaAngel/
Photos on Flickr
Images on Pinterest
Instagram Pictures
Joanna Angel official Homepage