Punk Texture: The Butt Fleshlight of Joanna Angel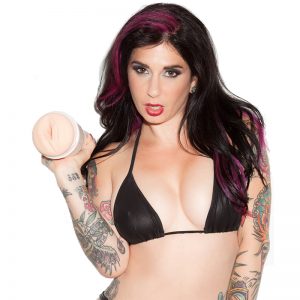 I'm always looking for unusual sex toys for men. As the Fleshlight company ILF, LLC. released the Fleshlights from the pornstar 
Joanna Angel
, I was very impressed by the tattooed punk girl. I can't believe that she let molded her ass. ^^
I immediately knew that I must introduce you to this Punk Fleshlight masturbator in a test report. I hope, you have fun to read the review.
Molded Butt from a Tattooed Pornstar
I don't buy a sex toy expecting it to be completely like real sex, but I love the mind movies. The crazy Fleshlight Girl Joanna Angel is a very sexy pornstar. She will wake up the fantasies of many men.
As her Punk Fleshlight arrived me with a UPS package, I was impressed by the quality of the molded butt, after the unpacking. I hoped it was as good as it looked and no bad surprise there.
The Punk Sleeve has a slim, transverse ribbed texture, which made it even more appealing. It has eight chambers with a ring-like structure with different diameters. Joanna Angel´s texture is able to simulate a smooth tightening sensation. This is due to the increase and decrease of friction. Depending on where my penis is in the canal, it clamps down on my cock and gently releases and then repeats.
By the way: If you like to fuck Joannas Pussy, please read the Misfit Fleshlight review.
My Joanna Angel Fleshlight Test
Nice Joanna Angel Butt Design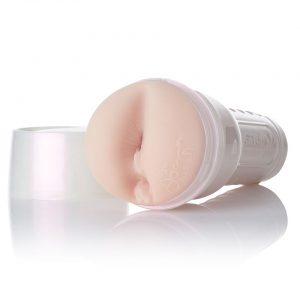 I was able to feel the difference as I moved from one chamber to the next as if it was teasing me up. The deeper into the canal the better it felt as it became increasingly tighter around my penis shaft. Then there was a separate sensation when I was completely engulfed in the Joanna Angel Fleshlight sleeve.
I am of average size down there and it worked well for me, but it would also accommodate a larger one. This particular texture I was very happy with. When I came it felt so good to release in the form of a pleasurable orgasm.
Realistic Fleshlight Punk Feeling with suction effect
One of my favorite parts was that there was a vacuum tugging that felt really good deep at the tip of my penis. It would get perfect marks for intensity, stimulation and penetration with tightness and suction following close behind. The intensity was high and so was the stimulation.
As I penetrated the Fleshlight Punk test score was high except for the amount of lube I needed to use because the slide on was a tad harder than most. I suggest, to use some of Fleshlube, because it is just the right consistency. It squeezed fairly tight compared to others I have tried and this was increased by the suction capabilities.
For me, it is a very realistic feeling, similar to the anal sex I have had in the past. I didn't expect it to be. I really did like the ass texture of this sleeve a lot. Fleshlight Punk can make definitely great anal-like feelings and nice orgasms.

How to care your Fleshlight?
Also if you want to sleep after your orgasm… You must(!) stand up and minimum clean-out the texture with cold water. You may not leave the Fleshlight under your bed until the night! Bacteria, pathogens and fungi penetrate into the Real Feel Superskin ™ material.
The cleanup of the masturbator is a bit time-consuming.  To thoroughly clean, rinse the sleeve with warm water and use a little bit Fleshwash. Don´t use regular liquid soap, because the material will be fast brittle. You can shortly turn the sleeve inside out.
This Punk sleeve also took a long time to dry. To prevent mold, the sleeve must dry 1 – 3 days at a well-ventilated place. You may not store the moist sleeve in the plastic case! Be careful not to accidentally forget it.
After drying occasional, you must dust-up the sleeve with Fleshlight Renew Powder. This reduces the stickiness.
The durability of the toy has been good so far.
Fleshlight Punk Conclusion & Final Test Results
Overall the experience with the Fleshlight Girls Punk Sleeve a good one.
The feeling is great. You really have the feeling to fuck a butt. I really liked the suction and vacuum of the unit. The orgasm it gave was a good reason to give it a 9 overall.
Only the cleaning and drying time are very long. In addition you have with this sleeve an higher lube consumption. But this is less important to me.
Finally I only can say: I love Joanna Angel´s butt. 😉
Review overview
Stimulation, intensity & structure
10
Price / Performance ratio
9
Summary
8 Flesh Score: Great The tattooed Pornstar Joanna Angel sleeve will give you a great masturbation fun. Just be sure to use lube as her replica is tight. This butt texture is highly pleasurable. I highly recommend this fleshlight sleeve.
Pros:
Durable
Tight
Great sensation
Powerful vacum
Cons:
Difficult clean up
A lot of lube needed
Not very realistic but pleasurable none the less