Misfit Texture – Molded from Joanna Angel´s Pussy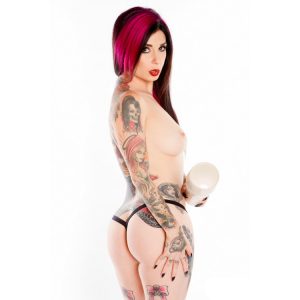 In the world of men's sex toys there are few names that are bigger than Fleshlight.
It's so well known that its name is often used in reference to all masturbation sleeves. One thing that helps this company stand out from other manufacturers is its lineup of porn star-inspired sleeves.
Today, I'm reviewing the Misfit Sleeve – molded from the pussy of Joanna Angel. This orifice is the counterpart to the Punk Texture – Thats Joanna´s Ass.
I hope, that I can help you with this test report. Please leave a message in the comment function under this review.
Misfit Texture Description
Let's start by talking a little bit about the girl after which this insert is designed. Joanna is known for her punk rock-like personality, but what distinguishes her the most are her tattoos and ability to multitask. Some of the most notable videos she is in include "Rock and Roll in My Butt-hole," "Vampire Cheerleaders" and "The Walking Dead: A Hardcore Parody."
While there are several types of masturbation tools designed after Joanna's different orifices, the Misfit Sleeve is exclusive to her pink lady model. The sleeve itself is skin-colored, and the canal has three chambers that each has its own texture. The entrance is pretty tight at just 0.4 inches in diameter, and it features a cross-rib texture.
The second chamber is a bit larger at 0.8 inches. It features two rings of bumps that are positioned in a staggered formation. There is also a third ring with rectangular bumps that provide different stimulation. The third and final chamber shrinks down to just 0.5 inches and has six cross ribs that run in waves all the way to the back of the sleeve, giving you maximum pleasure the whole time.
My personal Fleshlight Misfit Review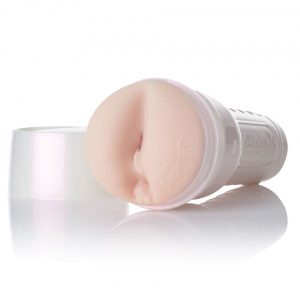 The Joanna Angel: Misfit Sleeve is the first male masturbation tool I have used that is modeled after a specific girl. I have watched some of her videos before, which ultimately played a part in my final decision to choose this product.
Misfit Texture Design
The first thing you will notice about the design of this sleeve is that the inner canal is very heavily textured. It features a very odd but interesting combination of cross ribs and bumps. This provides heavy stimulation throughout the entire chamber, and the inner diameter takes this even further. The outside design looks like your standard, everyday Fleshlight, but you may take some satisfaction knowing that the mold is inspired by the look of Joanna's pink lady.
Really intense Feeling & hard orgasm
Here is where this Fleshlight really shines. The Misfit design isn't made for beginners or people who don't like a lot of stimulation. Penetrating the sleeve ranks among the best I have ever felt from any Fleshlight. Despite the second chamber being a bit large, the other chambers are more than tight enough to make up for it.
With so many ribs throughout the entire sleeve, you will feel the stimulation all over. While the suction effect isn't the best on the market, it does better than average. Like with most sleeves, you can adjust the amount of suction by turning the end cap. In the end, this product generates a lot of stimulation to give you a pretty intense orgasm.

Hygiene & Durability
Just like all Fleshlight products, this sleeve is meant to last. Its patented skin-like material is meant to stand up to vigorous abuse. Unfortunately, this product suffers from the same cleanup issues from which all textured masturbation sleeves suffer. Smooth and non-textured sleeves rinse clean easily, but textured ones require more in-depth cleaning to ensure that all of the residue is removed. With three highly textured chambers, it's easy to see why this one isn't easy to clean. Worse yet, it takes this insert a long time to dry because water tends to pool in ribbed areas.
My Misfit Fleshlight Conclusion
I'm very pleased with my experience with this sleeve. Despite being difficult to clean, this sleeve provides plenty of stimulation to bring on an intense climax. However, due to this intense stimulation, I don't recommend this model to newcomers.
Instead, this is meant more for the experience user that wants to take their adult toys to the next level. The only thing that can make this sleeve better is to use it while watching Joanna Angel's videos.
Review overview
Stimulation, intensity & structure
8
Price / Performance ratio
8
Summary
7.7 Flesh Score: Good This Misfit sleeve is a fantastic choice for people who like a lot of stimulation and complex chambers. It features varying levels of tightness throughout the canal, which produces a unique feel. While the textured chambers can be difficult to clean, it's well worth it thanks to the intense orgasm it provides.
Pros:
Intense stimulation
Varying levels of tightness
Complex chambers that create a unique feel
Designed after Joanna Angel
Real-skin technology gives you the feel and comfort you expect
Cons:
Different chambers and textures make cleanup a hassle
Long drying time
Suction isn't as strong as other models I have tried