Anikka Albrite – Sweet and Wild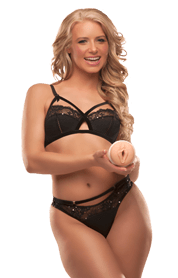 Anikka Albrite brings the international flavor to porn. Hailing from Czech, Danish, French and German descents, this exotic beauty has made a name for herself in the porn industry. With luscious blonde hair and those memorizing blue eyes, the sweet Fleshlight Girl has been the center of attention throughout her career. Anikka has worked in the industry as both a performer and a director.
The Fleshlight Girl got her start in the industry in 2014 with her first feature film "Anikka". In this film she also shot her first anal scene. Her second film, Anikka 2, featured her in her first double penetration scenes. Her wild side shows throughout all of her work as orgies and 2-on-1 scenes have become her forte. As a director she is also able to showcase her talents and creative scenes. Her first film that she directed was called Anikka's Bootycise. She showcases public scenes, anal sex and other such sexual adventures to which her viewers know and love. Her best-known porn blockbuster is Apocalypse.
Becoming featured as a Fleshlight girl has become the next step in her long list of successes. Albrite is a free spirit mixed with the smarts many would not often associate with adult film actresses. Combining these two factors makes for this temptress to be highly desired and the object of affection for many fans. It is only right that she gets her own Fleshlight and is featured as a Fleshlight girl for people to fantasize about at all times. So let's have sex with Anikka as we review her available male sex toys.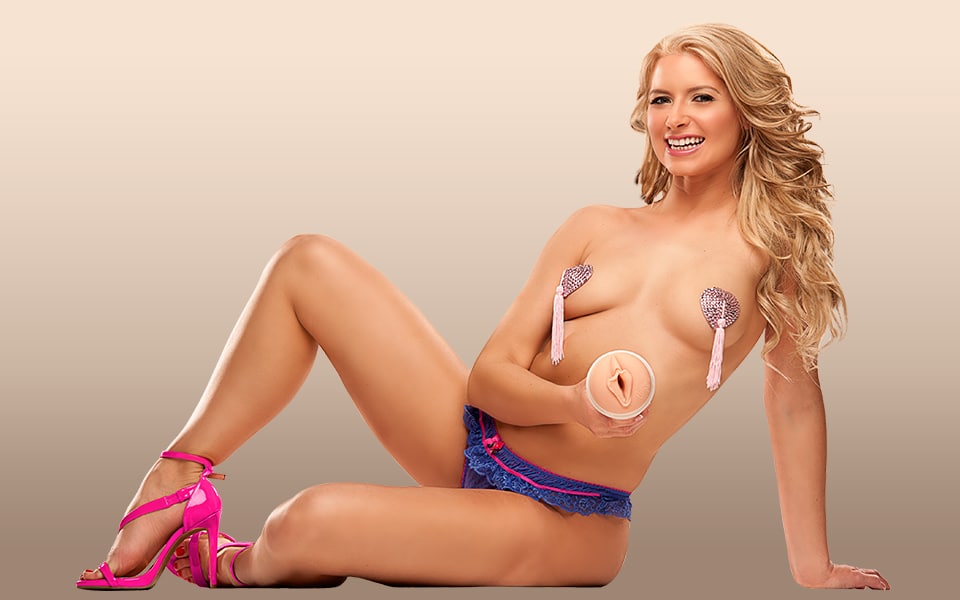 Anikka Albrite Fleshlights:
Are you ready for all the Anikka Albrite you can handle? Play around with her gently or give her the rough experience she craves and yearns for. This toy is recommended for those who enjoy the experience of a real-feel tight pussy and ass. Anikka is always ready for a sexual escape and now you can give it to her in the comfort of your own home. Take this Fleshlight Girl home with you today and start living your fantasies whenever she calls your name.
Orifices:
Textures:

Pussy – Goddess
Not only is Anikka Albrite's ass juicy and fun to penetrate, but the Goddess's pussy is wet, tight and ready for your penis. Unleash your lust upon this exact replica of Anikka's sweet pussy. Wavy-like modules greet your penis upon penetration. Her cavity is tight and ready to take on any size of penis. As your penis gets deeper in her pussy, you receive additional sensations as the cavity gets even tighter.
Hold on for the best sexual experience you'll ever receive as the coils get even smaller and fully grip your penis. This type of penetration allows for a very stimulated experience as you stroke your toy slow or fast. Familiarize yourself with Anikka's pussy and you'll be guaranteed to go back time and time again. Rating in direct- comparison: ★★★★★

Butt – Siren
Notify the fire department because Anikka's ass is on fire! Take your passion to new levels as you enter her Siren toy. The complex make-up of Anikka's ass makes for an orgasmic experience you won't find anywhere else. The make-up of this toy involves tight penetration and grips your penis in a various of pleasurable ways.
Once entering Anikka's ass, your penis will be wrapped with tight coils, stimulating modules, and will involve differences in widths and pressures to allow for maximum sensation. Anikka's anal adventures have been widely touted and cherished among porn viewers. Now it's time to take Anikka's ass for a spin and let your wildest fantasies run wild. Rating in direct- comparison: ★★★★★
Anikka's profile: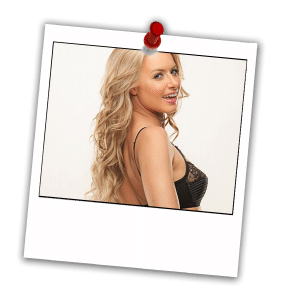 Date of Birth: August 7, 1988
Place of Birth: Denver
Country of Birth: USA
Current residence: Los Angeles
Body height: 5'6″
Weight: 125 lbs
Body in inch: 34-24-39
Bra size: 34B
Hair: brown or blonde, long
Ethnicity: Caucasian
Eye color: blue
Physique: athletic
Tattoos: unknown
Piercings: unknown
Sexual orientation: bisexual
Filmography: Game of Bones – Winter Is Cumming, Not The Wizard Of Oz XXX, Apocalypse
Porn Studios: Evil Angel, Wicked Pictures, Digital Playground, Brazzers
https://www.facebook.com/anikka.albrite
https://twitter.com/anikkaalbrite
Photos on Flickr
Pictures on Instagram
Watch Anikka Albrite's porn movies while you use her Fleshlight