Fleshlight Goddess : The molded pussy of Anikka Albrite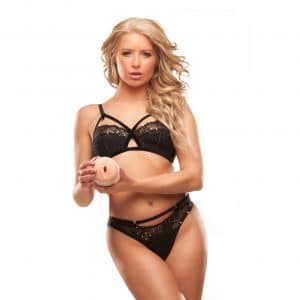 The epitome of sexiness is often in the form of
Anikka Albrite
. This actress is usually at the core of my fantasies, and I'm sure your dreams are very similar to mine. For that reason alone, I suggest her molded pussy "Goddess" as a perfect addition to your Fleshlight collection.
The designers worked hard to make just the exterior labia look amazingly real. You don't have to stop your fantasies at that point, however, because the canal is one that you can only dream about otherwise.
Read over my Fleshlight Goddess review, and you'll be sold on this amazing Anikka Albrite vagina.
Goddess Texture Description
When I decided to try the Fleshlight Goddess test, I didn't realize how relentless this sleeve can be on your member. I picked up the sleeve and took a look at it before inserting it into my plastic holder. The labia open up into a fine flower that's ready for the plucking. Fleshlight really put some design expertise into this product. With its light-pink color, you'll be thrilled to start your adventure with this lovely lady.
This product is about 9.5-inches or 24-centimeters long. It fits right into my holder that I keep wiped down for any exciting occasion. If you can take a look inside of the canal, you'd notice roughly four different chambers. In many respects, this is the most unique sleeve that I've every tried. Each chamber is decorated with numerous details that will drive you wild.
From bumps to tight gaps, this sleeve will keep you on your toes. It truly doesn't feel like any other texture on the market unless you combine a few of the most current ones. My first impression of the Goddess is pure admiration.
My Anikka Albrite Fleshlight Review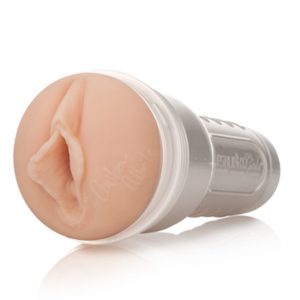 I was shocked to learn that some users were concerned that this Fleshlight product was too expensive for its value. In fact, this sleeve is priceless in my mind because of the pleasure that it brings to my favorite fantasies. Everyone's experience will be their own, so I encourage you to read over my opinion about the Goddess. Besides having a real person with you, this product is the next best choice.
Goddess Sleeve Design
As you enter the first chamber, it has several large bumps that look like nodes. My head was swimming after just trying this chamber, but I had to carry on. The first chamber is probably the longest section because these bumps are the largest ones in the sleeve. They caress your skin as if it was alive. Because they're on every curve of the canal, it feels as if you're maneuvering at various angles instead of simply remaining straight within the canal.
The second chamber is considerably smaller than the bumpy, first section. In fact, the second chamber might be the finale for some users. It consists of several slits that makes it feel as if suction is suddenly being added to the sleeve. Your member and the trapped air are merely engaging with each other as the suction rises to intense levels. Many users believe that this chamber is the best part of the product.
You'll enter the next chamber with small bumps lining the walls. Because your shaft is being massaged by the large bumps and suctioning slits, the small nodes create another amazing sensation. The last chamber has more slits with a smaller diameter as you reach a climax. The overall sleeve design is distinct, stimulating and worth several experiences before you're even remotely tempted to try another product.
Mysterious Fleshlight Suction Feeling
To be honest, I found it difficult to lube and enter this Goddess sleeve. It does have a learning curve to it so be patient with your first tries. The orifice is extremely tight, and Fleshlight doesn't make a poor-quality product that will wear down in time. Once you pass the main opening, get ready for some fun.
The head will feel an instant sensation as it strikes the large bumps. Many users report tingles as they enter the first chamber alone. Because of this chamber's length, you'll continue to tingle down the shaft as you move forward. I didn't lose any intensity even at this point.
The best intensity came when I explored the tapered slits just after the bumps. You can really feel the sleeve tightening around you as a mysterious suction overtakes the member. In many cases, this sensation ends my quest for satisfaction. If you have the drive, however, keep pressing on to the small bumps and last set of slits housed in the third and fourth chambers, respectively. When it comes to feeling almost every nerve ending in your body, the Goddess delivers with amazing quality.

Hygiene & Durability of the Anikka Albrite Fleshlight
With one look at this sleeve, you'll know that it's difficult to clean, but it's still worth the experience anyway. There are so many nooks and crannies that you'll instinctively want to turn it inside out in order to reach every section. Ideally, use Fleshwash on this product so that you can prevent mold and bacteria from developing outright.
This product washes away any germs that might become caught in the sleeve. After thoroughly washing and rinsing it, use the Fleshlight Renewing Powder that will keep your sleeve material as soft as a person's skin. You don't want to feel a grainy sensation during your next experience with the Goddess.
My Fleshlight Goddess Conclusion & Final Test Results
Every time I try this Anikka Albrite Fleshlight out, I'm shocked at how it seems to suck me in. You'd think there was a real person in the room with you, but the design is simply so well-built that it grabs your cock and won't let go until you're done.
I've heard that some users actually buy this particular Fleshlight Girls Signature Texture so that they can add some stamina to their performance. At this point, I only enjoy the sensation instead of trying to beat it on a physical and mental level. It's up to you to enjoy this Anikka Albrite pussy in any way that you prefer.
Review overview
Stimulation, intensity & structure
9
Price / Performance ratio
9.5
Summary
7.7 Flesh Score: Good From sensual bumps to tight gaps, this sleeve is better than any molded pussy that I've ever tried out. Enjoy the orgasm as you couple it with Fleshlube inside the canal. With the right sliding action in the Goddess sleeve, you'll be able to take care of business several times a day.
Pros:
Tight gaps that vary throughout the canal's length
Deep slits form a suction that's unique to the Goddess
Numerous bumps that stroke your penis
Straight canal for easy insertion
Cons:
Tight orifice difficult to penetrate for new users
Cleaning is a time-consuming task
Suction generated by the sleeve might be too uncomfortable