Fleshlight Spice – A butt replica of the Porn Star Eva Lovia
Fleshlight Spice Sleeve Description
Who is Eva Lovia?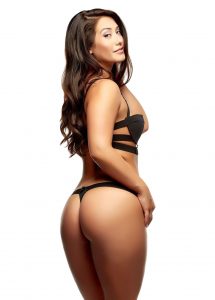 A real up and comer in the porn world,
Eva Lovia
is fast becoming a go-to name in the adult entertainment industry. This Fleshlight Girls Signature Texture, named
Spice
is a must for any Eva fan. It's molded ass opening and intricate interior is incredibly rewarding for those who prefer more intense stimulation and a bigger climax. Eva might not have many anal scenes to her name yet, but this sleeve lets you skip the wait and indulge your imagination.
This Eva Lovia Fleshlight boasts the innovative Spice texture sleeve. Like several of the newer Fleshlight butt texture sleeves on the markets, there's plenty of variety on offer. Rather than tightness all the way through, it's an intricate mix of tight chambers and wider openings. An assortment of bumps and ridges add even more variety to this Eva Lovia ass sleeve.
What is the Fleshlight Spice?
A perfect replica of the Eva Lovia butt orifice gives way to just over 9 inches of chambers. There's four main chambers in total, all dramatically different in style. The first is a conventional corkscrew ridged portal that'll provide plenty of sensation to the penis glans in ever direction. A narrow divider gives way to a second chamber lined with an innovative range of textures. Perfect for stimulating the penis with different sensations as you slide in and out. This Eva Lovia Spice texture deviates from the norm with its third chamber. There's no break and divide, with the textures simply giving way to concentric rings that deliver gentle stimulation to the cock.
The fourth and final chamber is the longest. Here, stimulation becomes more intense and rewarding. This stretch is perfect for those who prefer plenty of constriction. Scored channels in both directions provide a pleasurable friction for the cock and penis glans as you slide in and out. A much smaller chamber at the extreme end will help build up a suction effect for longer sessions.
My Personal Fleshlight Spice Review
Spice Sleeve Design
One of the first things that grabbed me about this Eva Lovia butt sleeve was the variety on offer. When compared to even the most complex other sleeves on the market, the variation still stands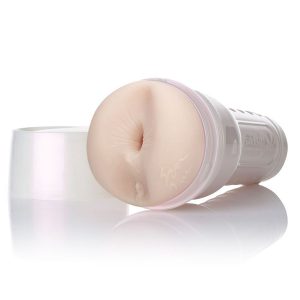 out. It takes tightness to the next level, with cross-crossed textures and multi-directional stimulation. Each chamber is also pretty similar in overall length, meaning all the textures can be enjoyed by anyone.
While the cross-section itself shows a pretty unique display, the outside of this sleeve is much more realistic. Eva Lovia hasn't done too many anal scenes on film yet, but the molded butt opening is pretty much spot-on. I was keen to start my Fleshlight Spice test as soon a possible, and it didn't long to realise this sleeve is truly something special.
Very hot Spice Texture Feeling
If you're chasing big sensations and top-level stimulation, this Eva Lovia Spice texture is for you. From first entry, the corkscrew rides tease the penis glans and provide a pleasurable massage. The second and third chambers offer plenty of new sensations, too. Even if you've built up an impressive collection of sleeves, the intricate textures here are bound to surprise you. Concentric circles provide an incredible range of sensation, even on smaller areas of the penis. What's great about this sleeve is that all sides of the penis are massaged at once, creating a tight, gripping effect. It results in more natural feel that stimulate the cock from base to tip.
Compared to other textures, this Spice texture isn't the most slide-friendly. However, a generous application of lube will make things easier, letting you enjoy the variety of textures on offer. The final chamber is where things really get rewarding. It's incredible tightness and innovative design provide a true-to-life replica of anal stimulation, delivering sensation as you enter and withdraw. The final chamber is much shallower than other sleeves, but it can still help build up an impressive suction effect. Once you've used this sleeve a few times and gotten to grips with it, you'll be able to make good use of this. The diverse textures and a strong suction effect can deliver a huge orgasm, even after shorter sessions.

Hygiene and Durability
This Fleshlight Spice review found the Eva Lovia butt texture to be above average when it came to clean and dry time. The first few chambers are pretty relaxed and roomy, meaning waste and residue won't collect easily. However, the final chamber is prone to gathering excess reside and lubricant. You're better off using a spray pump to clean this one.
Because of the intricate final sleeve, dry time is also a little lengthy. Allow at least four hours or so for the sleeve to dry thoroughly before reusing, and certainly before storing. Ensuring your sleeve is completely dry before boxing it away will prevent mold from forming. Like all Fleshlight sleeves, this Eva Lovia Spice texture is made from high-quality polymer. It'll hold up well to even intense friction, reducing the chance of tearing and premature damage.
Fleshlight Spice Review Conclusion and Final Thoughts:
If you're tired of more conventional sleeves, this Eva Lovia butt texture is definitely worth seeking out. The sheer range of textures on offer will deliver exciting new sensations. It's definitely one for those who prefer tightness and anal stimulation, with an amazingly complex final chamber.
I found it took a few sessions to really get a handle on things, but once you've become familiar with each inch, things get easier. There's plenty of repeated value here too, with unique feeling and amazing orgasms every time.
Review overview
Stimulation, intensity & structure
7
Price / Performance ratio
8.5
Summary
7.2 Flesh Score: Good If you're new to the world of anal textures, this Eva Lovia Fleshlight is a great first step. With such a variety of feeling on offer, you'll be able to experience something a little different, every time. It's certainly an innovative and unique design, but practice makes perfect. You'll be well on your way to a better orgasm in no time.
Pros:
There's plenty of variety on offer here, with diverse textures and new sensations.
This sleeve is a great choice for those who prefer their stimulation on the tighter side.
Well divided chambers ensure you'll be able to enjoy the textures, whatever your size.
Cons:
The intricate final chamber means cleaning and drying will take a little longer.
The diverse textures mean it'll take a few sessions to master this sleeve.
It's not the most slide friendly of sleeves, but lube helps.