Fleshlight Heavenly – The molded Pussy Texture of Jessica Drake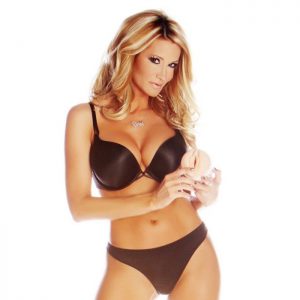 I'm a man who has a discerning nature when it comes to women. I simply want to feel good when I'm with any female, and that includes my experiences with pleasure sleeves. It's only natural to want that sensational release.
That's why I was ecstatic to learn that Jessica Drake has her own Fleshlight Girls Signature Texture named Heavenly.
The texture is dubbed "Heavenly," and I believe that description to be true. Come along on an adventure with me as I give you every detail about this newest design. I´am happy to testing the very interesting Fleshlight texture. Please write your own experiences and opinions under this review in the comment field.
Heavenly Texture Description
I'll begin my experience by describing what you'll see when you first receive this Fleshlight sleeve. The color is the first turn-on for me because it's a pale beige or pink, depending on your view. If you compare the hue to Jessica herself, it's nearly a complete match. The labia are perfectly constructed that it truly feels real as you make your way into this canal. Be sure to lube up the orifice, however, because your penis glans is about to be stimulated beyond belief.
You might be accustomed to other Fleshlight products with multiple orifices, but this texture is dedicated to Miss Drake's lovely pussy. It's a full 9-inches or 22.5-centimeters long, but don't be overwhelmed by the length. There are so many stimulating sections to this texture that you won't miss a thing if you're slightly smaller than the average male. This actress will take you in any size, shape or form.
There are about 6 chambers to this texture, and all of them offer a unique sensation. Bumps, coils, ribs and a lotus dot the length of this product. It's largely shaped in a straight line for your cock, but there's no boring section to be found. In fact, Fleshlight fans report that this sleeve is similar to the textures found in other items, including the Gauntlet, Lotus, Speed Bump and Forbidden. When you try to compare this entire texture to any other product, you won't find a similar one in the marketplace.
My Fleshlight Heavenly Review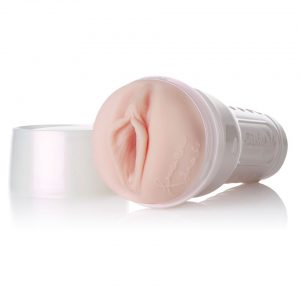 I take my Fleshlight Heavenly review very seriously because I want you to really understand how the sensation feels. Every man will have a slightly different experience, but most turned-on males will have no complaints about Jessica. I've tried her sleeve out on numerous occasions so that you can make a smart decision as you decide between sleeves. She should be at the top of your wish list.
 Fleshlight Heavenly Sleeve Design
As you first dive into this sleeve, don't hurry the process. Your head will feel the bumpy ring that resides just inside the orifice. An alternating design of tightness and slight looseness allows your member to feel all of the different sensations at once. This design aspect itself means that you'll feel like a real woman is in the room. When I initially tried the Fleshlight Heavenly test, I almost finished too quickly because of the distinct design.
After the first chamber, you'll move through a tight section that offers a suction unlike any other. Your member will then pass through the coiled section, lotus, ribs and final bumpy chamber. There are so many changes across the 9-inch sleeve that it almost becomes a blur during your thrusting action. The sleeve will guide your member in the right direction as it reaches the final chamber and the ultimate sensation.
Really Heavenly Feeling
I can't get enough of this sleeve, and I know you'll want to have a full breakdown of the sensations you'll feel before making a purchasing decision. In one word, you will feel heavenly. The first ring that grabs onto your member will massage the tip with perfect force. This tightness releases during the next chamber as the small bumps rub you just right. When you encounter the tight and smooth connection chamber, you'll feel the tingles down to your toes.
You can't just have a tight orifice throughout the sleeve or else you'll simply numb off. Fleshlight understands a man's anatomy by adding a wide lotus at the end of the tight chamber. Once you pass through the relaxing lotus, you'll be stimulated once again with the ribs tightly packed into one section. This area is my favorite as the ribs grind against my bulging skin. The large bumps dotting the last chamber might be difficult to reach for some men, but they're a perfect pleasure center for your penis head. I get my release as soon as I encounter the entire length of the sleeve.

Hygiene & Durability
Because there's so many tiny crevices within this texture, cleaning it will take some time. In fact, you'll need to use an ample amount of lubricant in order to cover all of those crevices in the first place. Fleshlight suggests that you clean it with Isopropyl. This substance will break down the lube while protecting the sleeve from any harm.
You can still use soap and water as well. I typically wash the texture and allow it to dry for several hours. A towel-drying process might be necessary so that you can remove every moisture bead from the texture. I know that Miss Drake will be used again and again when it's completely hygienic with each session.
My Heavenly Fleshlight Conclusion & Final Thoughts
At the end of the session, I'm thrilled with the Jessica Drake vagina. As you look directly at the pussy texture, the details are so well formed that you might believe that you're actually with this actress in real life. I'm always on the lookout for a sleeve that can really provide a unique experience across my entire penis.
From sucking to massaging, Jessica Drake offers an orgasm of a lifetime that can be experienced several times a day if you're up to the challenge. I love having this texture added to my collection as I dream about those famous ladies and how it feels to be in glorious heaven with them.
Review overview
Stimulation, intensity & structure
9
Price / Performance ratio
9
Summary
8.5 Flesh Score: Great It's difficult to come up with any complaints about this Jessica Drake Fleshlight because she's so perfectly designed. Take your time with her at first so that you can feel every inch of the texture hidden within. I wasn't disappointed, and I'll bet you'll be startled by the authenticity of the orifice.
Pros:
Alternating degrees of stimulation
Tempting skin color on sleeve
Designed for a real man's anatomy
Strong material for hours of use
Breaking-through process simulates real life
Generous opening starts you out slow
Offers both a massage and intense session based on your actions
Cons:
Takes 24 – 48 hours to completly dry
Turning the molded pussy inside out might loosen the texture
Plastic sleeve not included
Smaller members will only enjoy half of the sensation