Fleshlight Trigger : Sleeve Texture of Teagan Presley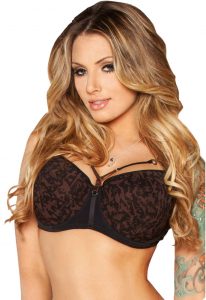 I'm a huge fan of
Teagan Presley
so you know I was first in line for her pussy texture. It's such a unique experience that I had to convey my feelings to you through this Fleshlight Trigger review. You heard the description correctly. This sleeve is deemed the "Trigger" because it will tickle every part of your cock, and then it'll find areas that you've never felt before.
It's time for a private session with this Teagan Presley vagina. She'll get you going in no time.
Trigger Texture Description
As an experienced man in the sleeve industry, I was shocked by the realism depicted by this texture. The labia are delectably designed so that it truly looks like Teagan's private pussy. To be honest, I couldn't wait to try the Fleshlight Trigger test because of the canal opening alone.
The sleeve is a pale beige, which makes me automatically think of Miss Presley. It's about 9.5-inches or 24.5-centimeters long too. You'll be able to fit your penis glans into the canal with ample space for the rest of your length. Men ranging from 4-inches or longer can easily appreciate this texture.
Be aware that the Trigger has some unusual contours within the canal. It's technically a straight sleeve, but your member might feel a different sensation. In fact, there are no real chambers to the Trigger. You might find this fact to be shocking in such a competitive marketplace, but it's true. The Trigger is mainly a long corridor with the same texture spread across it. However, you won't be disappointed with the experience.
Some fans compare this texture to the Love Humps sleeve. There is a remarkable amount of bumps and humps within this texture. It's quite deceiving from an exterior view in all honesty. You simply need to experience it yourself.
My Fleshlight Trigger Review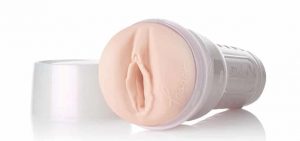 I'll start off my Fleshlight Trigger review with a friendly warning. Don't underestimate the power of this vagina. Fleshlight continues to be the leader in realistic sleeves, and this product is no exception. If you become caught up in the fact that there's no varying chambers, you'll miss out on a fantastic experience. Be part of Teagan's world by learning about her contours from my experiences.
Trigger Sleeve Design
Picture the Trigger's interior as a set of random nipples. There are both large fingertips and small nodes that spread out at different angles. As you enter the canal, you're experiencing the widest section. Two, large fingertips slide across your penis head as a welcoming gesture. At about the 2-inch mark, you'll strike a narrow section where you must penetrate through. Ecstasy must wait, however, because there's a long way to go yet.
A mountain and valley face your penis as you slide farther into Teagan's canal. These varying widths allow air to become trapped within the texture, which leads to that euphoric sucking action. At this point, your member's size becomes a factor in the sensation-seeking process. Smaller men will feel a grasping-and-releasing sensation, whereas large men will feel as if the penis is being tugged. Regardless of your size, the sensation is addictive as you continue forward.
The mountains, valleys and varied nipples continue down the canal until it ends at the 9.5-inch mark. However, you might notice that the actual canal width is narrowing. I was so amazed at how fantastic this feeling changed as I moved in and out of the orifice.
The narrowing canal gently brought my orgasm to completion. In fact, I didn't miss a second of the impending release because Miss Presley gives you a chance to feel every inch of her through those perfectly designed nipples. I can't explain how good she felt so you'll need to try it out on your own.
Very intense Fleshlight Trigger Feeling
The interior nipples have some flexibility as you thrust into the canal. Because they move across your skin, the nipples literally massage all of your trigger points. In fact, your shaft has several different trigger points for stimulation purposes. The canal uses every inch of the walls in order stimulate your member. The Trigger name is perfectly suited to the hidden texture inside.
You shouldn't have any sliding issues as long as you're using an ample amount of lubricant. The nipples will need lubricant across their entire surfaces in order to move carefully across your body. Any sliding action turns into sucking effects as you feel the air move in and out of the canal. Between the suction, massaging and trigger-point stimulation, I was thoroughly satisfied with my experience.

Hygiene & Durability
I haven't come across any fans who've experienced tears or breaks in their Fleshlight products. They're just too flexible to have this issue. However, you need to take good care of them between ecstasy sessions. The internal nipples and valleys can easily trap residues. Use isopropyl alcohol in order to break down these substances. You can also rinse out the sleeve while apply a towel to areas that can be reached.
The goal is to prevent mold from forming in any of the hills or valleys. Dry the sleeve for a few hours before you try it out again. The caring effort that you put into this product will make it last for many years.
My Trigger Texture Conclusion & Test results
I can spend almost all day with my Teagan Presley Fleshlight. Her molded pussy is meant to be enjoyed on a relaxed level. In fact, I can come up with a long, imaginative sequence in my mind as I work my way to ecstasy.
If you're looking for an orgasm that seems to last for minutes on end, this realistic masturbator must be at the top of your list. You'll improve your stamina, and enjoy a spectacular ride at the same time. I know that my upcoming dates will be amazed at my prowess in bed with a little help from Teagan Presley.
Review overview
Stimulation, intensity & structure
8
Price / Performance ratio
9
Summary
8 Flesh Score: Great You might own several Fleshlight Girls Signature Texture products, but you'll definitely keep Miss Presley handy for most days. She's a classic beauty and experience that you'll never forget. As a collector, I have her rated as one of the top picks among all of the Fleshlight items on the market today.
Pros:
Sleeve will stimulate the trigger points across your entire length
Simulated fingertips gently massage your penis for a long, masturbatory session
Textured throughout the canal so that any size penis is thoroughly stimulated
Realistic vagina replica makes the experience more lifelike
Cons:
No discernible chambers for a varied experience
Difficult to clean and dry
Rapid session is difficult to achieve
Too tight for wider members