Fleshlight Barracuda – Amazing Suction with Lisa Ann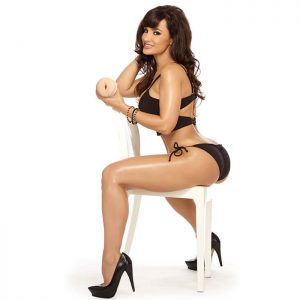 The first time I used the Fleshlight Girl masturbator sleeve with the
Lisa Ann
Barracuda insert, its tight grip and amazing suction gave me an intense and powerful orgasm that was unlike anything I'd ever felt using similar sex toys in the past.
If you've never used a masturbator sleeve before, the Barracuda is a wonderful introduction. If you're familiar with the way that masturbator sleeves work and feel, then the Barracuda texture will let you take your physical pleasure to the next level. This sleeve wants to swallow you.
Barracuda Sleeve Description
Lisa Ann is one of the world's most popular adult film stars, and the Barracuda is crafted from pink latex that has almost a pearly sheen, just the way you might imagine Lisa Ann's pussy would look if she were lying in front of you aroused and begging for your cock. This top of this sleeve looks a lot like a pussy.
The Barracuda Sleeve has two canals connected by a circular constriction that's 0.4 inches wide. The first canal is short and tight, just the way I like it. If you're interested in measurements, it's 1.6 inches long with a diameter of 0.7 inches. Ease in slowly. Front-facing nubs that stroke just like real flesh create a ripple of sensation that feels indescribably hot, and you'll want to savor that tingle.
The second canal is five inches long. Here, your cock will bump up against nubs made out of that same flesh-like latex but which are oriented in the opposite direction.
My personal Barracuda Sleeve Review
Barracuda Texture and Design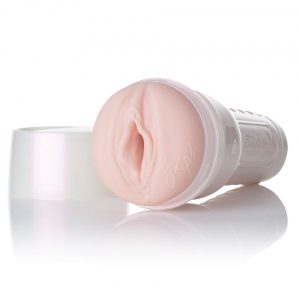 The Barracuda's two-chamber design is engineered to create a kind of full cock massage that offers room at your penis head and constriction at your penis base where it counts. The signature texture's little nubs provide a unique sensation that takes some getting used to, but once you know how to move in and out within the sleeve, you can really control the amount of stimulation you're receiving.
That's one of the features I like the best about the Barracuda. The sensation of those two sets of bumps is almost maddeningly exciting. It's the most intimate massage you'll ever receive, kind of like you're inside a woman's mouth and vagina at the very same time.
Great Feeling and Heavy Orgasms
The first time I used the Barracuda, I came almost immediately. I couldn't help it. The sensation was so intense and so different from anything I'd ever experienced in a sleeve or a sex toy before.
That was okay, though, because I had the next time to look forward to. This time I used more lube on the sleeve and on my cock, so that the pressure would be more teasing and less direct. I also warmed the sleeve up to body temperature with hot water to give it an even more lifelike feel.
Pushing in initially, you'll feel the tightness. The smooth ring intensifies the difference in feeling between the two sets of nubs and feels a little bit like a woman's cervix. Since the Barracuda widens as you thrust more deeply, there's plenty of room for the head of your cock to expand as you build up to your climax.
You'll feel the Barracuda's little nubs stimulate all parts of your shaft, but the fact that the nubs are oriented in different directions means you feel a host of very different sensations on different parts of your cock. You can actually prolong your orgasm by riding the little nubs after you feel yourself begin to cum. That way they'll milk every last drop of cum out of you. It almost feels like somebody's sucking you while you cum.
If you're looking for an intense orgasm whose duration you can control, this is definitely the sex toy for you. There is a learning curve involved here. You'll have to practice with it a few times before you really get the full effect of the pliable nubs, but once you do, you'll be flying.

Hygiene and Durability
Note that this is one sex toy that you'll want to wash thoroughly after every use. It's easy for semen and lube to get stuck on the little nubs, particularly if you like the slick feel of an oil-based lubricant. Wash it with a dilute solution of dishwashing detergent liquid and let it air dry thoroughly. Depending upon the air temperature, that can take anywhere between 12 and 24 hours.
Remember, too, that you'll want to avoid any silicon-based lubricants when you're using this Fleshlight insert. The Barracuda is made of silicon, and silicon-based lubes may actually bond to the sleeve, which will give it a kind of gummy texture, which is not what you want.
My Fleshlight Barracuda Conclusion
The Barracuda insert packs a lot of sensation into one sex toy. I'd never felt anything quite like the signature Barracuda texture of Lisa Ann before, and it seems to have been designed with my cock in mind.
I like room for the head of my penis to expand but I like a firm grip around the base of my cock, and the contours of the Barracuda provide that. The nubs feel like dozens of tiny fingers simultaneously massaging me while my orgasm builds. It's a totally unique feeling. I don't think I could ever go back to masturbating using my hand.
Review overview
Stimulation, intensity & structure
8.5
Price / Performance ratio
8
Summary
7.1 Flesh Score: Good
Pros:
Intense orgasm
Long strokes and short strokes both feel great
Space for the head of your cock and pressure at the base of your cock
The Barracuda is made of a material that feels very flesh-like
It's waterproof so you can jack off with it in the shower
Cons:
You have to wash the Barracuda very thoroughly
The Barracuda takes a while to dry