Butt Fleshlight Booty From Tattoo Girl Christy Mack
Booty Texture Description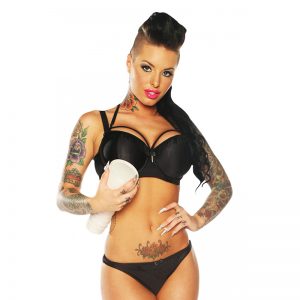 Looking for a new sleeve for use with your Fleshlight Girl? Replacing the Fleshlight Girls Booty Signature Texture, this butt texture sleeve based on the iconic tattooed pornstar,
Christy Mack
, is definitely worth considering.
In a pale pink that's incredibly close to natural skin tone, this anal orifice measures 9 inches, end to end. Designed for those who prefer tighter sensations and stimulation, this Christy Mack Fleshlight insert welcomes you in with a 1 x 0.6 inch anus orifice. The first internal chamber comes in at a diameter of 0.8 inches, providing a pleasant constriction that sets the tone for this sleeve.
The length of this sleeve is populated with six identically shaped and sized chambers, each measuring 0.8 inches in diameter, with a length of 0.9 inches. Each chamber is lined with smooth oval bumps to provide a consistent sensation as you push deeper. The space between each chamber provides plenty of stimulation, narrowing to 0.16 inches in height with finer bumps for an incredibly intense sensation.
My Personal Fleshlight Review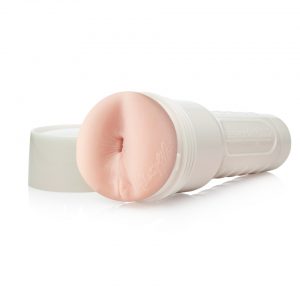 If you're a fan of the star it's based on, this Christy Mack Fleshlight sleeve is probably high on your shopping list. However, if you're undecided about whether or not to take the plunge, take a moment to look through this Fleshlight Booty review to see just what's on offer.
Christy Mack´s Butt Fleshlight Design
Plenty of care's gone into the design and realisation of this sleeve, ensuring it passes the Fleshlight Booty test of quality. The skin tone is spot on, while the realistic exterior is guaranteed to impress. The interior chambers and overall canal design is pretty consistent with other butt textures, so don't expect too many surprises if you're a connoisseur building a collection.
The overall design is also fairly consistent, with repeated chamber styles throughout the entire length. If you're looking for constant surprises and uneven stimulation, look elsewhere, but if you're after something that's accessible, familiar and more natural in design, this one's for you. Suitable for almost all penis lengths, this sleeve should be more than enough for most men. Even if you can't pass through all of the chambers, underutilised space can be used to create a suction effect to help promote pressure and provide superior levels of stimulation.
Not Too Intense Stimulation Feeling
This Fleshlight Booty review has focused on the design up until now, but one of the biggest considerations for nay man should be the feeling this sleeve offers. If you're after a tighter orifice and more intense level of feeling, this Christy Mack butt sleeve should tick all your boxes. The relatively tight chambers provide plenty of stimulating pressure from every direction, while the narrower waves separating each chamber provide an added layer of tightness you'll certainly enjoy.
One of the downsides of the relatively narrow design of this sleeve is that the ridges lining the interior are rather shallow. They'll still provide a pleasant feeling against the skin, but they lack the intensity of other ridges and nodes found on another sleeves. That being said, the oval-shaped design of these nodes help maintain a level of pressure throughout the length of each chamber.

Hygiene & Durability
Made from a medical-grade polymer, this Fleshlight Girl sleeve is incredibly durable, with plenty of flex to accommodate users of all shapes and sizes. The quality construction also ensures this texture is built to last, holding up well against repeated use and regular cleaning. Unlike inferior sleeves made from sub-par rubber, there's no chance of tearing the structure of this sleeve, while the nodes and bumpy ridges of the interior will stay fixed firmly in place for a long time.
Although the finely textured interior is incredibly rewarding, the drawback here is that the ridged linings can collect and hold residue more easily than other sleeves. Therefore, it's important to ensure the sleeve is cleaned thoroughly after each use. The flexible material can be quickly and easily turned inside out, providing easy access for a thorough clean. Compared to similar products, the dry time isn't too extensive, although you'll want to ensure you leave it for a good few hours to ensure each and every crevice is thoroughly dried out to prevent mold growth for optimal levels of hygiene.
My Booty Sleeve Conclusion & Final Test Result
If you're looking to expand your collection of textures, I'd definitely recommend investing in this Booty canal. Also, if you're searching for something a little more subtle, this texture will certainly stimulate, but offers more of a massaging quality than extreme pressure and pulsations.
It's also a great introduction to the world of butt textures, making the most of a realistic design for more natural sensations that's incredibly accessible. Go for this design if you're looking for a sleeve that'll let you pace yourself before achieving orgasm, or if you're looking to train yourself for stamina. Prefer higher levels of intensity? I recommend you look elsewhere for textures with more varied and diverse interiors.

Review overview
Stimulation, intensity & structure
5
Price / Performance ratio
6
Summary
6.2 Flesh Score: Good This butt texture from Christy Mack does a good all round job, but it's not perfect. Compared to other anal orifice sleeves, I've found it doesn't hit all the right notes when it comes to intensity and convenience, but if you're looking to mix it up, there's enough to applaud here. Take a look at the list of pros and cons to help you make your decision.
Pros:
A good balance of wider chambers and narrow channels provide a more natural sensation.
Good for those who like taking their time, helping you hold off on the big finish for a more satisfying orgasm.
A great choice for those looking for a sleeve for training, helping you pace yourself to achieve a better finish.
Quality materials and plenty of flex ensure cleaning and maintenance is a breeze.
This sleeve provides a superior suction effect, helping you achieve a better orgasm.
Cons:
The identical chambers provide consistent stimulation, but won't impress those looking for surprises and uneven stimulation.
This texture is not as intense as most, making it unsuitable if you're looking for quick and easy relief.
Like a lot of anal sleeves, you'll probably need plenty of lubrication to ensure a comfortable session.
The finely ribbed interior can be a hassle to clean after use.