Fleshlight Lust Texture: Penetrate the ass of Jenna Haze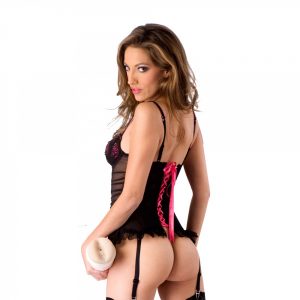 If you like entering through the backdoor, you'll love the feel of the Fleshlight Lust Sleeve. This sex toy is designed to clench you just as tightly and sensuously as porn star
Jenna Haze
's own sweet asshole.
This anal insert is particularly good for well-hung guys who like the sensation of pressure along the entire length of their cocks.
Like your other favorite textures from the Fleshlight Girls, this insert features nubs and cross-ribs to maximize your pleasure, but here the focus is mostly on how firmly this anal insert grips your penis.
When you finally cum, you'll feel a sensation that starts deep in your balls, rolls up the length of your dick and explodes like a tidal wave.
Description of the Lust Fleshlight Sleeve
Fleshlight Girls is a unique line of sex toys that's molded to look like the pussies, assholes and mouths of some of your favorite adult film stars.
One thing I've always liked about the porn angel Jenna Haze is that she looks so much like the girl next door but when you watch her pornos, you can see how much she loves to do anal. She's hot, and she's begging for it.
This insert's surface is a very light, girlish pink and was molded to look just like Jenna's asshole. I've never liked sex toys that smell like plastic, so I was glad to discover that this insert has a pleasant scent almost like freshly washed linen.
This anal insert is divided into three chambers. The entry into that first chamber is a tight 0.6 inches, so you'll need to lube up and ease in slowly.
The first chamber is 1.8 inches deep and 0.7 inches high and lined with stationary nubs. At the end of this chamber, you'll go through an even tighter constriction that's 0.47 inches wide and surfaced with ribs to maximize sensation. Then you'll find yourself in a second chamber that's 1.4 inches by 0.7 inches and textured with cross rings and tinier nubs. Another 0.6-inch connection canal follows with zigzag and cross-ribbed textures. At last, you'll slide into a final chamber texture surfaced with four oval bumps and four ribs.
My Personal Fleshlight Lust Review
Texture and Design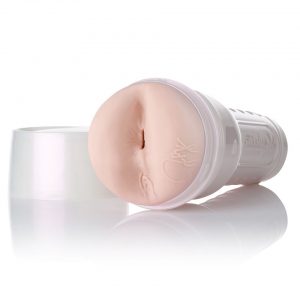 The Jenna Haze Fleshlight Lust Sleeve is super tight, so the thicker you are, the more lube you'll want to use. I prefer using a water-based lube with this one. It does have textures, but the main part of the ride here is how tight it feels around your engorged cock. Like all Fleshlight inserts, you can modulate the amount of suction you'll feel by adjusting the cap. The tighter you screw on the cap, the stronger the suction. When I cum, I like that feeling of having every last drop of jizz sucked out, so I screw the cap down all the way.
Heating up your Fleshlight insert before use helps ensure a warm flesh-like feeling, which feels really good on your cock.
The ribs and the nubs tease your cock as you're going in. My ladies know I like to have my balls and the base of my shaft fondled when I'm having sex, and this feels kind of like that except that it's as though my ladies' fingers are caressing me even when I'm inside them, which is a very unique sensation.
The second chamber entry is super tight, which feels great, but you'll have to pace yourself to move through it slowly. For guys with average length cocks like me, the trip ends here, and that's just fine. The texture in the final chamber is designed to give the head of your cock extra stimulation if you like burying yourself to the hilt.
Crazy Feeling and hot male Orgasm
When I'm doing anal with a lady, I'm always aware of holding myself back because I don't want to hurt her. That's one worry you'll never have to have when you're using this Fleshlight insert. You can ram just as deeply as you want because this sex toy is engineered to take every last inch of your cock.
I had to make sure that the sleeve's cap was on as tightly as possible to get the sensation I was after, but the result is an amazing orgasm that began deep in my scrotum and radiated up the length of my cock in a wave of pleasure that seemed to explode out of me at the very end.

Hygiene and Durability
This insert is really easy to clean because it felt best to me with a water-soluble lube that comes right off when you wash the unit. The surface only has a few nubs, cross-ribs and zigzags, so you don't have to scrub very hard to get the semen out of it either. Because this insert has relatively fewer textured elements than other Fleshlight sleeves, it also dries much more quickly. Give it three or four hours in a warm room, and you'll be ready to try it again.
Conclusion & Final Thoughts
If you're a fan of deep thrust anal with a super tight feel, this is the Fleshlight insert for you because you won't have to hold yourself back. You'll feel yourself cumming from deep in your balls. I highly recommend this one.
Review overview
Stimulation, intensity & structure
5
Price / Performance ratio
6
Summary
6.5 Flesh Score: Good Deep Thrust Just the Way You Like It
Pros:
An intense orgasm that builds from your balls
Tight fit
A true anal experience where you don't have to worry about hurting your partner
Perfect for guys who are super hung
Easy to clean
Cons:
Not as much surface stimulation as some other Fleshlight models
If you have an average length cock, you'll want to make sure the cap is screwed on to create maximal suction