Enjoy the Fleshlight of the Porn Star Legend Jenna Jameson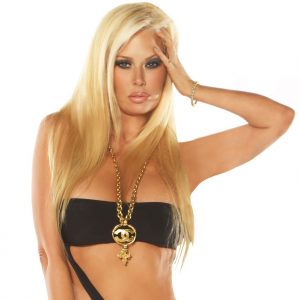 Jenna Jameson
is an icon of the porn world, so it's only right the legendary actress gets a Fleshlight deserving of her reputation. Aptly named the 'Legend' sleeve, this unique sleeve definitely does the porn stalwart justice. If you're a fan of Jenna Jameson and want to live out your porn fantasies, the Fleshlight Legend is an essential.
Fleshlight Legend Texture Description
The Legend texture boasts a beautifully molded pussy orifice modeled after Jenna Jameson. A bell-shaped opening chamber leads you in to the interior of this Fleshlight. After that, this sleeve really takes on a life of its own. It's unlike most Fleshlights on the market, with a distinctly different interior. Don't expect conventional chambers and consistent textures. There's much more going on here.
The Legend texture measures just under 9 inches from end to end. Once you've penetrated through the main chamber, there's 0.8 inch chamber with widening edges. After that, things narrow down to a tightness just over 0.6 inches wide. Twisted textures line each side, providing stimulation in every direction. A longer chamber follows, with square-shaped bumps on every side. This chamber narrows in the middle for heightened stimulation.
After this, the sleeve gives way to a longer chamber that measures approximately 3.5 inches in length. The first part of this chamber is lined by concentric ridges, equally spaced out. At the far end of the chamber, there's an assortment of bumps and spiral ridges that offer plenty of sensation. The final chamber tightens slightly, with scattered nodes on all sides. It also tapers slightly, offering more constriction if you penetrate deep enough.
My personally Fleshlight Legend Review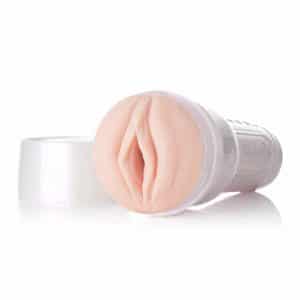 When I first looked at the Fleshlight Legend texture, I was taken aback by how different this design was to other sleeves. I was instantly impressed by the amount of individual textures on offer. There's certainly a lot more variety than most Fleshlights on the market.
Fleshlight Legend Sleeve Design
The innovative design of the Fleshlight Legend ensures you've never felt anything quite like this. The more consistent canal makes for a more realistic experience, allowing for easy penetration. There's also plenty of variety to individual textures, with standard nodes and concentric rings working well with spiral ridges.
The well thought out textures mean there's no need for much tightening of the chambers themselves. Simply penetrating through the spirals and bumps will create all the tightness you'll ever need. This is a texture designed for use with plenty of lube.
You'll definitely need a generous amount to make the most of it. It's a good choice for first-time and more experienced users alike. It's more accessible design means pretty much any user can enjoy most of the textures on offer. Even if you don't make it to the final chamber, the end stretch is perfect for building up a high level of suction.
Enjoy the intense Legend Texture Feeling
There's plenty to look forward to with the Jenna Jameson Fleshlight Legend. You can expect tight sensations first as you push through the narrow opening. The next chamber widens outwards, tricking you into expecting a release in pressure. However, get set for a treat.
Things narrow down again with diagonal cross-ridges, before a dynamic third chamber stimulates the penis in every direction. As far as Fleshlights go, these first three inches are incredibly diverse. Once you've penetrated deeper, these initial chambers offer a fantastic gripping sensation on the base of the shaft. You'll have plenty of fun with the main inner chamber. It's a little wider than the rest of the sleeve, but there's plenty of ridges that'll massage the penis glans.
Lube makes this stretch even more enjoyable. Even average sized penises will be able to penetrate deep enough to enjoy the last stretch. Here, spiral rings and nodes constrict over the head of the penis for intense stimulation. The last half inch of the sleeve will probably go untouched, but it helps build up suction. Even short sessions with this sleeve will ensure a killer climax.

Fleshlight Legend Hygiene & Care
The Fleshlight Legend packs plenty of variety, but like any Fleshlight sleeve with so many chamber, the eventual clean-up can be a little time consuming. You'll want to use a lot of lube with this one, so you'll inevitably have to spend longer cleaning it. The Legend is made from quality polymer, a medical grade material that's incredibly resilient. It's very malleable, meaning you can really get stuck in when it comes to cleaning. Use a pump spray applicator to blast off any excess residue to ensure a thorough job of things.
Once you've cleaned your Legend sleeve, make sure you leave plenty of time for it to dry. Throwing it back in its box before it's dried properly will encourage mold to form and damage the material. You'll want to leave it for about 5 hours to dry thoroughly between uses. If you're feeling impatient and find yourself reaching for the blow dryer, apply cold air only.
The high-grade SuperSkin ™ material will last for a long time, but eventually you might notice some weakening. To prolong the life of your sleeve, use Fleshlight replenishing powder to restore its integrity. This sleeve is bound to become a favorite, so you'll want to make maintenance a regular thing.
My Fleshlight Legend Review Conclusion
I can't recommend the Fleshlight Legend of Jenna Jameson highly enough. If you're a first-time user of Fleshlight, this sleeve can look a little daunting, but it'll make a fantastic first foray into the world of male masturbators. If you're already experienced with Fleshlight, you'll be bowled over by the variety this particular design offers.
The interior arrangement and sheer variety of textures offers plenty of stimulation with every use. If you prefer using Fleshlight warmers and lube for a more realistic experience, the Legend is a great choice. You'll want to pace yourself upon first use, but you'll have plenty of fun with this one for a long time to come.
Review overview
Stimulation, intensity & structure
8
Price / Performance ratio
9
Summary
7.2 Flesh Score: Good Varied textures and plenty of sensations make the Fleshlight Legend a real treat. It's a must for any Jenna Jameson fan, and an essential for anyone looking for a Fleshlight sleeve that'll knock other textures out of the park.
Pros:
This Fleshlight sleeve has plenty of variety, with different textures and nodes throughout the entire length.
A combination of tight chambers and twisting textures provide incredible constriction and stimulation.
A generous application of lube will work wonders with the various chambers on offer, enhancing overall feeling and eventual climax.
Expect a minor suction effect, making your eventual orgasms more intense.
Cons:
This sleeve has a lot of chambers that'll collect lube and residue, so expect a longer clean-up and dry time compared to other sleeves.
It's relative tightness means this might be a little too much for first-time users of Fleshlight.
not very tight
Regular upkeep and maintenance are essential if you wish to keep using this one.