The Dragon Fleshlight from the asian pornstar Asa Akira
Dragon Texture Description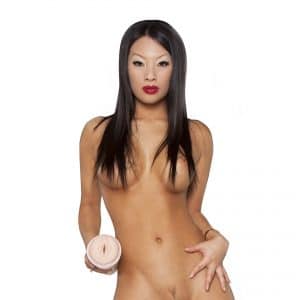 Named in honour of the iconic Asian pornstar, this 'Dragon' Fleshlight is molded from
Asa Akira
´s pussy. A fantastic update on the Fleshlight Girls Signature Texture, this sleeve is one of the most intense vagina texture options around and the default sleeve for the Asa Akira Fleshlight model.
Boasting an incredibly detailed design, closely modeled after the popular Chinese pornstar This sleeve texture comes in pale pink with a tone that's close to natural skin. The inner canal is also incredibly intricate and designed with realism in ind, boasting an intensely textured interior designed for heightened levels of stimulation.
A relatively wide opening allows for easy entry, with a tapered diameter that ranges from half an inch to 0.7 inches. Once you've pushed through this initial chamber, you'll discover a continuous canal lined with ribbed edges, broadly split into five individual chambers, each measuring 1.2 x 0.7 inches. Unlike other sleeves with more distinct dividers between chambers, here each chamber is introduced with a raised strap that's covered in 0.15 inch high nodes, providing the tell-tale pressure that you're pushing deeper into the canal. These segments not only massage the penis as you pass in and out, but also constrict slightly, elevating the sensation and delivering a much firmer grip.
This Fleshlight Dragon review will focus on the Asa Akira texture only, but if you're looking for similar textures, I'd recommend the Twista or Super Ribbed insert, both offering a similar interior construction with varying spacing and profiles.
My Asa Akira Fleshlight Review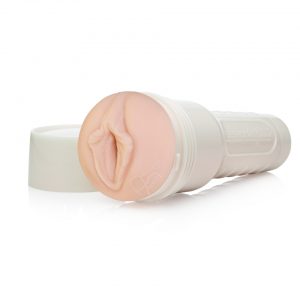 A great choice for those looking for something a little more complex. This ribbed insert allows for an incredibly rewarding experience, straight of the box. Need some tips on how to get the most of it? I've broken down the key specs below so you don't need to waste any time once you've decided to take the plunge and treat yourself to this essential Fleshlight texture.
Swirled Dragon Sleeve Design
A quick look at the cross-section of this insert might mislead you into expecting more gentle stimulation and moderate levels of intensity. But you'd be wrong. While a wider orifice simple canal certainly looks pretty pedestrian, the innovative ribbed interior and chamber dividers provide a uniquely intense feel.
This Dragon sleeve texture has been designed for users of all shapes and sizes, with an even dispersal of chambers and textures to provide the same levels of intensity and stimulation, however deeply you penetrate. Although the interior canal is relatively simple on the surface, the variety of textures provides an incredibly tactile experience.
Hot Fleshlight Feeling – The Fire of a joy
Like other inserts with a spiral rib texture, the Dragon sleeve is one that'll promote plenty of stimulation. A range of harsher ribs and smoother stretches provide plenty of variety of feeling, ensuring constant pressure is applied to the penis. The intense feeling might mean climax comes sooner than you're expecting if you're not used to this sleeve, but practice makes perfect and you'll soon learn what works for you.
The chamber dividers are a particular high point of this texture. They not only provide another layer of sensation, they'll encourage a firmer grip on your penis, resulting in a firm, but pleasant tugging feeling that will encourage a much stronger orgasm. In total, the canal is 9 inches long, so for most men, there'll be some untouched stretches that will work toward creating a strong suction effect. If you're using this right, this will help heighten your pleasure, helping you reach an unforgettable climax you'll want to experience again and again.
It might feel a little intense upon first use, but if you use water based Fleshlube to help yourself ease into the canal, you'll be able to enjoy the full benefit and brilliant tactility of this sleeve straight away.

Hygiene & Durability
As with any Fleshlight insert, cleanliness is incredibly important. Made from quality polymer that's incredibly flexible, cleaning up after use isn't much hassle. This Fleshlight Dragon test found the texture to be relatively easy to clean. The ribbed texture does mean lubricant and other residue is easily caught and collected between nodes and ribbed ridges. But once you've turned the sleeve inside out, it's pretty straightforward to clear away any unwanted messes. It's important to dry this thoroughly before using again however, and to prevent mold from forming that might damage the integrity of the polymer construction. Dry time averages out at around four hours, which isn't too bad when compared to other textures.
If you're looking to save time when it comes to clean-up, use Fleshlight wash pump spray. The powerful pump bottle will ensure no nook or cranny is left unattended and is more hassle-free way to handle things than cleaning manually. Although the medical-grade polymer results in an insert that's build to last, if you intend to keep this texture in quality condition for longer, I also advised you maintain it with Fleshlight renewing powder to help prevent wear and tear that might hamper your enjoyment over time.
My Conclusion & Final Test result
This Dragon vagina texture of Asa Akira is definitely designed with those chasing intense sensations and more stimulation. But it needn't daunt those used to something more understated. One or two practice sessions with this essential insert will leave you with a smile on your face and itching for your next try. The consistently spaced chambers are particularly impressive, delivering top-level sensations along every inch, with the added benefit of a great grip along the shaft and a superior suction effect that results in a more memorable climax, every time.
Review overview
Stimulation, intensity & structure
8
Price / Performance ratio
8
Summary
7.7 Flesh Score: Good It's hard to fault this Dragon sleeve texture, but like all inserts, it has it's drawbacks. If you're still undecided about whether to invest, have a look at the breakdown of the biggest perks and downsides of this Asa Akira inspired design.
Pros:
Plenty of variety ensures constant surprise and incredible stimulation.
A relatively linear canal allows for easy penetration, with strap segments that'll grip on the penis and provide a more intense massage.
Realistic finish and incredible attention to detail.
A particularly strong suction effect makes for a more powerful orgasm.
Easy to clean and maintain to ensure long-lasting use.
Cons:
Not ideal for those looking for a slower, more paced session.
Similarly shaped chambers might disappoint those looking for high levels of variety.
The fine ribbed texture might need some extra attention when it comes to keeping things clean.