Fleshlight Forbidden : The Fantastic Butt & Ass Sleeve
The Fleshlight Forbidden sex toy is the classic within the Fleshlight Girls anal sleeves. The simple setup attempts to recreate how anal sex really feels. This item has a lot of textures. Instead, there are many textures that are inspired by the girls of Fleshlight. They all offer the Forbidden Texture and their individual sleeves are customized with their signed butt holes. The sleeves are also individualized with the skin tone of each girl. The textures are all the same though.

Detailed Description of the Fleshlight Forbidden Toy
There is a lot of details that a person needs to know prior to purchasing this item. The orifices are anal and anus, specifically the Fleshlight Girls Butt and the Fleshjack Boys Butt. The ten girls of Fleshlight are each showcased on their individual sleeve. They designed their individual sleeves personally.
The case of this is a pearlescent Fleshlight case. The canal of this sleeve is 1.2 inches (30mm.) in length and 0.4 inches (10mm) wide. The entrance passage widens to a diameter of 0.5 to 0.6 inches (12-14mm). All of the girls inserts are flesh colored except for Misty's. Hers is dark brown in color. This sex toy has one chamber and the way it is designed is like no other. This is the first time that Fleshlight has made a toy like this that is designed to recreate anal sex as much as possible and to portray the girls of Fleshlight. It is truly a one-of-a-kind way to orgasm.
My personal Look at This Toy
Design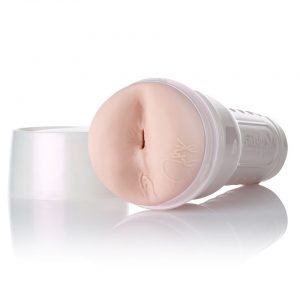 This sex toy has a great and satisfying design. I think the design is great because it makes the toy very satisfying and as close to anal sex as it can possibly ever be. I also like that there is a lot of designs for people to choose from with the girls from Fleshlight being the star of them. Men that use them will have a lot of variety when using these toys since there are a lot of ladies that are a big part of these sleeves.
Feeling
After the penetration inside the tight canal entry takes place, an awesome tightness sensation follows it. The transversal rib texture is extremely noticeable on the head of the penis and provides a pleasant massage. It is a lot like anal sex due to the fact that the feeling of tightness goes down a little the next coiled canal part which makes it feel very true to life. The waves inside the coiled canal supply wonderful and smooth stimulation's and alternately raising and lowering the counter pressure that is put on the penis, which spreads all over the penis. When the canal is entered all the way, a person will feel the tight begin of the toy wrapping around the shaft of the penis like a true anus.
When it comes to cleaning this item, soap should never be used on it. Warm water will usually be good enough to give it a proper clean. If it needs a deeper cleaning, use a little rubbing alcohol or toy cleaner on it. Also, be sure to dry it completely prior to storing it. This sex toy needs to be stored in the container that it comes in to keep dust away from it. Do not store it with another sex toy. It also needs to be dried thoroughly before it is stored.

Hygiene and Durability
The cleanup of this item is very easy because the canal has side walls that are mostly smooth. Due to the fact that the canal is very tight, it does take a bit longer to dry than other Fleshlight items. This item is very durable. One person said that have had theirs for over a year. To make it last a long time, the instructions that come with it have to be followed completely. It has to be washed right after it is used (at least before a person goes to bed). It also needs to be dried with a fan or towel dried. Something thin (like an old t-shirt) is needed to gently dry the inner canal. If it is not dried completely, it will mold and/or mildew and then the Fleshlight toy will be ruined. .
Conclusion And Final Thoughts
In conclusion, I think Fleshlight is cornering the sex toy market with the great variety of products that they offer. This sex toy provides another alternative to sexual enjoyment by recreating anal sex as much as it can ever possibly be done. The added bonus of getting to choose a porn star girl that is pleasurable to look at during that moment of pleasure makes this toy even more terrific.
It is as similar to anal sex as any sex toy could ever be and it gives the user a feeling of doing something enjoyable but as off limits for some people as anal sex is often thought of as taboo.
Review overview
Stimulation, intensity & structure
8
Price / Performance ratio
9
Summary
8.3 Flesh Score: Great This sex toy is fantastic and it provides a lot of perks to any person that may use it. It provides a pleasurable, satisfying, and realistic as possible experience and it will make anyone that uses it want to use it on a regular basis.
Pros:
A tight orifice
A canal that is full of closely packed ridges
The main texture of this sleeve is undulating ripples or waves.
Is very good at replicating anal sex
Is also visual since a person can look at the porn star whose Fleshlight that they are using.
Cons:
The only downside that I could find about this product is that many users wishes it was tighter, especially at the opening.