Christy Mack´s Fleshlight Attack For "Big Boys"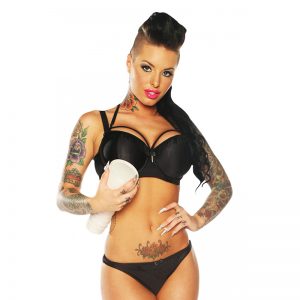 I'm sure, that many men would love the alternative and tattooed porn star
Christy Mack
. For most of us the closest we will get is available in the form of the Christy Mack Fleshlight Attack Sleeve that gives me the closest feeling to being inside one of my favorite porn stars.
Attack Texture Description
Let's get the facts about this skin pink colored Attack Sleeve out of the way before we move into my personal review – about how much I loved one of the best Fleshlights I have ever sampled. The basics of this sleeve see three large chambers added to the Fleshlight, each with their own series of bumps, twists, and unexpected ridges that provide fun for everybody and the best possible orgasm for the user.
This sleeve starts out with an entrance to the first chamber that measures just 20 mm x 25 mm for optimum feeling, followed by a transitional area reducing the size of the canal to just 10 mm. Once I pushed through the transition I found myself in the main chamber, which measures 100 mm x 20 mm. Finally, at the end of the main chamber is a further transition leading to three smaller chambers that can be used by those with a larger penis.
Throughout the design there are a number of lumps, bumps, and bulbous designs created to make sure the penis glans, the bulbous part of mine and yours, remain stimulated as they would if we were actually enjoying some time with Christy Mack. The texture of this design is of the highest quality and gives a realistic feel through the use of the Fleshlight Girls Signature texture. That always makes me feel as though I am actually with my favorite tattooed porn star.
My Christy Mack Fleshlight – Attack Review
Very Cool Sleeve Design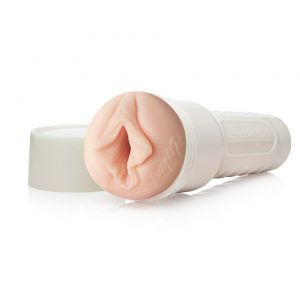 One of the main reasons I bought this sleeve was the chance to explore the pussy of this porn star, which includes the well known big lips of Mack and a number of interior chambers filled with exciting lumps, bumps, and different areas of the pussy to explore. I known my cock found its way through the pre chamber, a first chamber with a half lotus node transition into the main chamber.
I'll admit it was a bit of a stretch to get close to the three rear chambers, but my orgasm was still amazing because of a realistic vagina texture. I know I always love the tight feeling of the Fleshlight Sleeve's. But this Fleshlight Attack Review explains to you just how much I loved the feeling of my cock sliding into the Christy's pussy and passing through the most lifelike chambers I have ever experienced.
I am always looking for a tight entrance to the vagina of any Attack Sleeve I am using to make sure my penis is as hard as possible, which is easy for me when this Fleshlight is enjoyed with a few of Christy's porn movies. I was already excited by the look of the sleeve before I started the test and felt like I was really in a room with Christy, but the feeling of sliding into the long chamber was something that I find hard to describe.
A part of the design I really love is the narrow opening at those big pussy lips that make it easy for me to feel a lifelike experience based on the porn stars own vagina; as I moved through the first chamber my uncut foreskin moved back to let me feel each and every bump as a I pushed on to the transitional node that marked the entrance to the main chamber.
Fleshlight Attack Orgasm Feeling
The main chamber is long, but the realistic vagina texture makes up for the length because it allowed me to enjoy a number of feelings that made my penis glans feel amazing. I'm an average guy in penis length. But I still managed to make it to the rear of the Christy Mack Fleshlight Sleeve for a realistic feeling of being with the porn star and feeling as though I were inside her pussy.
For me, masturbation is always something of a let down when I don't use a Fleshlight, but the suction I felt when my penis was inside this sleeve gave me one of the most intense orgasms I have ever felt that actually made me imagine I was with one of the most famous porn stars of all time.

Hygiene & Durability
I know you are wanting to know all the details of this Fleshlight Attack test, which includes me not seeing any problems with tearing of the materials in what was one of the most thorough reviews I have ever conducted. My attraction to Christy means I have been using this Fleshlight sleeve on regular occasions, meaning I known the need to prevent mold and residue buildup is all important.
I find it simple and easy to rinse out this Fleshlight in just a few minutes, but I do make sure I check for any residue buildup that can hide away in the many orifices of one of the best Fleshlights. A drying time of between one and two hours means I was able to enjoy Christy´s pussy over and over again.
My Attack Sleeve Conclusion & Final Thoughts
I may be biased because Christy Mack is one of my favorite porn stars, but my thoughts on the Fleshlight Attack review are that this is one of the best I have ever enjoyed using. If, like me, you enjoy the feeling of a natural vagina in stimulation toys you could do far worse than looking at this Fleshlight.
I particularly enjoyed the natural feeling of the tight penetration into the main chambers that was made even more enjoyable by the natural Fleshlight Girls Signature texture. Let's face it, who doesn't enjoy penetrating one of the most famous vagina's in porn on a regular basis.

Review overview
Stimulation, intensity & structure
7
Price / Performance ratio
7
Summary
7.2 Flesh Score: Good I'm a fan of Christy so I love this Fleshlight, which is easy to keep clean and hygienic; the variations in lumps, bumps, and chamber sizes make this an impressive design. However, I do wish the variations in size had been a little less dramatic to maintain as much intensity as possible for myself in what is otherwise one of the most realistic Fleshlight experiences I have had.
Pros:
The realistic feel is the main plus for this Fleshlight.
Penetration feeling is second to none.
The suction effect Fleshlight's have become known for is present in this model.
Feelings this realistic make me want to use this Fleshlight over and over, which means the easy cleanup and fast drying time are all important to my enjoyment.
Cons:
The main chamber is long and certain areas can feel loose around the penis.
Again, the different sizes of chamber can sometimes make it difficult for the intense feelings I enjoy to be maintained.