Bi-Hive Fleshlight from the dream girl Bibi Jones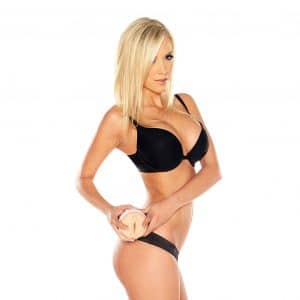 Bibi Jones
is a girl all men dream of.
This spunky blonde has been turning heads in the porn industry since she got her start with Digital Playground at the young age of 19. Her curvaceous features and smile that could make any man's head spin have been featured across the industry in many films and scenes.
She has also been known for affiliations with major sports.
Sporting hot hook-ups with Rob, this blonde also has ties to the Arizona Diamondbacks in baseball and numerous affiliations with the National Hockey League (NHL).
What is the Bi-Hive Fleshlight Sleeve Texture?
Now you can hit a homerun or score a goal with Bibi with her Fleshlight toy. The Bi-Hive Fleshlight is a masturbation experience that will leave you cumming within minutes. In sports you get penalized for foul play, but with Bibi, your rough and wild fantasies can come to life without being punished (unless you want to be). Let's go deeper inside Bibi as we review her Bi-Hive sex toy.
Going inside Bibi Jones's juicy, sweet pussy is an experience that most men can only dream of. Taking this blonde and penetrating her to orgasm is a feat that you will be able to conquer again and again with her toy. This personal masturbator has an insert that measures 9″ in length and comes with a black casing that is about 10″ in length. Even the largest man can pleasure their penis inside this hot starlet.
My Personal Bi Hive Review
Fantastical Sleeve design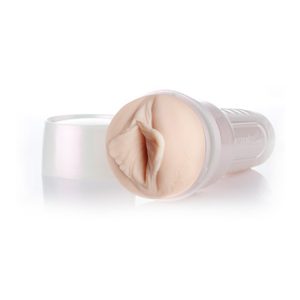 The design of the toy mimics that of Bibi's actually pussy. The inner chambers of this toy feature stimulators throughout, providing multiple penis glans of pleasure. Most men can only handle Bibi for a few minutes at a time due her to stimulators that truly overwhelm the individual user.
The sleeve features a smooth entry point which is immediately followed by two large and round molecules that massage your head. This massage isn't your average massage as the initial passage way is rather tight as well. Pushing past this point widens the toy out a bit and you are again greeted by a collection of round ball-like stimulators that grasp your penis from every angle imaginable.
Bibi Jones´ pussy structure feeling
Pushing even deeper gets you to a wall of rings that grip our penis in four separate locations. The harder you are, the better the experience gets with Bibi. Getting past the rings will return you to a chamber that encompasses four large ball-like molecules that are similar to the original entry point.
There is also a fifth ball that massages underneath your shaft. The deeper you go inside Bibi the harder it becomes to resist blowing your load inside of her. The overall feel of this sex toy gets the juices in your penis flowing to no containment; do as Bibi says and don't ignore the urge to be inside of her.
This man sextoy is perfect for those looking to get their fantasy fix in a quick fashion. The Fleshlight can also boast the ability to get any man to ejaculate, which is a tough feat for any toy to accomplish within a long period of time, let alone a few minutes. Bibi is ready to make your head spin and your penis throb; so insert your penis and let's get inside Bibi as soon as possible.

Clean up and dry the Bi Hive Sleeve
Due to the complex inner portions and make up of this toy, cleaning it will be an essential to continuous sexual experiences. The inner orifices are very delicate, so take a caution when cleaning your toy. Be gentle to ensure that you don't damage the inner SuperSkin™ material. SuperSkin material is already made with durability, but the way you personally care for your toy can lead to continued masturbation ecstasies.
Grab a bottle of FleshLube or FleshWash at checkout to maximize your orgasm experiences and to ensure that your toy is able to function at peak performance. Try other options from Fleshlight such as the Sleeve Warmer that will keep your toy ready for your penis whenever the time is right.
Fleshlight BiHive Review Summary
Masturbating with Bibi Jones is truly an experience you won't find with any of the other Fleshlight girls. Her complex pussy makes for a model that men cannot contain themselves from climaxing with. In a matter of minutes you'll have filled Bibi with all of your juices and you'll want to go back to her time and time again. Bibi Jones provides you will an enticing adventure and she needs your stiff cock to make this fantasy a pleasure filled experience.
As with all toys, there are some features and functions that will suit the needs of consumers and some that won't. Below we'll take a look at some of the pros and cons of the toy and give you some ideas for consideration before making your purchase.
Review overview
Stimulation, intensity & structure
9
Price / Performance ratio
7
Summary
7.3 Flesh Score: Good With all things considered above, you should really take the chance with Bibi's toy. The pros outweigh the cons in that this experience is truly mind boggling. To feel your penis being gripped and stimulated to quick sensations truly allows you to reach the point of no return in a quick fashion.
Pros:
Complex inner chambers
Too many stimulators to name in one sitting
A quick masturbation and climaxing toy
High amounts of pleasure capabilities
Cons:
A rather short masturbation experience (you won't last very long with Bibi)
Immense levels of tightness and stimulation (could be too intense for some users)
The complex inner make-up sometimes reduces the simplicity some users enjoy
No anal orifices in her product line