Fleshlight Bookworm Texture with Kayden Kross orifice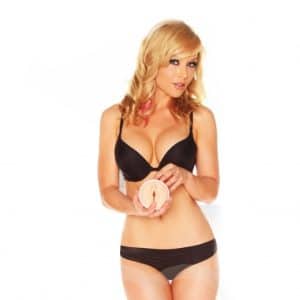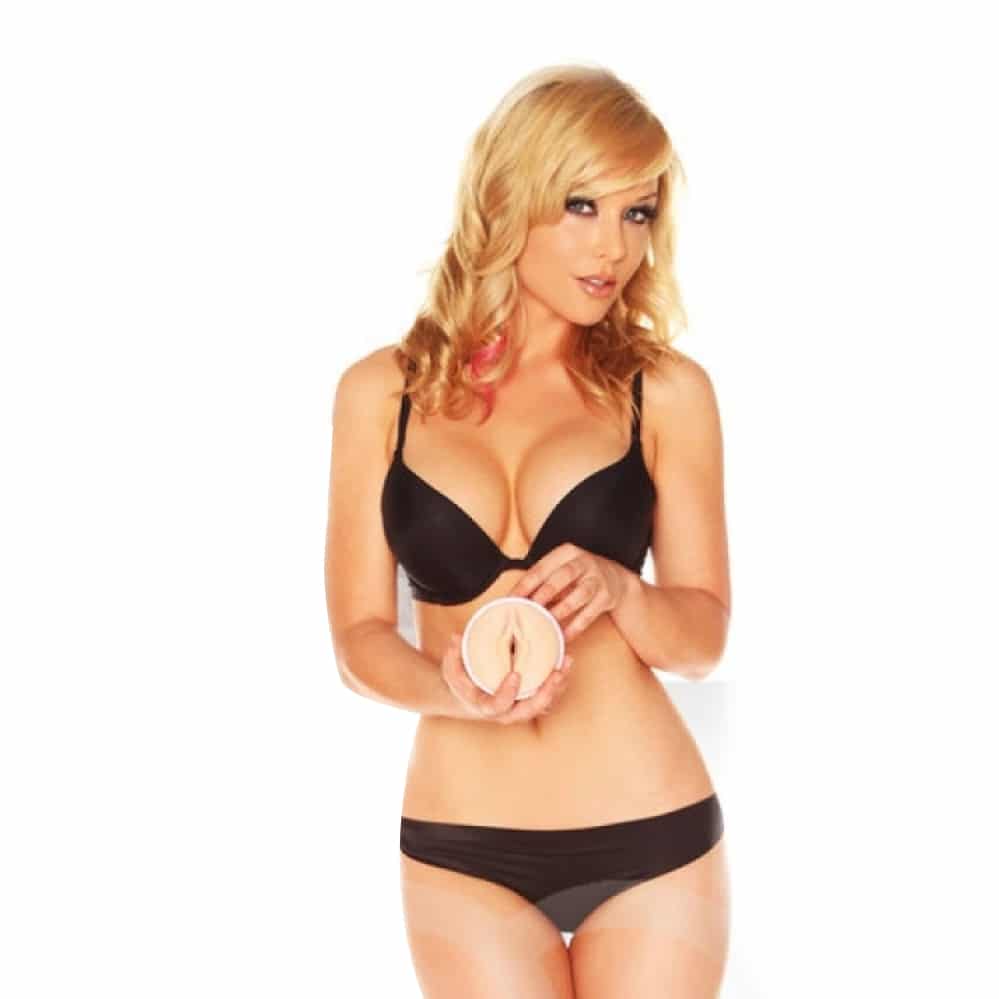 In 2012, ILF released a completely redesigned texture which it dubbed "Bookworm". It was decorated with an original copy of Kayden Kross' labia. The masturbator combines the sexy appearance of Kayden's pussy with a texture that will make you orgasm.
Kayden lives up to all the blonde clichés: she has large breasts, long blonde hair, a breath-taking figure and a cute face. Kayden Kross' porn films show that she's a real firecracker in bed, and loves to be pleasured by multiple guys.
I've tested the Bookworm Sleeve and put together a few pieces of information for you. In this review, I'll tell you everything you need to know about this sex toy. If you want to give me your opinion, please leave a comment at the bottom of this review.
Who is Kayden Kross?
Kayden Kross is one of the most influential names in the porn industry. The slim blonde has already worked with the biggest producers in the business, such as Vivid, Adam & Eve, Digital Playground and Penthouse. In addition to a successful career as a porn star, the goddess also works as an author and writes texts for a variety of popular porn websites.
Kayden was born in California on 5 September 1985. She studied at California State University in Sacramento, the city she was born in, and also worked as an author. Her feminine curves and blonde hair meant that she always left a lasting impression on men. Her first job was as an erotic dancer in a nightclub.
Although Kayden Kross' porn depicts her as insatiable, she loves reading in her free time and is an independent author of erotica. This is why ILF named her canal "Bookworm."
Bookworm Fleshlight Description
The Bookworm Fleshlight has been a popular, sought-after product for many years. The sleeve, also known as the insert, is 22.5 centimeters long. As already mentioned, its orifice is decorated with the labia of the porn star Kayden Kross, and also bears her signature. The insert is made of RealFeel Super Skin™ material, has a light skin tone and is set within a pearly white casing in the shape of a torch.
The texture of the Bookworm actually does look like a bookworm winding its way through a book. There are no direct chambers in this texture. The interior structure is completely continuous and repeats regularly. Its internal diameter varies between 14 and 18 millimeters.
The texture bears a total of 16 alternating hemispherical bumps that are 8 mm in size. These bumps and the transverse ridges create a varied pattern, leading to surprising constrictions time and again. The inner entrance corkscrews back on itself, creating varied effects despite the pattern remaining almost the same.
You could compare this canal to a rollercoaster ride for the head of the penis. It promises a lot of fun.
My Kayden Kross Fleshlight review
I found it interesting that this Bookworm texture is preceded by its great reputation. The texture was chosen as the winner at an ILF competition that took place in 2012. This honor must have been given for a valid reason. At first glance, the canal appears a little monotonous, but it doesn't seem to be the case — otherwise, it wouldn't have won.
I waited for a Fleshlight special offer to come on, then ordered this Fleshlight (including the case and sleeve), along with a heap of other Fleshlights for an extensive comparison test. I received the delivery from UPS just four days later. Unfortunately, I wasn't lucky enough to get these plastic pussies in a nice-looking box. The sleeve was inside a foldable plastic blister pack, and the case was next to it, unpackaged, in the large box.
It wasn't easy to open the three staples holding the plastic packaging together. I removed the staples with a screwdriver. I had to be careful that my hand didn't slip and injure myself, or damage the sleeve. I hope that ILF will come up with something better in the future.
Swirl Bookworm Sleeve Design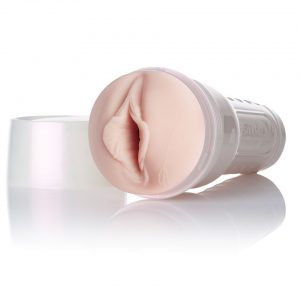 Full of curiosity, I began my personal test of the Bookworm texture. As usual, I first put a little FleshLube into the texture. This is a water-based lubricant manufactured directly by the Fleshlight manufacturer ILF. After an extensive test of various lubricants, Fleshlube is the one I've ended up with. I like the water-like consistency and the hours of lubrication it offers — all without sticking to my entire underpants after the masturbation session.
Then I put the Fleshlight on my Sleeve Warmer to heat the sleeve and the gel to a pleasant body temperature. While I was waiting, of course, I downloaded two Kayden Kross erotic films from the Internet and got myself into an erotic mood. 😀
The labia on the model look very inviting indeed. The head of my penis dived in with pleasure. The first section after entering the texture felt quite wide, with the Bookworm canal noticeably constricting after around 2.5 centimeters. After this, I managed to get into the canal. Stimulating bumps, alternating with noticeably pronounced transverse ridges, were waiting for me.
Very intense Kayden Kross Pussy Structure Feeling
The texture really does wind its way along the sleeve, creating changes of direction and surprising stimulation to the glans and penis. I felt like I was being embraced by the Bookworm, while being constantly surprised by the stimulation from the bumps. Despite the texture lacking any noticeable chambers, the penis massage was always different and varied. The bumps and ridges are arranged in such a way that throughout my entire masturbation session I could feel a pleasant milking sensation.
As the texture repeats after around 8.5 centimeters, men with a penis of the normal length of around 15 centimeters need not worry about missing the highlights at the far end. Although the texture of the Bookworm isn't tight (compared to other inserts), I found the stimulation during masturbation to be very arousing. As the masturbation isn't too intense, I was able to enjoy the pleasant sensation without orgasming too early. When I could suppress my climax no more, the feelings I experienced were very intense and stirring.
I'm glad I decided to test the Bookworm canal. It is a masturbation aid for connoisseurs: people who are not out for a quick orgasm, but for people who are looking for a longer-lasting session of masturbation and want to enjoy this to the fullest. The suction effect is just right, not too intense, but clearly noticeable.
I can really recommend purchasing the Bookworm structure for the Girls "Kayden Kross" Fleshlight. In my opinion, the sleeve is equally suitable for beginners and connoisseurs alike.
Fleshlight Sleeve: Hygiene and Durability
Cleaning the Bookworm sleeve is quick and easy, in contrast to narrow, heavily textured sleeves. The remnants of lubricant and semen must be thoroughly removed after each use.
You can simply rinse the Bookworm texture thoroughly under lukewarm running water. Never use liquid soap or household cleaners: they will damage the sensitive SuperSkin ™ material and break your sleeve after a period of time.
After a thorough cleaning with water, I recommend drying the texture with a lint-free cloth (e.g. a dish towel). Afterward, it is highly recommended that you disinfect it with Isopropyl or Fleshlight Wash (developed by ILF especially for the disinfection of Fleshlights). This prevents bacteria, germs or mold from forming. Both disinfectants are highly volatile and dry quickly after use. Clean the outside of the sleeve too.
It is really beneficial to treat the sleeve with ILF's Renewing Powder after every three or so intensive cleanings. Your sleeve will be velvety soft again and will not be sticky. You only need to treat the outside of the sleeve with the care powder.
This canal also has problems with drying. I recommend that you use a kitchen-roll holder to force the canal open and allow it to dry properly. The Bookworm canal will be dry in around 24 hours. Nevertheless, I would recommend that you don't put the sleeve back in the case until 48 hours have passed to allow every last drop of moisture to dry.
At this point, I'd like to point out that using the wrong kind of lubricant can also damage your sleeve. You can only use water-soluble lubricants! FleshLube is a product developed by ILF and specially designed for use with Fleshlights. This product is safe, ensures maximum enjoyment, and projects the sensitive structure of the material.
Kayden Kross Fleshlight Summary
I can recommend the Kayden Kross Fleshlight with the Bookworm canal. It delivers what it promises, in all areas. You can enjoy a session of really pleasant, sexy erotic relaxation, without being over-stimulated.
It looks very arousing thanks to Kayden Kross' very sexy labia. The feeling of penetration is also very realistic. Beginners and connoisseurs can have a lot of fun with the Bookworm canal as it is well thought out and features a unique structure. The texture has a simple but exceptional structure that you won't find in any other Fleshlight. The inner structure akin to a worm or a rollercoaster gives an experience you've never experienced before. The flexibility also gives the user the opportunity to experiment creatively by entering the canal to different depths.
Cleaning the sleeve after orgasm is quick and doesn't require a lot of effort.
This toy has everything a man can want. I am pleased that my Fleshlight collection has been expanded by a unique Fleshlight.
Review overview
Stimulation, intensity & structure
8
Price / Performance ratio
8
Summary
7.7 Flesh Score: Good Taking all I have mentioned above I would rank this toy an 8 out of 10. The embracing, milking feeling during masturbation offered by the Bookworm canal promises a pleasurable, long-lasting session of masturbation and a pleasant orgasm. The cleaning is simple. Although the inner structure is rather simple in construction, it provides varied stimulation, sometimes with bumps and sometimes with ridges. The feeling of penetration is enticing and unique. The Bookworm texture is suitable for all penis sizes, as well as for beginners and advanced users. No collection should be without this Kayden Kross Fleshlight.
Pros:
A consistent tight grip throughout
A simple inner make-up; no surprises
A unique inner canal one will not find with other Fleshlight girls
The 6 added inner balls for extensive pleasure
Flexibility in usage
Similar stimulators throughout
Cons:
Rather fragile inner canal (harder to clean)
Not to be used in a rough masturbation manner
Only comes with the texture and not the casing (limits ways of using the device)
Can bunch up over time
Sometimes difficult to clean effectively