Orgasm Training Sleeve "Nipple Alley" from Riley Steele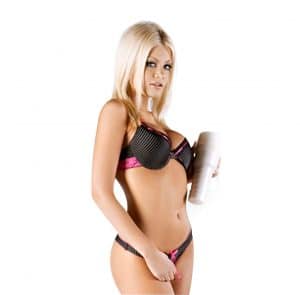 I was thrilled to have a chance to take the Fleshlight Nipple Alley test for a ride against the other textures. Personally,
Riley Steele
is one of my favorite American porn stars. 😉
So it didn't take much convincing for me to try it out.
The Sleeve Nipple Alley tested well up against the other options, both the Fleshlight Speed Bump and the Stamina Training Unit. This review will explain why I believe this particular sleeve will give you one of the best Fleshlight orgasms you have ever had.
Do you know the Nipple Alley sleeve or do you have questions about the love toy? Please write me an comment under this test report.
Nipple Alley Fleshlight – Texture Description
Inside the Nipple Alley Sleeve are high stimulating bumps that represent the size of nipples. But they cover the entire inside of the sleeve with a little space between. There are also extra points on the top for added pleasure. This particular texture is one of the most popular because of the stimulation it causes with the Fleshlight Speed Bump like sensations.
It is the Fleshlight Girls Signature Texture with plenty to look forward too. It has a great pussy texture sure to please any man. Imagining how it feels to be inside one's favorite pornstar only adds to the excitement and heightens the senses drastically. Make sure you are prepared for one of the best experiences you can buy without getting caught red handed.
This particular sleeve only works with Riley Steele's molded pussy. It is sure to please anyone who enjoys added stimulation.This is only found in the Fleshlight Girl Riley Steele. 0.6-.0.7 (16-18 mm) in diameter. The length is 9 inches (22 mm). The color is a pale pink just like Riley's tight pussy.Is shaped perfectly to encompass any cock comfortably. It also has plenty of room for ejaculation without compromising its tightness.
It has a generous ripple effect of nipple-like bumps. There are multiple chambers with this texture that will please your cock from tip to base. They are arranged so that no matter where your cock is in the canal you can feel the nipple like fingerlings touching it. This creates the ultimate in pleasure and extasy. It is similar to other Fleshlight in that it has the Speed Bumps, but it is much nicer because it is made of high-quality materials that envelope your penis.
My personal Riley Steele Fleshlight Review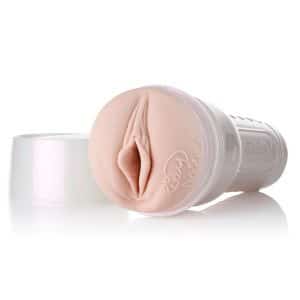 I have been looking forward to ordering an insert for a long time and I am beyond pleased. I will never look towards getting anything less than this brand of Riley Steele fleshlight. The best is when I turn on the videos as I play around with my new fleshlight insert. I love rubbing myself in the sleeve, when I am thinking about her. It makes for a real hot time. The best part is it takes me away into a fantasy which, is never a bad thing.
Nipple Alley Sleeve Design
My first impression was that it was not going to be enough stimulation for me. I was really looking to go a step up from the more generic fleshlights I have used previously.
I thoroughly enjoyed the design, as it was quite a turn on thinking that I was messing with Riley Steele vagina. I was actually taken back by how close it resembled the pictures I had seen. That was exciting me and I couldn't wait to take it out and try it, but I had to wait till the right moment.
Great Riley Steele Fleshlight Pussy Feeling
I like how intense it was from the moment I slid it onto my cock. It slid on with controlled ease which I was not expecting, but after prior experiences, I was glad it did. I tend to grow quite large once I get going and the last thing I wanted was for it to be too tight. Instead, the tightness was nearly perfect for me. I would say that my favorite part about it was exactly how stimulated I got, and how fast it occurred after starting up.
Although I could have been partial because I was really ready to give it a whirl. The suction was perfect until the very end when it felt like it was getting just a bit gripping for me to handle. Besides it being a little bit tight at the beginning of my climax, it was one of the best I have experienced with a fleshlight. It was as if I was not going to stop, but all good things come to an end, at least till next time.

Hygiene and durability
It was really easy to clean out the sleeve. It only took me a short amount of time to rinse it out. It did take a bit longer than I had expected for the insert to dry which, is a bit disappointing. The sleeve is also extremely durable compared to the way it looks. I honestly thought it would have torn, but luckily it didn't which, made me very happy.
Final Nipple Alley Sleeve Review Result
My final thoughts are that if you can't get the real thing or are sick of the drama, as I am this is a great sleeve for you to try out. It was comfortable to use, only too tight momentarily at the end. I would rather have it that way than too lose.
I loved the way it looked because I am a big fan of hers. Nothing was more erotic than closing my eyes and pretending I was messing with her.
In addition to everything mentioned already the price, was a great deal that I couldn't pass up. I will definitely be purchasing more if anything new comes out from this particular line. Great orgasm, can't complain and I would recommend it to others.
Review overview
Stimulation, intensity & structure
8
Price / Performance ratio
7
Summary
7 Flesh Score: Good The Nipple Alley has great appeal simply for the namesake, but it is so much more than that. Get ready for a body shaking orgasm that released all your pent up stress. Realistic looking, tight and extra stimulation leaves you coming back for more. Now it's your turn to take the fleshlight nipple alley test.
Pros:
Looks Realistic
Great Stimulation
Easy To Clean
Easy To Use Orgasm Is Out Of This World
Price Is Perfect
Ideal for orgasm conrol and Penis Edging
Cons:
Needs Extra Lube
Too Tight At Times
Sleeve Dries Slow