Super tight Torrid texture from Tori Black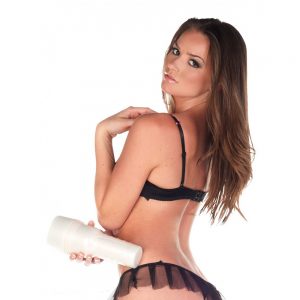 Always pushing the envelope, the Fleshlight manufacturer ILF has created a unique texture that provides users with an experience unlike any other. The sleeve Torrid was molded from the pussy of 
Tori Black
.
It includes a complex interior with tight walls and irregular constrictions, grooves and break sections. All coming together to produce a fascinatingly powerful sensation.
I don't think I've ever had a sleeve that was quite like this one before. Each of the self-containing chambers provides something different, and if you're a fan of tighter textures, I think you're really going to like the way this sleeve feels, especially if you plan on using the insert fairly regularly.
Torrid Sleeve Description
The sleeve comes with only one orifice, and it is designed to work with the Fleshlight Girl Tori Black case exclusively. The insert is an off-peach flesh color that contrasts with many traditional industry colors, like bright pink or orange, and it measures nine inches in length with a canal entrance diameter measurement of 0.4 inches.
Though these may seem to be relatively standard stats, this fleshlight is unique in its texture and canal concept. The main interior chamber is divided into five equally-sized sections, all self-containing and capable of recreating a number of sensations.
These bumps can allow you to check out each different sensation to see which you like best, or you can thrust deep and enjoy the entire ride. The chambers are all kept separate from each other with three-piece flap systems. When I passed through these, I was delighted to find out that the flaps just open and press inside the canal walls. They don't stand out or cause any noticeable discomfort or change in sensation.
My personal Torrid Review
Beautiful five Chamber design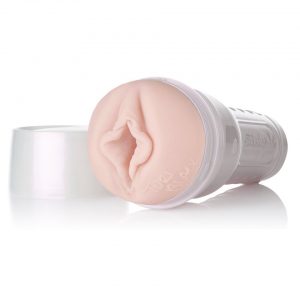 The design immediately gave me reason to pause because it was like nothing I had ever seen before in a sleeve. I've tried multi-chamber sleeves before, but there was something inherently fascinating and strange about the way these chambers were set out. The interior design is one of the most irregular I have ever seen, and the strangeness of the individual chambers might be cause for avoidance.
For those who are interested in a little bit of variety, or are just looking to experiment and see how different models feel, this sleeve can be incredible. Though the texture stands out, I particularly liked the colors they used for the exterior and interior, as it is reminiscent of skin without creating an unwanted uncanny valley vibe.
The lips to the product are particularly attractive as well, and you can tell that the creators took their time when they were designing the piece's interior and exterior.
Very tight Feeling with the Torrid Sleeve
Don't let the appearance turn you off until you give it a try. Fans of tightness will love the penetration feeling, as the very tight design results in an unparalleled level of suction and stimulation. The tightness eventually subsides as you go deeper, and from there the way you enjoy your sleeve depends entirely on what you are looking for.
You can experiment with the different chambers and see which ones you like best. It is extremely slide friendly, especially after the first penetration, and the interior flaps help control the experience even further. The orgasm itself is very intense. I knew I found a favorite when I discovered how tight the interior was, but I never expected the many different chambers to feel the way they did.

Hygiene & durability
If there are any problems to be expected with this piece, they're in the maintenance and hygiene department. Because of how many chambers there are and how tight the interior is, it can be difficult to clean. The cleanup process can be lengthy because of how thorough users need to be to avoid unwanted bacterial growth inside the different chambers. Cleaning around the different components of each chamber is problematic as well, and drying can be a hassle. If you are not a hobbyist, you might not want to go through the cleaning hassle every time.
However, what the product lacks in ease-of-cleanup, it more than makes up for in durability. The sleeve is very sturdy and capable of standing up to extended use. I have not heard any horror stories of the sleeve tearing inside the case, but it is important for users to be as careful as possible anyway. Accidents always happen, and it's possible to reduce risks just by investing in the right care procedures.
My Torrid Fleshlight Conclusion
Overall, I'd say that I am very satisfied with my purchase. The sensations are unique and I love the tightness. It makes the suction feeling all the more pleasant, which in turn contributes to the way the chambers work. However, it is not the most beginner-friendly piece on the market. If you are a hobbyist or a collector, this is definitely something you might want to have in your repertoire.
If you are looking for a simple and regular piece to use, there are other models that I would recommend instead of this one, especially for the long-term.
Review overview
Stimulation, intensity & structure
6
Price / Performance ratio
6
Summary
5.8 Flesh Score: Good Though I greatly enjoyed this sleeve, I don't recommend it for everybody. If you are serious about your fleshlights and have the time to dedicate to cleaning, you're going to love the sensations that this sleeve is able to produce. For beginners and casual users, I would recommend investing in a simpler sleeve that features a relatively smooth interior for easier cleanup and straightforward sensation.
Pros:
Very durable and capable of standing up to all types of wear and tear
Five unique chambers create different sensations, allowing you to adjust your experience
Tight sensations that are adjustable as desired, making the sleeve a great choice for experimental use and couple play
Cons:
Could be a too tight for those not used to complex designs
Not as straightforward to use when compared to other sleeves
Not ideal as an entry-level sleeve for those who are just getting started
Difficult to care for, as every section needs special cleaning, and lube and other liquids may get stuck there, making the job more difficult