Fleshlight Twisted – The Butt Texture of Tera Patrick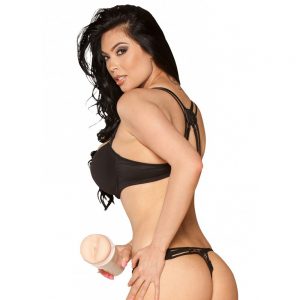 Purchasing a molded butt with the signature name "Twisted" might sound a bit sadistic, but this product name merely describes the amazing design that's hidden inside. Initially, I was skeptical of this design because it didn't have all of the bumps and grooves that other products offer.
I'm glad to be wrong in this case because the Tera Patrick Fleshlight sleeve is worth a second, third and fourth try. It's formerly known under the name Twista, but now the manufacturer decided to upgrade the name to "Twisted" in order to indicate the newest design features.
In the following review I tell you my personal opinions and compare the good and bad characteristics. I hope that I can help you to find your perfect Fleshlight.
Tera Patrick Fleshlight Description
This Tera Patrick butt might confuse you at first because it seems to have two orifices. The canal's opening appears to have the hint of some labia down below, but this detail is merely for aesthetic purposes. This sleeve is meant to be a butt-only orifice.
However, don't let the one orifice limit your pleasure. You might remember the pleasure you felt with the vagina mold that was formerly: Twista. This design is similar in nature to that one. There is so much to enjoy as you slide your cock inside of the newest Twisted design.
This Fleshlight Girls Signature Texture has an attractive, flesh-colored hue. It's meant to look like Miss Patrick so the color is perfectly suited to the design. As you slip this sleeve into your plastic holder, take a look at the outside details. It's strongly built with supportive sections holding up the main entrance point. However, you should only be concerned with the interior design at this point.
Instead of just four or five chambers, you'll discover 10 distinct sections with a spiral ridge defining each one. When you add up the entire length of this sleeve, it's equal to 9-inches or 22.5-centimeters long. As a result, you should be able to fit almost any penis size into this canal. Fleshlight wants every man to have a pleasurable time regardless of their body size.
My personal Fleshlight Twisted Review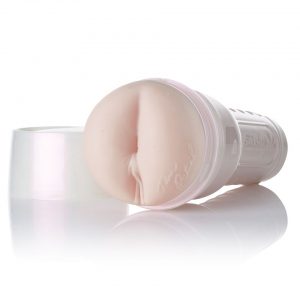 For my Fleshlight Twisted review, I'm trying to be as objective as possible. This sleeve is definitely different than all of the others, which can be both good and bad when you're looking for that exquisite sensation. All I can say is that you have to try it yourself to believe in its quality. Although it doesn't have all of these fancy bumps, turns and chambers, design simplicity might win out overall. Join me on a virtual tour of this product, and reap the benefits when you order one.
Fleshlight Twisted Sleeve Design
The canal opening alone is enough to get me excited about this design. A perfected skin tone, Miss Patrick's signature and a realistic curve invite you to explore the design inside. As you enter the sleeve, you may not be too thrilled because it's merely an opening with smooth walls. In the product's defense, this aspect is entirely realistic when compared to a real person. After you pass this entry point, however, the fun really begins.
A tight, secondary orifice greets your member as you continue through. At this point, you'll be met with the spiral ridge that keeps spinning throughout the canal's length. These spirals are felt at about one-half-inch increments until the sleeve terminates at its endpoint. You might wonder where all of the other features are hidden within this product, but Fleshlight stayed true to the Twisted reputation and kept the spirals as exclusive textures. I wasn't disappointed, and you won't be either because their height, spacing and material components combine into a luxurious sensation.
Crazy Anal Feeling with the porn princes Tera Patrick
I can't begin to describe the amazing sensation that you'll feel with the Twisted sleeve. As you begin your experience, the sensitive head will feel every centimeter of the spiral rotating against your skin. This sensation is unlike any other, and it keeps me coming back for more each time. As you work through the product at a faster pace, the spirals generate that perfect milking sensation that every man craves. However, there's another surprise in store for you.
The 10 chambers aren't aligned in a perfectly sized canal. This canal actually widens and tapers off as you enter it completely. As a result, air is able to move into the canal as you continue with your experience. This air generates the suction effect that you want with the milking action. After my first experience with this sleeve, I was ready to try it again after only a short rest period. It's a feeling that's difficult to find with other product designs.
How to clean and dry the Twisted Sleeve?
There are some conflicting accounts regarding the cleanliness of this sleeve. I thought the Twisted product was one of the easiest ones to clean because of the symmetrical design. The spiral ridges aren't that pronounced, and there are no bumps added to the canal. As a result, the cleaning process is quick and easy.
Other users might have concerns if they have a smaller member, however. After finishing the experience, the discharge might adhere to the middle of the canal. In these cases, I can see why some users are concerned about the cleaning time.
To prevent mold, you need to remove every residue and dry out the product. I've been able to dry my sleeve out after only six and twelve hours. Compared to other sleeves, this time period is relatively short. I can try the experience out again when nature's evaporative processes are done with the canal.

My final Fleshlight Twisted Sleeve Test Results
A design detail that stands out for this molded ass is the exterior curvature. Although you may not give this feature a second glance, it does add to its realism. As you enter the orifice, the curved butt texture gives you the sensation of a real person.
Other sleeves won't often offer this realism, which increases my pleasure exponentially. When it comes to a great orgasm, visuals and textures combine into a fantastic ride. Give Tera Patrick a try, and I'm sure you'll be coming back for more.
Review overview
Stimulation, intensity & structure
9
Price / Performance ratio
9
Summary
7.9 Flesh Score: Good I can admit that my penis glans is utterly satisfied during this Fleshlight Twisted test. No one could have described this sensation very accurately until I felt it myself. It truly feels like analsex with a pornstar, and that's the best description I can use after satisfying my deepest longings.
Pros:
Slit details on the exterior look like the real thing
Easy cleanup process
Tampered interior for maximum pleasure
Intense Tera Patrick sensations
Cons:
Strong suction might be too much for some users
Canal is relatively wide at 0.8 inches, which affects the sensations
Spiral details start one-inch into the canal