Mom I'd like to fuck: Nina Hartley – Cougar Texture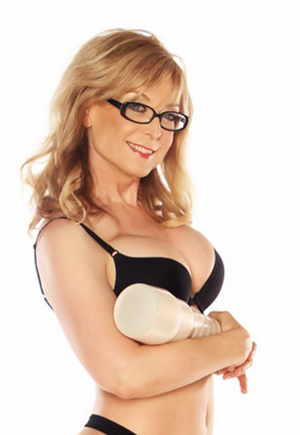 You've probably heard of
Nina Hartley
. This porn legend has been in over 400 adult films. Even though she's over 50, she remains one of the most successful women in the M.I.L.F. genre today.
I was thrilled when I learned that Ms. Hartley generously agreed to allow Fleshlight to make a replica of her pussy so that I could feel like I had Nina all to myself sometimes.
In this review, I will tell you my experiences and impressions about the Fleshlight Cougar. If you have throughs or questions, please write me in the comment field in the bottom of this test report.
Cougar Sleeve Description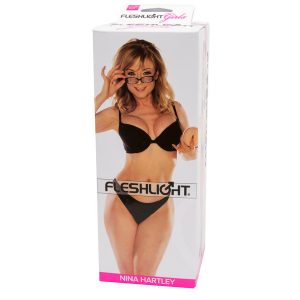 The Nina Hartley Fleshlight has a extreme realistic labia optic. Every fold was faithfully replicated. The look of it really adds to my experience every time I use this lovetoy. I think it's amazing to have a mold of your favorite porn star.
While some models have several chambers – But the Cougar texture has only one big cambre.
In recent times the Cougar Sleeve will be delivered in a white carton. But in can be, that you´ll get it in a transparent blister and a separate case. A free sample of the water-based lube Fleshlube was included.
The color of the Cougar sleeve is light pink.
The Cougar canal diameter is a little wider than toys. Because of this, the canal might appeal to guys who have a thick penis. Inside of the canal, the Cougar texture is made up of a combination of a soft ribbed Cougar texture and raised bumps called the Lotus. The Lotus features 13 raised bumps in a straight line.
My personal Cougar Texture Review
Simple, but extraordinary Texture design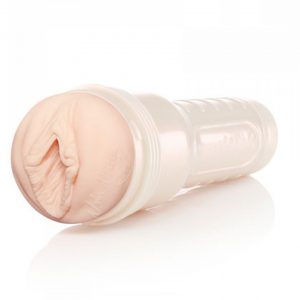 I was curious whether this texture is intense enough to stimulate me to a good orgasm. I've used before many textures and I had the fear, that there missing constrictions are boring. The large number of nubs and the larger diameter promise a less intensive penis stimulation.
Cougar Fleshlight Feeling
The Real Feel Superskin™ material feels amazing. Cheaper sextoys tend to feel rubbery, and they smell cheap. Once I "ooohed" and "ahhhed" over the quality, I put the insert in some warm water until it felt like body temperature, and for fun, I loaded some Nina Hartley porns. I liked looking at the orifice then back to the movie while I was using the toy. It really is a great experience.
I'd say that this toy doesn't feel like an actual vagina, but it still feels good. The Cougar sleeve insert was a powerful feeling. The only thing was that the bumps were hard to feel since they were on the side, so I tried different angles until I could feel them beneath my penis. All I could feel at first was the ribbing.
All of this re-adjusting was distracting, but it still felt good. I could get some good suction going by adjusting the end cap. Once I had it right, I really needed to use some stamina to keep from having an orgasm too quickly. I wanted to draw out the feeling a little, so I used a good amount of lube.
Even once I'd stopped thrusting altogether to extend the feeling, the pressure of the canal was intense enough to bring me to a pretty mind-numbing orgasm. I'll admit it- I was a little out of breath there for a minute! Having the movie on at the same time just added to the fun.

Hygiene & Durability
This Fleshlight is the easiest to clean of other masturbators I've used. The inner design isn't too complicated. The open-ended design and the wide diameter of the canal help it to dry faster, too. It took less than two hours for mine to dry out after I ran water and toy cleaner through the toy a of couple of times.
Fleshlight Cougar – Conclusion & Final Thoughts
All in all, I liked the Nina Hartley masturbator, and it was probably because I like watching the real thing so much. I can't get over the fact that the raised Lotus bumps are on the side rather than underneath or above, where us guys tend to be more sensitive.
I didn't really want to have sex with this thing sideways every time. However, I had to remind myself that my worst orgasm is pretty much better than most other feelings, and I also had to remind myself that it is awesome to own a copy of something that is so personal to Ms. Hartley.
Review overview
Stimulation, intensity & structure
7
Price / Performance ratio
5
Summary
5.7 Flesh Score: Good The Cougar sleeve is a great option for anyone who is a fan of Ms. Hartley, and it features an incredibly detailed mold of her labia. The canal's design isn't as stimulating as other models I've tried, but it still feels pretty amazing.
Pros:
More straightforward design results in less clean-up
Drying time is fast
Detailed labia makes fantasizing easy
Cons:
Suction isn't as strong as other models
Stimulating bumps are located on the side of the canal