Bulletproof Fleshlight – Teagan Presley´s Butt Texture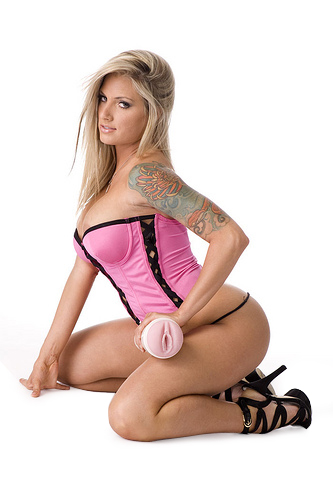 Let's be honest, who can imagine a more pleasurable experience than pounding the tight corners of
Teagan Presley
's butt? One of the best Fleshlight Girls Signature Texture is the Bulletproof model. This sleeve provides you with a soft representation of one of the most talented rear ends in the porn industry.
As one of the shorter actresses in the business, many male costars have lost themselves in the feeling of this petite but gorgeous pornstar. Thanks to this toy, those of us who aren't in the industry can now give her luscious asshole a try as well.
In this review you can read the pros and cons of this anal texture. I hope that I can help you in determining and comparing.
Bulletproof Fleshlight description
This Bulletproof Fleshlight is an insert that is designed to more accurately emulate the anal sex experience. You're going to get squeezed tightly by the sleeve, so you might want to grab some lube. This texture is specifically designed for Teagan Presley's Fleshlight. So be sure to get that as well Size-wise, this Fleshlight Girls Signature texture is about 8.8 inches, or 22.5 centimeters long.
This is enough space that most average sized penises should easily fit within its soft confines. Insofar as diameter, Teagan's little asshole will grip your penis glans firmly. At its widest point, it's only about 0.7 inches, or 18 mm in width, and at its thinnest part, your tool will only have a 0.39 inch, or 10mm clearance. This is super tight, so don't forget the lube for this wondrous product; especially if you're packing on the girth.
The Real Feel SuperSkin™ insert is skin-colored. Internally, your member will be greeted by a unique, very natural-feeling experience that emulates the feeling of cruising down a real asshole. Throughout the full length of the sleeve, you'll find uniform bumps that massage and tightly grip your penis to explosive orgasm.
These five wavelike bumps are soft textured and somewhat large. Each is about 1.2 inches or 3cm. With each thrust, you'll feel the large bumps through the skin of your pecker. With such regular stimulation, in no time at all, Teagan Presley's Butt will finish you off.
My personal Teagan Presley Fleshlight review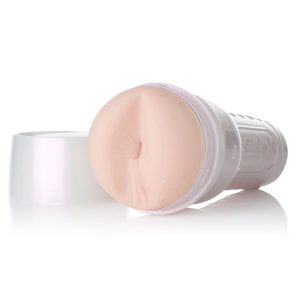 I was very curious to test this butt texture for this Fleshlight Bulletproof review. The other Fleshlights that I've tried all have had multiple textures. As a result, I was interested to see whether a single textured type would be as pleasurable. First, let's take a look at the molded butt design of this sleeve.
Realistic Fleshlight Butt Design
For us anal guys, nothing is quite like that feeling of first entering that tight rosebud. Teagan is a small lady, so when your tool enters this device's orifice, you'll find that you need a bit of lube.
Regardless, entering feels great, and it's at this point that the toy is at its absolute thinnest when it comes to diameter. Once inside, you'll hit a smaller area that is somewhat raised. This area isn't one of the internal bumps, but it feels great anyway.
Feeling of Teagan Presley´s Ass
As you thrust your penis towards the five internal bumps, you'll start to understand why this is such a great sex toy. Since the bumps are so large and uniform, you'll first hit a semi-wide point that really feels great on your cock head.
As you push through, this wide area quickly narrows until you reach the tightest point on the internal texture. This sudden pressure really stimulates the deeper area of the glans, and it's the contrast between the sizes that provides the unique sensation. After you hit the mid, once again the space opens up; giving your stimulated prick a moment to recover.
After this, it's just a matter of progression through the remaining internal bumps, and how many you hit as you masturbate will greatly depend on your own personal length. I found that I had a rocking orgasm in about eight minutes as a result of the suction provided by the sleeve's tightness. I admit, while I love the feel of Fleshlights that have a lot of different internal structures. I was surprised by how I was able to use this toy to grip and surprise my dick with its uniform internal shaping.

Bulletproof Sleeve – Cleaning & Care
It's a bit of a chore to clean this Teagan Presley Fleshlight. It's absolutely imperative that you thoroughly clean these types of inserts to prevent mold. This is because both lube and other materials can get caught in the crevasses if you don't clean these areas thoroughly.
In order to prevent mold, you can flush out the insides of this toy with water. This is great for a quick clean, but it isn't guaranteed to get everything in the deepest folds. Fortunately, the manufacturer provides some great solutions that seem to dissolve both spunk and lubes alike. Dry the Bulletproof Sleeve for about six to twelve hours on a good ventilated place.
Additionally, when you use them, these toys tend to wear out with use. Also, if you aren't careful, they can tear. The best way to prevent this is to use Fleshlight Renewing Powder. That will make the internals of this sleeve supple again after a lot of usage.
Teagan Presley Fleshlight Review Conclusion
The "bottom" line is that this is a great anally-themed toy. For those of us who love pounding a tight ass, you'll have some great times with this toy. When I performed my Fleshlight Bulletproof test, I was pleasantly surprised how great this toy felt on my glans and on my dickhead.
After I inserted my penis inside, it really didn't take long at all to reach climax. Unfortunately, cleaning the insert took a little extra effort, which was kind of annoying.

Review overview
Stimulation, intensity & structure
9
Price / Performance ratio
7.5
Summary
6.1 Flesh Score: Good Teagan Presley's Bulletproof Fleshlight is a great experience that proves that you don't need a million different textures for a truly enjoyable experience. With its large bumps, you'll reach sexual bliss in no time by way of Teagan's excellent asshole.
Pros:
It's tight and great feeling.
The internal bumps will surprise you.
The texture of the device is very supple; perfect for a pounding.
Cons:
Depending on how much girth you have, you may need some lube, which can get expensive.
You won't get as much variation as with other Fleshlights.
It's kind of hard to clean.