Utopia Fleshlight – The Pussy Texture from Riley Reid
Utopia Texture Description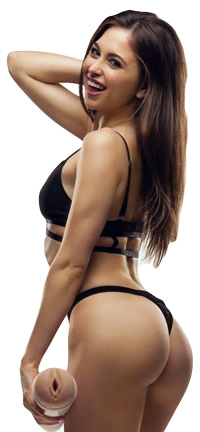 I want to present in this test review the Utopia insert of the Fleshlight Girl Riley Reid. The alluring pornstar let molded her labia and in the same time the anal bead for the Euphoria sleeve.
Riley Reid
is one of the biggest names in porn right now. Her fans can now enjoy her intricately detailed vagina replica. This Riley Reid Fleshlight boasts all her famous curves and contours of her pussy. The perfect option for a first-rate orgasm whenever the mood takes.
At the first glance don´t make the Utopia channel a too intense or unpleasant impression. An elongated main chamber promises a pleasant massage the penis. What the pussy texture of Riley Reid can offer you, I describe it in my detailed Riley Reid Fleshlight review. If you have questions or opinions, do not hesitate to write me under this test over the comment field.
Fleshlight Utopia Review
Riley Reid was born on July 09, 1991 in Florida (Miami Beach). Since 2011 she worked as pornographic and twisted the mens head with her fascinating figure. She hasn't been on the porn scene for very long, but she's already making waves in the adult entertainment world.
This Fleshlight Utopia test will let you know what all the fuss is about. This Riley Reid Fleshlight is inspired by tighter sleeves in the series, including the Anikka Albrite vagina sleeve.
It hits all the high notes when it comes to please too. The contours provide enhanced stimulation, although the sleeve is also a great option for stamina training. Have a look through the spec breakdown to see if this one is for you.
Riley Reid´s realistic Pussy Design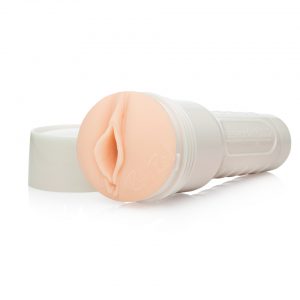 First inspection reveals this sleeve to look relatively simple. It's broken into four distinct chambers, which on the surface look fairly repetitive. It's in the detail where this sleeve scores highly however. The first chamber of the Riley Reid Fleshlight provides a wider entry for the penis.
A reverse bell shape, circled with shallow ridges, delivers a massaging sensation for the penis glans. A fairly narrow flap gives way tot he second chamber, this one lined with bumps in all directions. The third chamber is the longest of the sleeve, entered by a much narrower portal. This provides optimal constriction. Sectioned with ridges and bumps and tapered toward the end, it provide plenty of sensation. This third chamber will probably be enough for most men.
For those with a longer member, the final and fourth chamber has a rigorous ridged interior. Even if you don't need to penetrate this deeply, this chamber will promote a better suction effect.
Utopia Fleshlight Feeling
This Utopia insert provides plenty of variety when it comes to physical sensations. The entrance chamber will tickle the glans as you enter, with fine ribs surrounding the interior. The second chamber, with its larger bumps allover, is designed to give the entire penis a pleasurable massage feeling.
This delivers consistent feelings when you enter and withdraw. The third chamber is where you'll really start to feel the effects of this texture and its innovative design. The diagonal ridges will provide constriction, encouraging a grasping feeling. It's tapered design, narrowing down to a tighter fit, gives you more intense feeling.
With a total length of 9 inches, this insert offers more than enough depth for most men. The final chamber will reward those with a longer personal length. However, even if you never need to use it, you'll be glad it's there. An impressive suction effect will build, providing a better overall grip and encouraging a more intense climax.
This Fleshlight sleeve maintains pleasurable sensations, helping you achieve orgasm more gradually. It's a great choice if you're looking to take your time, or want to embark on some stamina training.

Easy Cleaning & Good Durability
Some textures can be a nightmare to clean. You'll be glad to know that the Riley Reid vagina insert is one of the more convenient options out there. The relatively open chambers mean moisture and other residue won't catch and collect easily. This allows for a more thorough clean-up once you're done. If you want to ensure this pussy texture is cleaned as thoroughly as possible, consider using spray-pump solution and hold running under lukewarm water for a few minutes.
Dry time is also pretty impressive. You'll want to leave this texture to dry for a good three hours or more. If you're in a rush, use cold air from a hairdryer. Never expose the sleeve to hot air in case you cause any damage to the integrity of the material. Make sure the sleeve is completely dry before using again. Keeping it as dry as possible will help prevent mold from forming, ensuring the polymer material doesn't decay and weaken.
Made from the innovative Superskin material synonymous with Fleshlight, this sleeve is constructed from some of the finest polymer around. Designed for long-lasting use, it'll hold up well after repeated sessions. You won't have to worry about the thinnest points weakening and tearing.
My Utopia Fleshlight Review Conclusion
This pussy texture is a great choice for those looking for their first or second Fleshlight sleeve. There's enough variety here to excite with sensation, but you won't be left feeling overwhelmed.
A couple of practice sessions will ensure you get to grips with what's on offer, helping enhance your use. That being said, this sleeve is great for more laid back sessions and everyday sensation and a solid climax.
The shallower ridges and bumps also mean this sleeve is easy to use. It requires little lube, making cleaning an easier errand.
I really like the Utopia Fleshlight. 🙂
Review overview
Stimulation, intensity & structure
9
Price / Performance ratio
7.5
Summary
6.1 Flesh Score: Good This sleeve insert makes a great introduction to the world of Fleshlight. The first couple of chambers offer plenty of stimulation, but won't overwhelm. The third and final chambers offer more intense feeling, helping you build to a stronger orgasm. The variety on offer means you can find a rhythm that works for you.
Pros:
There's bags of variety on offer here. Varied chambers lined with stimulating ridges and bumps produce new heights of pleasure.
A great choice for those love a ribbed texture. The Utopia offers plenty of constriction for those who enjoy a tighter fit.
The gently tapered design of the interior makes this texture a great choice for longer sessions. You'll feel stimulated, but won't be rushed to a climax.
Compared to other sleeves, the Utopia is incredibly easy to clean. A quick try time is a welcome perk.
Cons:
This Fleshlight Girls signature texture is on the pricier end of the spectrum.
Those after more intense stimulation might want to consider another design, including Riley's Euphoria texture.