Fleshlight Gauntlet Texture of porn princess Jesse Jane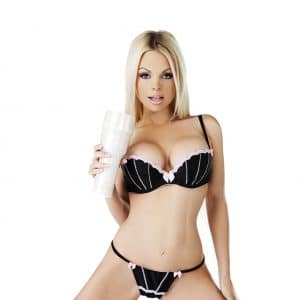 It's hard to believe that the Fleshlight has already been in production over five years. But it's good to know that this long product run has created some truly pleasurable devices like the
Jesse Jane
Fleshlight Gauntlet.
I know what you're thinking: There are so many Fleshlights on the market today. All are modeled after famous porn stars! So what makes this one different? You get this answer in the following test review. I tell you if this masturbator really can bring your cock to an explosive orgasm.
Gauntlet Texture Description
Unlike other masturbators on the sextoy market, the Fleshlight Girl masturbators are molded from a original pussy orifice. The Gauntlet Sleeve has the form of the porn star Jesse Jane´s vagina.
The entire device is ten inches, or 25 centimeters in length. If you are blessed with a longer penis you will still feel great. In addition to the length, even individuals with thicker manhoods will have no problem as this device has a width of four inches or ten centimeters.
Each Fleshlight has her unique inner canal surface. This Gauntlet Texture has several different bumps and shapes inside so that each layer provides a truly satisfying experience.
The entrance of this device, as you might guess, is shaped after Jesse Jane's privates. Is also shaded to her skin color as well. You will feel tiny ribs in this section as your member passes through. The Swallow area is the next section where you will feel rounded surfaces milking your member. The third area has about 0.6 x 0.6 inch (15 x 15 mm) with rounded bumps. That´s feel soft and pliable on your penis. This section is about three inches in.
Next, the following area is where the Succu-Dry fangs are. I know these sound painful, but these rounded rubber fangs actually feel intensely pleasurable on the penis glans. This section of the device ends at the seven inch deep area, and for those lucky enough to pass this muster. The next section is filled with tight feeling bumps. They deliver you spectacular orgasms. I found that the final section is very similar to the second section, but with larger bumps.
My Personal Jesse Jane Fleshlight Review
Sweet Pussy Design of Jessy Jane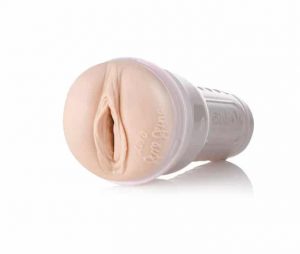 I was very curious while the Fleshlight unboxing. The outer design is very similar to other Fleshlight Girls products. It really kind of looks like a vagina attached to a flashlight with a pearl-white colored barrel.
Because I'm a big fan of Jesse Jane and I love her pussy very well. I was not disappointed. The Gauntlet texture design is also very nice. It looks a little bit like the Fleshlight Mini Lotus texture.
Explosive Feeling with the Gauntlet Texture
My own first impressions with this device are that it feels great when you first insert it. The varying textures lead to a unique experience that, while it may not feel like a real vagina, can really make you explode if you masturbate with a slow and methodical stroke.
When I first entered this device, I was pleasantly surprised by how tight the initial chamber was. The tiny ribs felt great on my glans and I noticed that the Fleshlight girls signature texture that has made the line of products so popular was here in spades. Before you can use a Fleshlight, you ever need a healthy amount of Fleshlube.
The material feels lacey and skin-like; especially around the first opening. As I progressed through the silky folds, I soon found myself in the second chamber, which felt good but was a very brief affair. Hitting the next chamber, with its heavily ridged "fangs" is where I felt the most sensation of the whole experience.
This section is textured and hard enough to fully simulate the unique shapes and textures of a real pussy. It was at this point that I felt the most pleasure. Not only did the raised surfaces of this area stimulate me deeply.
While I am not quite large enough to reach the exact end of this device, I was able to feel a little bit of the final section, which features larger bumps that squeeze the tightest of all of the sections. If you aren't quite long enough to fully enjoy the final section, you can actually reverse it so that you can feel it for yourself.
Internally, I can say that the molded textures feel absolutely great on the penis. Overall, this rubber-pussy helps you reach your climax by incorporating five unique feeling chambers.

How to clean the Fleshlight Gauntlet?
When I finished up, it was time to clean the Gauntlet Sleeve out. Many users utilize Fleshlight Fleshwash anti-bacterial toy cleaner to ensure a sanitized experience to prevent mold and other microbes from accumulating. Alternatively, you can also remove the interior section and run the device under a faucet for a few minutes to fully flush the interior. Please let dry the Sleeve 24 hours.
Over time, rubber tends to stiffen, which can make this love toy become more uncomfortable after extended uses. Fortunately, the company offers Fleshlight Renewing Powder that will return the rubber interior to its softer, more comfortable texture. This powder will also prevent the rubber from becoming stiff enough to tear during usage. Something that you definitely don't want to feel.
My Conclusion & Final Test Result
Overall, this was a very pleasurable experience. My Fleshlight Gauntlet review ranks this as one of the better feeling devices of the line. Fleshlights can be something of a mixed bag. As each orifice are different and many are patterned after different vaginas, mouths and assholes. But fortunately, this one feels absolutely excellent on the cock.
Also, the ten inch (25 cm) length will provide tons of pleasure for even the longest, or even girthiest of individuals; guaranteeing years of lasting enjoyment.
This Jesse Jane Gauntlet Fleshlight is a "must have" masturbator.
Review overview
Stimulation, intensity & structure
10
Price / Performance ratio
10
Summary
8.5 Flesh Score: Great Jesse Jane's Fleshlight Gauntlet has a great selection of five unique chambers that will send you to orgasm heaven. Each chamber has varying textures that milk your member in unique ways.
Pros:
The five chambers give you a progressive excellent feeling as your member explores the folds of simulated flesh.
Jesse Jane's gauntlet passes every Fleshlight Euphoria test; you'll feel great with this device, from start to finish.
You can remove the case, so if you can't reach all of the chambers with it on, you can flex it like an accordion to get the full sensation.
Cons:
Takes a bit of time to dry, so if you're planning to go again, you'll have to wait for 6 to 12 hours.
While you can use some of the company's products to clean it relatively thoroughly, with all of the different shaped sections, getting a truly thorough clean can be a bit difficult.
The case is a bit restricting. If you plan on twisting it around your manhood, remove it; it'll feel much better without it.