Fleshlight Lotus Garden From Chinese Porn Star Katsuni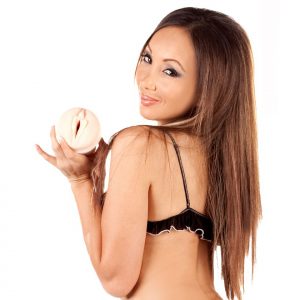 If you're a fan of the Asian actress named
Katsuni
, you'll want to try the molded pussy that's nearly an exact replica of her own body. I've tried many sleeves before, but none of them seem to compare to the sensation offered by Katsuni Fleshlight. Give this Fleshlight insert a try as you fantasize about your favorite woman.
Lotus Garden Texture Description
I usually look for sleeves that have more than one orifice, but this molded vagina doesn't need anymore enhancements. Be aware that this item doesn't come with the plastic, exterior component because you can use the ones that you've already purchased in the past. This vagina slides right into plastic for an easy grip.
You won't be disappointed with this light-pink vagina mold because the sensation secrets are hidden inside. The interior canal is relatively straight, but you can instantly feel the eight lotus chambers that give this sleeve its official name or Fleshlight Girls Signature Texture. Don't worry about sizing this sleeve because it has a 9 inch or 22.5 centimeter length.
The lotus blossoms have very tight dimensions with less than an inch between each one. As you move into the canal, these lotus chambers create a suction effect that's closely associated to the Swallow Sleeve offered by Fleshlight. Moving in and out of the canal feels like heaven from my perspective.
My Katsuni Lotus Garden Sleeve Review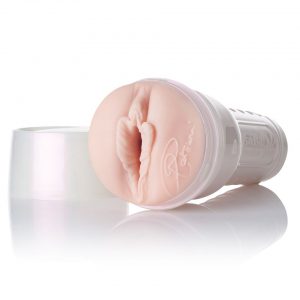 I've tried numerous sleeves, and they all seem to blend together over time from a sensation standpoint. I wouldn't be able to tell the difference between the products if I was blindfolded, for insance. There's a marked difference with this sleeve, however.
I actually look forward to the sensation at the end of a long workday. Although there are both advantages and disadvantages to this product, I wouldn't trade it in for the world. Take a look at what I've discovered about the Lotus Garden Fleshlight design.
Lotus Garden Sleeve Design
From a first glance, this mold is as accurate as the real porn actress. The color, shading and shape attract me to it when I settle in at home. In fact, the light-pink color is so inviting that you might want to pull it out of the plastic component in order to see the entire length. Don't use the sleeve this way, however, because it won't hold up under that kind of pressure.
It has an ample length for my member too. I haven't felt disappointed about moving in and out of the chamber because it envelopes all of me. One concern I have with the design is the signature name that's scrawled on the side of the entry point. Although I'm thrilled to be with Katsuni, the signature does take away from the realistic appearance. I can overlook this feature because the sleeve has such a unique design to its interior. Those lotus blossoms make me appreciate nature on an entirely different level now.
Very Tight Katsuni Pussy Fleshlight Feeling
A realistic sensation with a bit of supernatural power is how I'd describe this product. As you slide yourself into the canal, the trapped air within the lotus chambers ebbs and flows with your movements. Other sleeves may feel like a suction sensation across your entire member. Although this fact might sound attractive, it doesn't have the same feeling as a real woman. However, the lotus chambers on this product give your skin some breathing room. I felt variations of suction across my skin as the intensity changed from subtle to amazingly intense.
You do need to apply an ample amount of lube to the sleeve in order to feel those varied sensations. The product-preparation time might be a slight drawback, but the payoff is a sensation that's hard to beat. I've heard that other sleeves can't compare to this intensity level. I agree that you'll feel as if the real actress is in the room with you.

Hygiene & Durability of the Lotus Garden Sleeve
I've heard that other products can break down over time. As I write this review, I haven't seen any major durability issues with this sleeve. There are some reports of the sleeve wearing out from rot, but that could be from insufficient cleaning. It's absolutely necessary to clean this sleeve with care because water can become trapped in it.
After you finish with your release, rinse the Lotus Garden masturbator out. You may want to shake it or even use a blow dryer with a cool setting. The Lotus chambers are sensational designs for your experience, but they do trap moisture. Prevent mold by completely airing out the sleeve. Turn it inside out if possible. Ideally, you should use a combination of towels and drying out in order to preserve the sleeve.
I've noticed that you can air the item out for one day, and it seems to be completely dry. Don't leave it out in the sun, however. The materials might break down from the sunlight exposure.
Fleshlight Lotus Garden Review Conclusion & Final Thoughts
After using Katsuni´s vagina, I realize that the sensations that I feel are more intense when compared to other products. Friends that are new to molded sleeves may not appreciate the intensity level that I crave.
My final thoughts on this Fleshlight Lotus Garden review include a sensation warning. If you're not used to stimulation that engulfs your entire member, you may want to start with a different product. This Kamasutra texture seems to grab on and caress me at a level that's past my wildest dreams. When you're ready for the ride, you won't be disappointed with this sleeve.
Review overview
Stimulation, intensity & structure
7
Price / Performance ratio
7
Summary
6.5 Flesh Score: Good Between the perfectly designed pussy texture nodes and lifelike material, my experience with the Fleshlight Lotus Garden test has been a resounding success.The insert looks and feels as real as possible, and you can't get a better product than that. Treat yourself one night to this Fleshlight insert because you'll feel like a new man afterward.
Pros:
Real-life texture
Attractive entry point
Satisfies on unique level
Suction sustains itself with every movement
Cons:
Lack of tightness after extended use
Difficult to clean lotus chambers
Drying time is considerable
No ribs