Fleshlight Bump-N-Grind From Black Pornstar Misty Stone
Get lost in the specialized canal that's unique to the Misty Stone Fleshlight sleeve, named Bump N Grind. It will bring a variety in color to your Fleshlight collection.
The dark color of the insert is very special. You can watch hot porns with Misty Stone. And you can imagine fucking a black women or a Latina while masturbating. While your mind is enjoying the movies, you can penetrate this dark-skinned Fleshligh with the girl's signature texture.
Let me tell you all the pertinent details about this rubber pussy. With the following review, I want to guide you through the purchasing decision for your best Fleshlight toy. Should you be missing anything or if you already have had your own experiences with the Bump N Grind Fleshlight, please leave a comment under the review.

Bump N Grind Fleshlight Description
The term "Bump N grind" is a euphemism for sex or erotic games. The name of this Fleshlights suit to the great women.
You can order your Bump n Grid Fleshlight as a sleeve-only or as a set with a case. The case consists of ivory-colored polyethylene with a light glitter effect. A front cover and a rear cover can screw off.
The heart of the Fleshlight is a Real Feel SuperSkin™ insert. It is 9-inches or 22.5-centimeters long, brown-colored and known as the "insert" or "sleeve". In front of the sleeve, you will find the pussy orifice of Misty Stone. It's an accurate mold of a lovely, black woman's genitalia. You'll notice the detail as you gaze at the vagina opening. The detailed butterfly-shaped labia make many men's hearts beat faster.
But the most interesting part of all Fleshlights is the inner channel, known as the "texture". You'll find four chambers with several different features inside. The first chamber offers you a smooth ride as your head encounters a few bumps in the initial sensation. Be amazed at the vortex that lines the two middle chambers. These ridges really add to the stimulation as you move forward to the fourth chamber. Several bumps rub your head as you thrust.
The included bumps are similar in sensation to the Speed Bump Fleshlight, which you may already know. The main ridges inside the second and third chambers are comparable with the Vortex Insert.
When you buy a Fleshlight a plastic tube is always included in the channel. You have to remove this before using it to masturbate. You can throw it away.
My personal Bump-N-Grind Review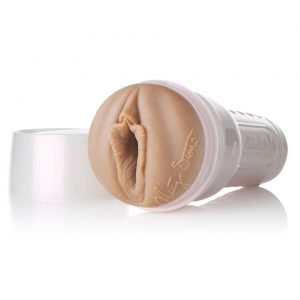 I decided to order the exotic Bump N Grind Fleshlight for a review because I've experienced many Fleshlights in the past months. Although I love women of all races, it's refreshing to experience an African-American woman.
It's important to note, however, that your sensation might differ from mine. Everyone has a different sensitivity in their penis head; penis size and other factors also play a role in a great masturbation session.
Use my experience as a gauge for your own needs. If you're usually overstimulated by intense sleeve bumps, you may want to look for a smoother Fleshlight. When you're ready for an adventure, then the Bum N Grind insert is right for you.
Hot Chocolate Sleeve Design
I was thrilled with the sleeve's design when I first saw it in the Fleshlight Shop. The skin tone and the hot pussy lips made me curious about the inner structure. After my purchase, I had to wait four days. Then, UPS brought the package.
The opening of the plastic blister packaging is very difficult because the three staples are difficult to remove. I then washed the sleeve with warm water and put it into the case. After, I put some Fleshlube lubricant into the channel and onto my penis. Then my awesome test began.
It was an indescribable feeling as I penetrated the Bump N Grind texture. The SuperSkin™ material heats up quickly.
I looked carefully at the chambers. The internal design is the most important feature because it directly impacts your enjoyment. Here is what I discovered:
The first chamber of the Bump N Grind sleeve is less than one-inch long, but it offers some of the best sensations on the sensitive head.
The longest chamber is the third one with almost 2.5-inches of ridges to stimulate most of your length. You'll want to spend more time in this location than any other one.
And the fourth chamber is a pleasant surprise as your head is sent into tingles from the strategic bumps. Be aware that you may not be able to reach this area if you're relatively small.
Overall, the design is well thought out with an otherwise linear shape to the canal. Give it a chance when you're experimenting with sleeves because it's a distinct ride from beginning to end.
Fantastical  Feeling with the Misty Jones Fleshlight
My experience with this sleeve can almost be described as a masturbation journey. I felt a smooth caress as I entered the product, but immediately sensed a more intense awareness from the bumps. The ridges create a fascinating suction effect that moves along the shaft in waves. If you appreciate a massaging experience, this sleeve is perfect for your needs.
I'd point out that you aren't going to achieve that intense sensation that other products are known for in this industry when you use this particular sleeve. The Bump N Grind masturbator is meant to give you a long session that peaks at just the right time. This is probably why the interior is dotted with so many intricate crevices. You want to take your time and feel every nerve ending. Your reward is a very intense orgasm. If you prefer masturbating longer and you don´t like to ejaculate in about 3 minutes, you should select this sleeve

Hygiene & Durability Recommendations
If you care your insert carefully you will have long pleasure with it.
Each time, after using Bump N Grind, you should make sure to completely and carefully remove all residues from the inner channel as quickly as possible. A powerful jet of water from a bathroom faucet is sufficient.
No aggressive cleaners and no soap should be used for cleaning so that the naturally oily surface of the insert channel is not damaged. Every now and then use a few splashes of Fleshwash Disinfectant Spray after cleaning.
For a more efficient and faster cleaning, I had earlier recommended folding the inner channel structure outwardly. I have already messed up three sleeves by doing that! Roll the sleeve around only in exceptional cases (for example for disinfecting mold with isopropanol).
I have two tips for you for drying: use a towel rack to expand the channel and never lock the valve cap when storing! In this way, you avoid very impactful mold.
If you are wondering why the SuperSkin™ material is sticky – that is normal. You then have to powder the sleeve with cornstarch. ILF offers it under the name Fleshlight Renewing Powder.
 My Bump ´n Grind Fleshlight Review Conclusion
That's why the Bump N Grind sleeve is a real highlight, since it is was modeled after the African – American bombshell Misty Stone. The skin color makes masturbation with this insert seem very realistic, especially when you watch a movie with Misty Stone at the same time.
I personally like the texture because it is not too intense compared to other internal channels. I always find it very unfortunate when I have to squirt too fast, and the pleasure from masturbation is over. It could be that the knobs placed very far in the front of the Fleshlight will not please every user, but they have given me a lot of pleasure.
Just have a look at the new sensations when playing this Fleshlight and your expectations will not be disappointed.
Review overview
Stimulation, intensity & structure
7
Price / Performance ratio
7
Summary
7 Flesh Score: Good When you're ready to try the Fleshlight Bump N Grind test, look for the Misty Stone model first. The real woman is gorgeous from head to toe, and this pussy texture only enhances that beautiful image in your mind.Add this sleeve insert to your plastic holder so that you can experience heaven any time that you please.
Pros:
Intense sensation from varied bumps and ridges
Realistic African girl skin tone
Instant head stimulation upon entry
Quiet during use with ample lubrication
Cons:
Suction is less than desirable
Smaller members won't reach last chamber
Breaks in interior texture reduce sensation
Requires some use to break it in completely